Crime
Massachusetts Bail Fund, other organizations pay bail for mom accused of putting newborn in trash
Marie Merisier, 33, was being held on $100,000 bail and is facing charges included attempted murder.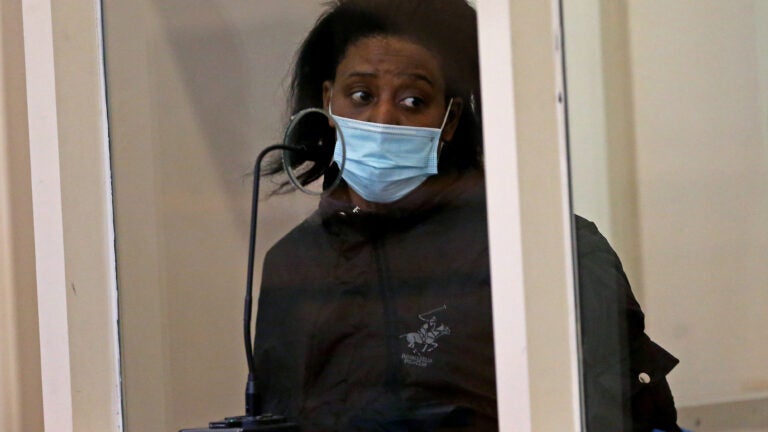 The mother who allegedly gave birth in a bathroom and put her baby in a garbage can outside a Dorchester pizza shop has been freed on bail, posted by the Massachusetts Bail Fund and several other organizations.
Marie Merisier, 33, was being held at the South Bay House of Correction on $100,000 bail following her arraignment earlier this month. She pleaded not guilty to charges including attempted murder and others related to child abandonment.
It was around 1:14 p.m. on Feb. 26 that authorities were called to 2262 Dorchester Ave. for a report of an abandoned baby, Boston police said at the time. A witness had said she heard crying coming from the trash can and alerted EMTs that were nearby. They lifted a grocery bag from the receptacle, cut it open, and found the newborn inside.
Prior to that, Merisier allegedly went to the home of a man she knew, and was said to have looked pregnant. After allegedly spending an hour in the bathroom, she emerged carrying a brown leather bag, and the man reported hearing crying, prosecutors said during her arraignment. He offered to call an ambulance, and she declined, according to prosecutors.
The baby was treated at a nearby hospital, and is now under the care of the state.
The Massachusetts Bail Fund was able to post bail with the help of the National Council for Incarcerated and Formerly Incarcerated Women and Girls, Black and Pink Massachusetts, and Families for Justice as Healing, according to a joint press release.
The bail fund, based in Cambridge, received an influx of donations last summer following widespread protests after the killing of George Floyd, the Black man who died while Minneapolis police were taking him into custody. The fund — which has called the bail system "harmful and racist," since people of color tend to be saddled with higher bails than whites for the same crimes — operates under the motto "Free Them All" and has received criticism for some of the people it has helped, including a convicted sex offender who allegedly raped again after his release.
The fund's website says it typically pays up to $5,000 in bail, making the six-figure bail amount it paid for Merisier one of its largest bail payments ever.
"Low bail can be set on any of number of charges, including felonies," the fund's website says. "A group of defense attorneys and social workers noticed that it was instead keeping their clients behind bars. Many of their clients were spending months or years in jail awaiting the conclusion of their cases simply because they couldn't afford their bail, sometimes as little as $50. As a result clients were forced out of their homes, jobs, and communities, making effective representation and treatment increasingly difficult."
Freeing Merisier is part of the mission of the bail fund and others who helped to pay her bail.
"We share a vision for a Commonwealth where all families live freely in dignity, safety, and wellbeing," the release says. "As experts and from research, we assert that incarceration only causes harm and trauma while solving none of the problems our families face. Along with our incarcerated loved ones, we are reimagining a world that responds with care and support to crisis. We are building what different looks like and freeing people along the way."
The organizations called the six-figure bail "overtly punitive," and it meant Merisier's "urgent mental health and healthcare needs would go unmet."
"Our worries were affirmed when she was being deprived of basic hygienic necessities," the release said. "We have a constitutional right to post bail and we do so to protect people from the catastrophe of pre-trial detention which increases chances of conviction, longer sentences and prevents access to the support needed to fight one's case."
In an interview with the The Boston Globe, Mary McGeown, of the Massachusetts Society for the Prevention of Cruelty to Children, stressed the underlying issues that could lead to an incident like the one Merisier is charged with.
"Most often, there are deeper issues – poverty, mental illness, substance use disorder, and/or domestic violence," she said. "We have a collective responsibility to reach out, offer services, and supports long before a mother feels overwhelmed and in crisis, and show her that there are alternatives."
Massachusetts does have a safe haven law that allows parents to give up a child to a hospital, manned fire station, or police station, within seven days of the child's birth, and avoid prosecution.
Mike Morrissey, cofounder of Baby Safe Haven New England, said Merisier's case is the first case of abandonment his group has seen in seven years.
There's also a chance Merisier will get her baby back, Morrissey told the Globe.
"I'm not saying it should or shouldn't happen," he said. "I'm saying there is that distinct possibility."
Portions of Associated Press articles were used in this story.
Get Boston.com's browser alerts:
Enable breaking news notifications straight to your internet browser.