Crime
A man accused of 11 assaults in Waltham was held without bail. Here's what we've learned so far about the case.
Blood-stained boots that contained DNA of one of the victims are among the evidence against Clauvens Janvier.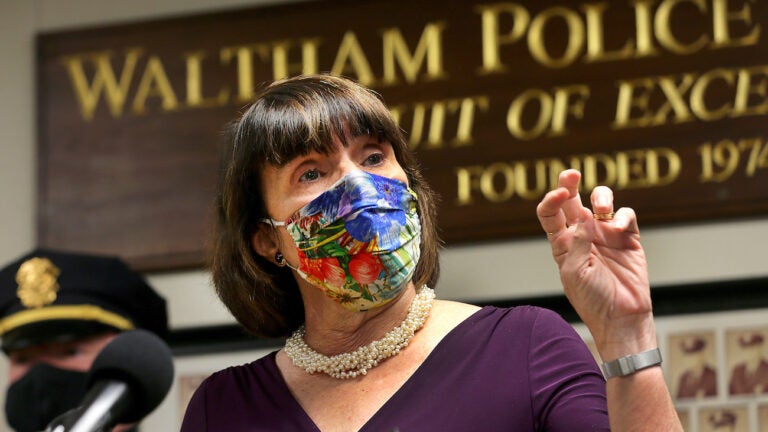 A Waltham man accused of assaulting 11 men on the city's streets last fall was ordered held without bail on Wednesday as more details emerged of the months-long investigation that led to his arrest last week.
Clauvens Janvier, 24, faces over two dozen charges stemming from the slew of public attacks he allegedly carried out between Nov. 11 and Nov. 27, as well as a shooting during that period where prosecutors allege Janvier got into a verbal altercation and then fired a gun at a motor vehicle leaving a Willow Street gas station.
Janvier, who was arrested on Dec. 11 in connection to one of the assaults, was arraigned on the additional charges filed against him last week in Waltham District Court on Wednesday.
He appeared in court via a Zoom video call, but his face was not shown, per a motion by his attorney Mark Wester and approved by Judge Sarah Ellis. Wester said there appeared to be a number of "potential identification issues" in the case and that, should Janvier show his face or be photographed, there could potentially be "more suggestive identifications."
Janvier was already being held without bail since December and will continue to be in custody pending a dangerousness hearing set for April 1. A plea of not guilty was entered on his behalf.
According to Middlesex County Assistant District Attorney Elizabeth Dunigan, Janvier was living in his car — a blue Saab — at the time of his arrest.
Dunigan highlighted to the court the similarities in what authorities believed were random and unprovoked attacks that left some victims — usually beaten or hit from behind — with serious injuries.
None of the men were robbed; all of the attacks occurred after dark; and all of the victims were assaulted while they were alone, Dunigan said. In a city of 13 square miles, all of the incidents played out within the same, one-and-a-half mile area, she said.
Here's what we've learned about the case so far:
Where the attacks were and what happened
According to a police report filed in the case, there were 11 assaults of men reported to Waltham police between Nov. 10 and 27.
Click on a blue marker to see when an incident was reported to police:
On Nov. 10, a victim reported he parked his car off of Middlesex Circle near the Gardencrest apartment complex and when he exited the vehicle, was jumped by a person and was "sliced with a knife," Dunigan said.
Days later, on Nov. 13, a man smoking a cigarette on his front steps was approached by an individual who "gestured for a cigarette and then punched the victim, knocking him out," according to Dunigan. Another victim who exited his vehicle near 71 Middlesex Road was approached from behind and punched in the back of the head several times on Nov. 16, she said.
On Nov. 19, another man smoking next to a parking lot dumpster on Middlesex Road was punched from behind, potentially with some sort of object, and "sustained significant injuries," Dunigan said.
A U.S. Postal Service mail carrier was "grabbed and punched and thrown to the ground" by an unknown person as he attempted to deliver mail to an apartment building on Nov. 20, Dunigan said.
A police report filed in court states the mail carrier called 911 around 5:33 p.m. and reported he was "putting mail into the door, guy came up behind me, pulled me down [to] the ground."
"I swung back at him. He ran," the mail carrier told first responders. "I couldn't catch him but I'm all busted up."
On Nov. 22, a victim was walking his dog when he was hit in the side of the head near Chestnut and Lowell streets, according to Dunigan.
Two separate assaults were reported on Nov. 25: one by a man walking on Charles Street who said he was hit in the head after he stopped to light a cigarette, and another who said he was walking across the same street when he was hit in the face by an individual behind him, Dunigan said.
Video surveillance footage from the area shows an individual running away following both incidents, Dunigan said.
Another man was attacked while walking on Charles Street on Nov. 26, and an additional victim reported he was struck from behind in the head with a blunt object at Chestnut and Stearns streets on Nov. 27, according to the police reports.
Dunigan said authorities received an anonymous phone call on Nov. 26 from a woman who said she witnessed an assault, but Janvier has not been charged for that attack because of insufficient evidence to do so.
The victims suffered various injuries, police records indicate.
Some declined medical treatment at the scene, while others were hospitalized, the reports show. One received stitches. One required surgery for cracked teeth and also suffered a broken nose and fractures to his orbital bones, police wrote.
Another told police as recently as March 12 he still had "lingering numbness on the side of his face where he was hit and that he had recurring headaches," authorities wrote.
Janvier was arrested on Dec. 11 for allegedly attacking an 18-year-old man with the non-blade side of a machete at a Waltham parking garage a month earlier, prosecutors said last week.
While carrying out a search warrant related to that incident, authorities discovered a stolen firearm, two knives, a machete, and ammunition in his car, officials have said.
According to Dunigan, police were able to determine the gun seized from Janvier's car was the same weapon used to fire shots at a vehicle leaving a Willow Street gas station on Nov. 24, where shell casings were found on the street.
The shooting was not caught on video surveillance cameras, but the vehicle, in recorded footage, could be seen swerving where the casings were later discovered, Dunigan said.
Bloody boots allegedly link Janvier to one of the assaults, prosecutors say.
When authorities retrieved the machete, gun, and ammunition from Janvier's car, they also discovered blood-stained boots, Dunigan said.
Forensic testing conducted on the stains revealed a male DNA profile among a mixture of at least two people, she said.
Police gathered DNA samples from known assault victims, and the DNA of one of the men attacked on Nov. 25 matched the profile extracted from the boot stain, Dunigan said.
Prosecutors said last week the law enforcement investigation, in addition to witness and victim accounts, relied on video surveillance footage and cell phone data as evidence.
According to Dunigan, the left headlight of Janvier's vehicle was broken, and video surveillance collected from the areas of the Nov. 11, 24, and 25 incidents show a motor vehicle with a burnt-out left headlight.
Dunigan also said investigators obtained search warrants for phone numbers associated with Janvier.
"The government and the police are still culling through those records but they are consistent with his phone being in and around the area of these crimes," she said, adding that Janvier also fits the physical description of the individual reported to police as does the clothing found in his car.
Wester said he had not yet seen the video surveillance evidence cited by prosecutors nor had he observed all of the cell phone information referenced, but he did not object to Dunigan's argument of sufficient probable cause in the case.
Judge Ellis allowed two motions from Wester seeking funding to hire DNA and cell site location experts.
Prosecutors have not provided a motive — or one still remains unclear.
Prosecutors have still not offered a possible motive for the violent spree.
When a suspect remained at-large in November, then-Waltham Police Chief Keith MacPherson told reporters: "It appears to be a thrill of the assault or someone who's like very violent and enjoys seeing someone hurt by this."
In police reports, officers wrote that Janvier has "a history [of] violent crimes such as [assault and battery with a dangerous weapon] and unarmed robbery."
However, Dunigan said Janvier had "no adult convictions." A restraining order had been filed against him for one year beginning in 2019, she said, but she did not elaborate.
The dangerousness hearing was scheduled for April 1 at 2 p.m.
Get Boston.com's browser alerts:
Enable breaking news notifications straight to your internet browser.