Crime
Former Fall River Mayor Jasiel Correia's federal trial starts this week. Here's what to know about the case.
The 29-year-old will be in court after being arrested twice by federal authorities, in 2018 and 2019.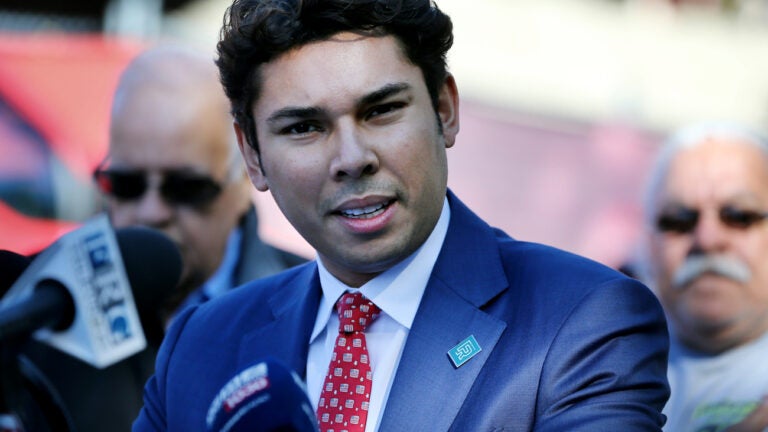 Jasiel Correia II, the 29-year-old, disgraced former Fall River mayor, who, two years ago, was simultaneously rejected and supported by voters in his hometown, will soon court the judgment of another cohort: a federal jury.
Correia faces over 20 charges, stemming from allegations he defrauded investors of a mobile app he developed, filed false tax returns, and extorted hundreds of thousands of dollars in bribes from prospective marijuana vendors seeking to open up shops in the city.
Arrested twice within a year, Correia is now set to begin his trial in federal court in Boston this week, as jury selection was scheduled to wrap up Monday. The trial was initially supposed to be held last year but was pushed back due to the COVID-19 pandemic.
At one time a political wunderkind, Correia, a Democrat, is the youngest person in history to serve as mayor of Fall River. Voters recalled Correia in March 2019 following his initial arrest in 2018, but he was also re-elected on the same ballot.
Following his second arrest in September that year, Correia, who has continually maintained his innocence, announced he would step back from his office and re-election bid for the election that November, a race he lost.
Here's what to know about his trial:
The allegations against Correia
2018
In October 2018, former Massachusetts U.S. Attorney Andrew Lelling announced Correia was charged with defrauding investors of SnoOwl, an app Correia founded in 2012.
Correia raked in over $360,000 from investors and lined his personal pockets with at least $230,000 of that sum, prosecutors allege. He also allegedly filed false tax returns when he learned he was being investigated.
FBI agent Hank Shaw said Correia used the business's money "as his own personal ATM," the Associated Press reported at the time.
''His actions were underhanded, shameless and greedy,'' Shaw said.
Correia bought jewelry for his ex-girlfriend, a Mercedes, and designer clothing with the cash, prosecutors allege. He also splurged on personal entertainment and travel, kicked cash to his political campaign, covered student loan payments, and made charitable donations in his name using the money, officials said.
''During the election, he even touted his stewardship of SnoOwl as one of his primary qualifications to be mayor of the town,'' Lelling said.
Correia was charged with wire fraud and filing false tax returns.
He pleaded not guilty during an arraignment and told reporters he believed he would be vindicated, the AP reported.
"I look forward to my day in court to share my side of the story and to clear my name,'' he said in a written statement.
2019
On Sept. 6, 2019, Correia was arrested by federal agents at his home.
Spelled out in Correia's warrant were allegations he used his office to extort owners of marijuana businesses seeking to open in Fall River between 2016 and 2018.
Lelling's office said Correia scooped up "between $100,000 and $200,000 in cash, campaign contributions, and mortgage discharges — in return for non-opposition letters and host community agreements." Marijuana was also exchanged, officials said.
The letters and agreements were required in order for the stores to operate.
"In one instance, the vendor agreed to have his friends and family make donations to Correia's mayoral campaign, amounting to over $12,000," Lelling said. "In another, Correia allegedly simply showed up at a vendor's place of business with his chief of staff and asked for $250,000 in exchange for a non-opposition letter."
Prosecutors also allege Correia was given a Rolex watch valued between $7,500 and $12,000 by a Fall River commercial property owner in January 2017 in exchange for having city employees approve and pay for permits and excavating work needed to active a water line.
In July 2017, Correia's campaign rented office space from the owner and after paying with a $3,900 check, received the money back in cash, according to an indictment.
Correia was also accused of requiring his former chief of staff, Genoveva Andrade, to kick back half of her yearly $78,780 salary to him in exchange for giving her the job.
Andrade, of Somerset, was also charged in the investigation and agreed to plead guilty in December to two counts of extortion conspiracy, two counts of extortion, one count of bribery, and one count of false statements, according to the U.S. attorney's office.
Three other of Correia's alleged co-conspirators — Antonio Costa, of Fall River; Hildegar Camara, of Fall River; and David Hebert, of Westport — all accepted plea agreements shortly after being charged.
What Correia has said
After being handed a second indictment, Correia announced in October 2019 he would take a leave of absence from his duties as mayor through the end of his second term the following January "so the city is not distracted by this assault on my career and my legacy."
Correia also suspended his re-election campaign for the election the following month he ultimately lost to now Mayor Paul Coogan.
"It's certainly not an apology, and it's certainly not an admission of anything more or less than the fact that I've fulfilled my duties as mayor," he told The Boston Globe before explaining his decision at a public press conference.
Correia added that there was "no reason" for him to resign.
"I believe I've done a good job, and I believe the people of Fall River think so, as well," he said. "I have not done anything wrong. However, I also recognize the city is bigger than Jasiel Correia."
Correia was the subject of a 2020 documentary, "Run This City," which debuted on the now-defunct streaming platform Quibi.
"I'm innocent. I'm innocent until proven guilty," Correia says in a trailer for the film. "And I'm not going to be proven guilty."
The film is now available on the Roku streaming platform.
What to know about the trial
Schedule and testimony 
Correia's trial could last three weeks.
In a court filing last week, prosecutors laid out a list of 35 potential witnesses, with opening statements and initial testimony beginning Monday and continuing through May 6.
Names of the potential witnesses were redacted on the document, although Costa, Camara, and Hebert are expected to testify, WPRI reports.
The defense will call its witnesses following May 6, according to The Fall River Herald News.
At that time, jurors could hear testimony from potentially 19 people, including Cathy Ann Viveiros, a former Fall River city administrator and write-in mayoral candidate; Collin Dias, a former City Council candidate; and Mary Sahady, the city's director of financial services, WPRI reports.
Correia himself is also listed as a potential defense witness.
According to WPRI, 12 jurors will determine the verdict of the trial, although 14 to 16, including alternates, will be selected from the pool.
In light of the COVID-19 pandemic, U.S. District Judge Douglas Woodlock is restricting courtroom capacity to 26 people to account for physical distancing. Members of the public will not be able to attend in person, although an overflow room will be created at the courthouse with a video feed of the trial, according to WPRI.
Assistant U.S. Attorneys Zachary Hafer, Carol Head, and David Tobin will prosecute the case, while attorney Kevin Reddington is representing Correia.
How to watch 
With limits on the number of people allowed in the courtroom, members of the public will be able to watch the trial online as well.
According to the Herald News, those who wish to do so should visit the United States District Court website and register to attend a remote hearing.
Viewers will be prompted to select the date of the hearing they want to attend and should select "Woodlock" as the judge. Registration is open as early as two days before a court date.
Federal law prohibits news outlets from broadcasting or publishing audio or video from a trial.
Get Boston.com's browser alerts:
Enable breaking news notifications straight to your internet browser.