Crime
Authorities release racist, hateful passages Nathan Allen allegedly wrote before shooting 2 in Winthrop
Allen fatally shot retired state trooper David Green, 68, and Ramona Cooper, 60, a U.S. Air Force veteran, both of whom were Black.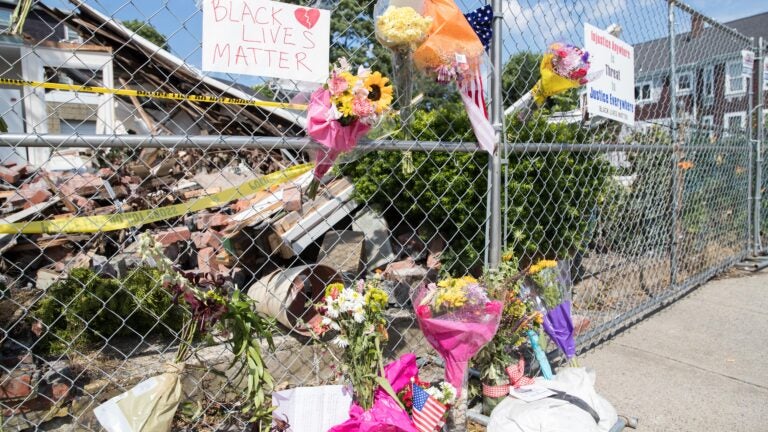 Less than 48 hours before he murdered two Black people in Winthrop on June 26, Nathan Allen wrote a racist and hateful blurb in a notebook next to his bed that he referred to as "The Allen Diaries," according to authorities.
The passage is riddled with racist slurs and offensive language directed at Black people.
And it was just one of the many racist and disturbing things Allen wrote in journals that authorities have found in his apartment, the Suffolk County District Attorney's Office said Wednesday while releasing a number of the passages.
Allen, 28, was shot and killed by police after he fatally shot retired state trooper David Green, 68, and Ramona Cooper, 60, a U.S. Air Force veteran. Moments before the murders, he crashed a stolen truck into a building on Shirley Street.
Allen was armed with a .9mm caliber semi-automatic pistol and a .45 caliber semi-automatic pistol during the violent attacks, authorities said.
"In addition to his weapons, he also carried hate fueled by white supremacy," the district attorney's office said in the statement Wednesday.
State police have found "extremist literature" that they say Allen "read with frequency over the last several months," according to the release.
Among the journal entries, police have allegedly found many white supremacist statements that contain racist and hateful language. The passages can be read on the Suffolk district attorney's website.
In the released quotes, a racial slur appears six times, among other extremely hateful and violent language directed at Black people. Allen also allegedly wrote many white supremacist statements, stating that white people are "apex predators" and that they are "superior." After one passage, he allegedly drew a couple of swastikas.
According to authorities, Allen also wrote a misogynistic entry regarding women and made the statement, "Men need to kill things."
Along with the Green and Cooper families mourning the loss of their loved ones, Suffolk District Attorney Rachael Rollins said the Allen family is mourning "the Nathan Allen they thought they knew."
"This man had fooled so many, outwardly appearing stable and upstanding while internally filled with extremist ideologies and hatred," Rollins said in the release.
She also said Allen's family has been cooperative during the investigation, stating:
"The Allen family is devastated by the deaths of Staff Sergeant Cooper and Trooper Green and offer their heartfelt condolences to each family. The Allen family – including Nathan's parents, sibling, wife, and her parents – have met with our investigative team at every request and have cooperated at each turn. We would not have had immediate access to all of the information we do now without their full cooperation. Further, there has been no indication or evidence that the Allen family was aware of Nathan's intent or apparent ideologies. They have stated that they denounce any form of hatred or racism and request privacy during this difficult time. All three of these families – the Coopers, the Greens, and the Allens – are survivors of homicide, and my office will provide resources and assistance in whatever way we can for them."
Newsletter Signup
Stay up to date on all the latest news from Boston.com