Crime
Suffolk County DA Rachael Rollins addresses recent violence in the city
"We want to be more proactive than reactive to this type of violence."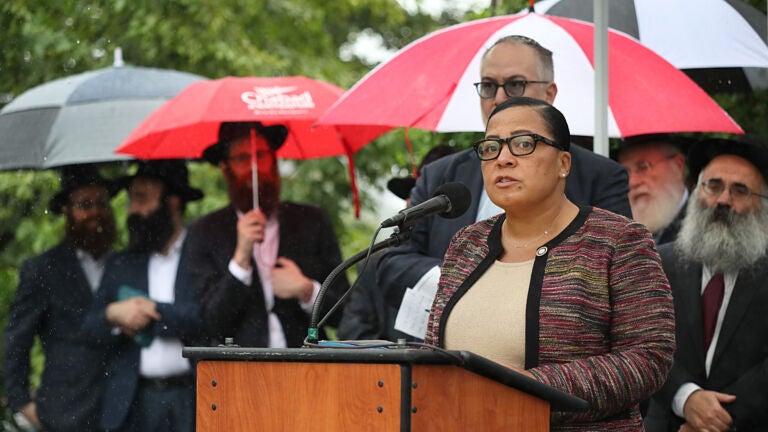 After a spate of recent shootings, Boston police are working around the clock to make arrests and getting proactive about taking illegal guns off the streets, Suffolk County District Attorney Rachael Rollins told WBUR on Monday.
In a July 12 Radio Boston segment, Rollins commented on the recent spike in gun violence and hate crimes. While she's happy there were no fatalities, she said law enforcement will continue holding people accountable for violent, serious crimes.
"We're constantly adapting…[looking] at data, arrests, when people are being released, whether there are tensions between different groups…or whether these are one-off situations," she told host Tiziana Dearing. "We're adjusting appropriately to see whether we can have more presence, we can understand why these shootings may have happened – were individuals released recently? We want to be more proactive than reactive to this type of violence."
Rollins acknowledged the impacts of beginning to come out of a global pandemic, and said local, state, and federal officials need to be prioritizing jobs programs, housing, and education opportunities to "start thinking about crime differently."
"There are tons of stressors and things that are exacerbating many of the problems that result in crime," she said. "So, depending on the ages of the individuals that are the culprits of this violence, I think we can be working not just as law enforcement, but with community partners, with municipal, state, and federal partners to see whether there are programs and opportunities for individuals to be receiving the help they need."
Rollins spoke about the national rise in hate crimes, including more instances of anti-Semitic rhetoric and violence, the murder of Black, transgender women, and targeting of the AAPI community, especially elders. Specifically, the murder of two Black people in Winthrop and the stabbing of a rabbi in Brighton.
"What is troubling is we believe in the north…that type of stuff doesn't happen here, or there are certain communities, like the Jewish community, that they don't need our help. Yes they do," she said. "We're seeing in Winthrop, in his own words what Nathan Allen believed. We are looking at his handwriting stating vile things about Black people, drawing swastikas. We know now that on his phone that day…he was on an anti-semitic website."
Law enforcement have to speak out and be proactive against this rhetoric and crimes, Rollins said.
"What I want to do is not hide in the darkness and pretend it doesn't happen, these conversations are hard, they are challenging, they are hurtful, they make us confront things," she said. "Nobody wants to wake up and talk about these kinds of things, but if we continue to ignore it continues to exist."
Newsletter Signup
Stay up to date on all the latest news from Boston.com