Crime
U.S. woman convicted in 'suitcase murder' of her mother released from Bali jail
Heather Mack was released after serving seven of her 10 years in prison.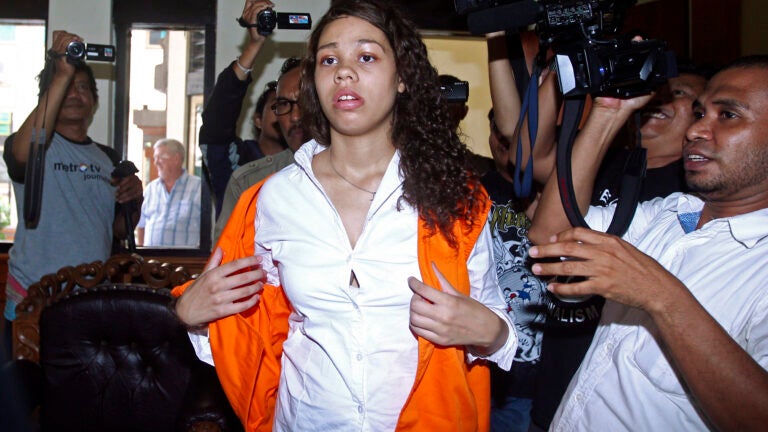 An American woman convicted of helping to kill her mother and hiding the body in a suitcase on Indonesia's tourist island Bali, walked out of prison early on Friday after seven years.
The battered corpse of Chicago widow Sheila von Wiese-Mack was found inside a suitcase in a taxi at the upscale St. Regis Bali Resort in the summer of 2014.
An Indonesian court later sentenced her daughter Heather Mack, who was around 19 and pregnant at the time, for helping her then-21-year-old boyfriend Tommy Schaefer with the killing. She was meant to serve 10 years while he got 18.
In a grisly case that made world headlines, the couple were accused of beating the well-off 62-year-old woman after an argument at the hotel, stuffing her into a suitcase which they wrapped in a sheet, and trying to flee. Police caught the two after a taxi driver noticed bloodstains that leaked from the luggage.
A warden at the Kerobokan prison that released Mack on Friday told reporters the inmate got a remission of close to three years after showing good conduct and taking part in activities.
Her lawyer said ahead of her early release that she faced deportation back to the United States, though she wanted to stay in Indonesia with her little daughter, who was raised in a foster home, away from media attention.
After officers escorted Mack out of jail on Friday through a swarm of reporters, a Bali immigration official told the Associated Press his team was working with the American consulate to send her and the child to the United States within days.
Prosecutors in the 2015 trial had said they did not seek capital punishment in part because the pair had a newborn baby. In court, Schaefer testified the hotel fight came after Mack's mother learned her daughter was pregnant and claimed she had tried to attack him.
Boston.com Today
Get news delivered to your inbox each morning.