Crime
Dorchester principal hospitalized after attack by student, school closed Thursday
"This incident is disturbing and completely unacceptable."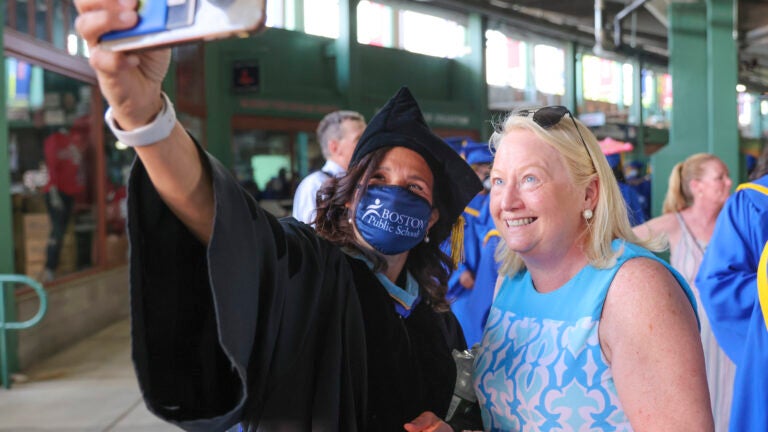 A Dorchester school will close Thursday following a student attack on the principal and another staff member, landing the principal in the hospital.
Principal Patricia Lampron and another employee were attacked by a 16-year-old female student during dismissal at the Dr. William W. Henderson K–12 Inclusion School in Dorchester on Wednesday.
Around 2:30 p.m., an officer assigned to a school safety post was alerted to a violent attack happening on the upper campus, police said. The officer found an adult, reportedly Lampron, unconscious on the ground and being tended to by other staff members. The incident was witnessed by many students, staff, and family, WBZ reported.
Two school safety officers were restraining the student when police showed up. According to WCVB, witnesses told police the student had told Lampron and the staff member to stop following her before attacking Lampron. The student allegedly threw closed-fist punches at the principal's head while grabbing her hair, leaving Lampron unconscious for minutes.
In a statement, Superintendent Brenda Cassellius said the assault happened at the upper campus, which serves students grades two through twelve. School will be closed on Thursday for the upper campus, but remain open for the lower campus.
"This incident is disturbing and completely unacceptable," Cassellius told WCVB. "We want to be clear: Violence of any kind is not tolerated and will not be tolerated in the Boston Public Schools."
When students return Friday, the Boston Public Schools crisis team will be available to support students and staff, according to a communication from the district.
"We do not take this decision lightly and we know this will be a challenge for some of our students and families and we thank you in advance for your grace, cooperation and patience as we plan for a safe return to school," Cassellius said.
The Boston Police Department is investigating the incident. The juvenile is facing several charges, including assault and battery on a victim over the age of 60 causing serious bodily injury, and two counts of assault and battery. She will appear in Dorchester Juvenile Court.
The identity of the other staff member was not released (victim's identities not shared by the police) and the names of juveniles are never released.
Newsletter Signup
Stay up to date on all the latest news from Boston.com