Crime
Kyle Rittenhouse takes the stand in Kenosha homicide trial, breaks down crying
Rittenhouse described feeling "cornered" when he shot Joseph Rosenbaum, who was running near him.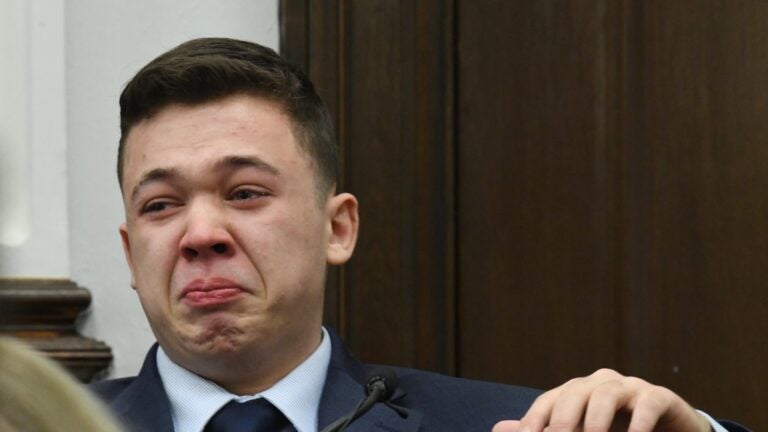 Kyle Rittenhouse, the teenager who fatally shot two people in August 2020 during unrest in Kenosha, Wis., broke down crying early in his testimony Wednesday morning while recounting his memories of being pursued in Kenosha by the first man he shot in August 2020.
The 18-year-old took the stand in his homicide trial, setting up what could be a pivotal moment in the polarizing trial.
Until he began crying, Rittenhouse had been recounting his steps leading up to the moments he opened fire. Rittenhouse also described his prior encounters with Joseph Rosenbaum, the first man he shot, saying that Rosenbaum had been screaming threats at Rittenhouse and others on the streets that night.
Rosenbaum, 36, had been released from a hospital earlier in the day after a suicide attempt, and other witnesses have described him acting erratically that night.
About 35 minutes into his testimony, Rittenhouse described feeling "cornered" as Rosenbaum was running near him. Another man, who defense attorneys say fired a shot into the air, was in front of him.
In the midst of the testimony, with Rittenhouse choking with emotion and gasping for air, the judge called for a break, pausing the trial at its most dramatic moment so far. His testimony resumed about 19 minutes later.
Rittenhouse is charged with homicide and attempted homicide for shooting three people in Kenosha that night. He has pleaded not guilty, and his attorneys have argued Rittenhouse acted in self-defense.
Legal experts have said the case effectively boils down to whether jurors believe his self-defense claims, which makes his testimony crucial. Jurors will weigh whether they agree Rittenhouse believed he feared for his safety or life, and his testimony provides them a key window into what he says went through his mind each time he pulled the trigger.
Rittenhouse traveled into Kenosha as the city was rocked by unrest and rioting after a White police officer shot Jacob Blake, a 29-year-old Black man, two days earlier. With footage of property destruction circulating widely on television and online, armed civilians including Rittenhouse flooded into Kenosha's streets.
Rittenhouse, then 17, went into Kenosha from his home in Antioch, Ill., about 20 miles away, picking up a rifle that a friend had purchased for him because he was too young. His time in Kenosha soon gave way to bloodshed after Rittenhouse crossed paths with Rosenbaum and 26-year-old Anthony Huber, a skater who knew Blake.
In moments that have been dissected throughout the trial, Rosenbaum chased Rittenhouse down a street and flung a plastic bag the hospital gave him toward Rittenhouse. A gunshot rang out nearby. Rosenbaum tried to grab Rittenhouse's rifle and the teenager opened fire, killing him.
Other people soon gave chase, including Huber, who swung his skateboard at Rittenhouse. The teenager fired a shot into Huber's chest, killing him.
Gaige Grosskreutz, then 26, was also following Rittenhouse. Grosskreutz was carrying his cellphone, which he had been using to live-stream the unrest, and a Glock pistol in his other hand. As Grosskreutz approached with his gun drawn, Rittenhouse fired a shot into his right arm, pulverizing his biceps.
Grosskreutz testified on Monday that he never intended to shoot Rittenhouse, but acknowledged that Rittenhouse shot him only when he was approaching the teenager with his gun pointed at him.
Grosskreutz said during his testimony that he had raised his hands in a show of surrender he felt Rittenhouse did not accept, so he moved to charge at him. When questioned by one of Rittenhouse's defense attorneys, Grosskreutz said the teenager never fired when his hands were raised at some distance, but only when he advanced with his gun pointed at the 17-year-old.
Rittenhouse's testimony comes as the trial, which began last week, appears to be in its home stretch. The prosecution rested on Tuesday, the sixth day of testimony, after days spent recounting and dissecting what happened in Kenosha on the night of the shootings.