Crime
Wife of Harmony Montgomery's father arrested for welfare fraud; N.H. girl still missing
Kayla Montgomery allegedly collected over $1,500 in food stamp benefits despite the girl no longer living with her, officials said.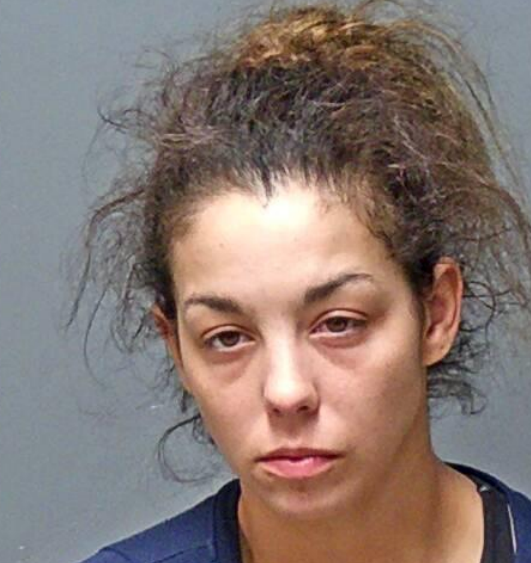 The wife of Harmony Montgomery's father was arrested on Wednesday for allegedly collecting over $1,500 in food stamp benefits for the child, despite Harmony, the missing girl from New Hampshire last seen in 2019, no longer living in her home, prosecutors said Thursday.
Kayla Montgomery, 31, of Manchester, allegedly failed to remove Harmony from her family account with the state's Division of Family Assistance, and received benefits between December 2019 and June 2021 — extending long after she says she last saw the child, according to a statement from the New Hampshire attorney general's office.
Kayla is the wife of Adam Montgomery, Harmony's biological father. The two share three other children, who officials say are all accounted for.
Appearing in Hillsborough County Superior Court-North on Thursday, Kayla pleaded not guilty to one count of welfare fraud.
Prosecutors sought to have her held on $5,000 bail, arguing Kayla, if released, poses a flight risk based upon her criminal record: several misdemeanor charges dating back to November 2012, including a false report to law enforcement, and a probation violation.
But Kayla's attorney, Paul Garrity, asked to have her released on personal recognizance, as are many defendants charged with the same crime, he said.
"She's now 31 years old, has young children, and her lack of records since 2015 I think indicates to the court … that she can comply and will comply with court orders," he said.
Judge Amy Messer, who took the issue under advisement, said the bail request was "somewhat unusual" given the charge against Kayla.
"I don't disagree," Assistant Attorney General Jesse O'Neill said. "What I would say is this is an unusual case."
Late Thursday afternoon, Messer issued an order holding Kayla on $5,000 bail.
Harmony was last seen at an unspecified Manchester residence sometime around October 2019 when she was 5 years old, Manchester Police Chief Allen Aldenberg said earlier this week.
Police arrested Adam on Tuesday, on allegations he physically abused Harmony and on misdemeanor charges of interference with custody and endangering the welfare of a child.
Charging documents released Wednesday in that case revealed Kayla told investigators on Dec. 31 the last time she saw Harmony was around November or December of 2019 one morning before she left for work.
Harmony's biological mother approached Manchester police in November 2021 and told investigators she had not seen her daughter since late 2019. What has ensued is a missing person case with an overwhelmingly long timeline and little publicly known information of Harmony's last known interactions.
As of Thursday morning, the girl's whereabouts remained unknown.
Harmony has blonde hair and blue eyes, and is estimated to be 4 feet tall and weighing approximately 50 pounds, officials said. She wears glasses and is blind in her right eye.
Authorities have established a dedicated hotline for tips. Individuals with information can call or text 603-203-6060. Rewards for information leading to her discovery totaled $60,000.
The allegation against Kayla Montgomery
Kayla added Harmony to her account with the New Hampshire Department of Health & Human Services, Division of Family Assistance, on Feb. 25, 2019, according to an affidavit filed on Thursday.
"My husband, Adam Montgomery's daughter (Harmony) is now currently living with us full-time," Kayla wrote in a "change report." "She is 4 years old and permanently blind in one eye, she was born like that."
According to the filing, Lawrence Juvenile Court in Masschuasetts indicated Adam was granted full custody of Harmony on Feb. 22, 2019. Benefits to the Montgomery family increased $129 per month beginning March 1 of that year.
Amidst a redetermination process, Kayla indicated to DHHS on Jan. 7, 2021, her household consisted of "2 adults married filing jointly, 4 children," the affidavit states.
"The DHHS case worker added a note on the redetermination paperwork of: 'She [Kayla] seemed confused about whether or not Harmony lived there because (she) goes to her mom's every other weekend,'" the affidavit reads.
Another account change report, regarding Kayla's income, began on June 2, 2021: "During that contact, DHHS noted that case management for (Harmony) was closed, noting 'client said she moved back with her mother and to remove her from her case,'" the affidavit states.
The family dynamic
In court documents filed Wednesday against Adam, Adam told Kayla one day in late 2019 he was bringing Harmony to the girl's mother's home in Lowell, Massachusetts, Kayla allegedly told police. She said since then, she never saw or heard about Harmony again.
Harmony's biological mother has also denied ever receiving her daughter at that time, and her boyfriend confirmed the same to investigators, according to the file.
The documents also indicate Adam and Kayla are no longer living together, though investigators described them as husband and wife.
Adam and Kayla last spoke in November, and Kayla has not physically seen Adam since late October 2021, she told police. Kayla said Adam was living in a sober house and had left the area to live with another woman in Maine, the affidavit states.
Adam has a girlfriend, who was with him when police discovered him sleeping in a vehicle in Manchester on Dec. 31, according to the affidavit.
Adam's girlfriend said she has been romantically involved with Adam for over a year, the document states.
Speaking to police on Dec. 31, Kayla was asked about receiving food stamp benefits for Harmony.
"Kayla acknowledged receiving those benefits knowingly, and indicated that she attempted to remove (Harmony) from the account but was unsuccessful," police wrote in the affidavit. "According to the case management documents I have received and reviewed…Kayla did not make any request or attempt to remove (Harmony) from her household account until 6/2/21."
Kayla's Electronic Benefits Transfer, or EBT, transaction history shows she made approximately 800 transactions between February 2019 and June 2021 and that she "was receiving benefits and then spending them and depleting the balance perpetually," police wrote.
What happened in court
In court on Thursday, prosecutors sought to hold Kayla on $5,000 bail based in part on her criminal record.
Between 2012 and 2015, Kayla was convicted on several misdemeanor charges, including theft by misapplication; wilful concealment, theft; false report to law enforcement; and two drug-related charges, according to court files obtained by Boston.com.
Kayla violated her parole related to the drug charges in 2013 and 2014.
"I'll admit that it's not the most serious record that this court has seen, but it does involve great concern for her ability to comply with court orders," O'Neill said.
O'Neill underscored the fact the current charge against her carries the most serious penalties she's ever faced, with a maximum possible prison sentence of up to 15 years.
Prosecutors have a strong case, he said.
"This isn't a case where the defendant may think she can count on witnesses disappearing or changing their stories … This is basically a white-collar case where the evidence is documented, the witnesses are state employees who will be relaying statements made by the defendant herself or the lack of statements made by the defendant herself," O'Neill said.
Garrity, Kayla's attorney, sought to have his client released without bail and offered that she doesn't pose a risk considering her "significant ties to the area." Most of her family resides in New Hampshire, and Kayla has "a close relationship" with her children, who are now living with her mother.
Kayla's last conviction was in 2015, and she complied with the court's orders in that case, he said.
Additionally, she has limited financial resources to be able to cover bail, Garrity said.
"There are conditions as laid out by the state in their proposed bail order that would assure the court and the state that she would appear on future court appearances," he said.
Both parties agreed to certain conditions should Kayla be released: That she have no contact with Adam; that she not travel outside of New Hampshire; and that she check-in daily, in person, with the Manchester Police Department, among others.
Garrity also requested Kayla be allowed to live with her mother, but O'Neill said prosecutors do not believe that arrangement would be conducive to Kayla complying with authorities.
"Basically after she was arrested last night, her mother said words to her to the effect of, 'Don't talk to the police,'" O'Neill said. "That doesn't seem to be conducive to somebody who's trying to stay on the straight and narrow and come back to court."
Garrity said he does not think that anecdote indicates "in any way" Kayla will not comply with the court.
"The statement that was made by the mother was a statement of a concerned parent," he said.
Even with the publicity the case has generated, "this is, right now, simply one child welfare allegation," Garrity said.