Local News
Update: Man, 26, dead after weekend shooting at South Shore Plaza
Braintree police are searching for the suspect. They said it appeared to be a targeted incident.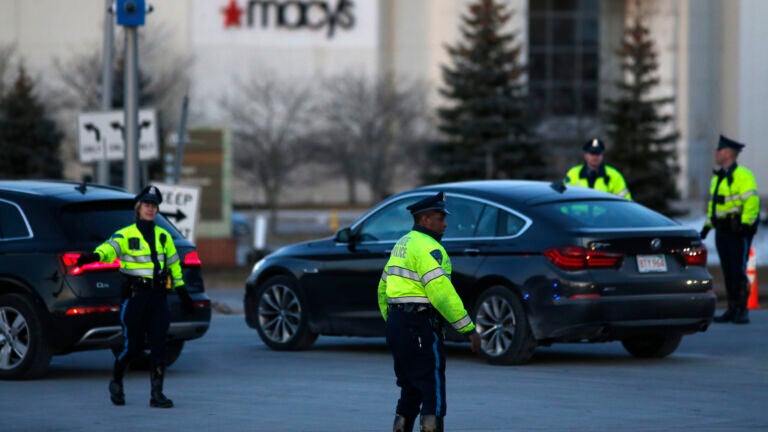 UPDATE: The victim, identified as Dijoun C. Beasley, 26, of Dorchester, has died from his injuries, Norfolk District Attorney Michael W. Morrissey and Braintree Police Chief Mark Dubois said in a release on Monday.
***
A 26-year-old man who was shot Saturday afternoon at South Shore Plaza in Braintree remains in grave condition, Braintree police said.
Police said the incident occurred when a male suspect approached the man inside a store in the mall and brandished a firearm and fired. The man was taken to a Boston area hospital, police said.
He was in "serious and very grave" condition Saturday night, Norfolk District Attorney Michael Morrissey told reporters at a news conference hours after the shooting. He said the victim was last known to have a Boston home address.
Braintree police are searching for the suspect. They said it appeared to be a targeted incident. There was a confrontation between two men inside a store and one of the men shot the other, according to authorities.
"The suspect who fired the shot, as best we can tell, immediately left the mall," Cohoon said at a news conference.
Shoppers could be seen fleeing the mall, while others sheltered in place. Some took to social media and recounted hearing multiple gunshots and crowds of people racing for safety, as law enforcement officers with guns searched for the shooter. The scene was secured by about 5:30 p.m., authorities told reporters.
Some officers were already at the mall at the time of the shooting, Braintree police said in a statement. They were later joined by more units, as well as the Braintree Fire Department, Brewster Ambulance, and first responders from surrounding areas.
South Shore Plaza, located about 12 miles south of Boston, was placed on lockdown and a shelter-in-place order was issued for surrounding neighborhoods.
It was at least the second shooting to occur at the mall within the past two years. On July 3, 2020, a 15-year-old girl bystander was shot in the chest and hand at the mall. Jose Rodriguez, now 22, of Boston, pleaded guilty to punching a woman during an altercation in a store and firing a gun six times in the thick of the mall. He was sentenced to eight years in prison and three years of probation.
Braintree Mayor Charles Kokoros described Saturday's incident as "unacceptable" and said the city would be working with Simon Properties, which owns the mall, to come up with better security, according to The Patriot Ledger.
"It's a place that people should be able to go and shop safely," he said. "We should not have gunshots being fired while people are out shopping and enjoying a Saturday."
Anyone with information about the incident is asked to call Braintree police detectives at (781) 794-8620 or [email protected].
Newsletter Signup
Stay up to date on all the latest news from Boston.com