Crime
Girlfriend charged in death of BPD officer says she didn't realize she might have hit him with SUV
Officer John O'Keefe's girlfriend, Karen Read, faces multiple charges in his death, including manslaughter.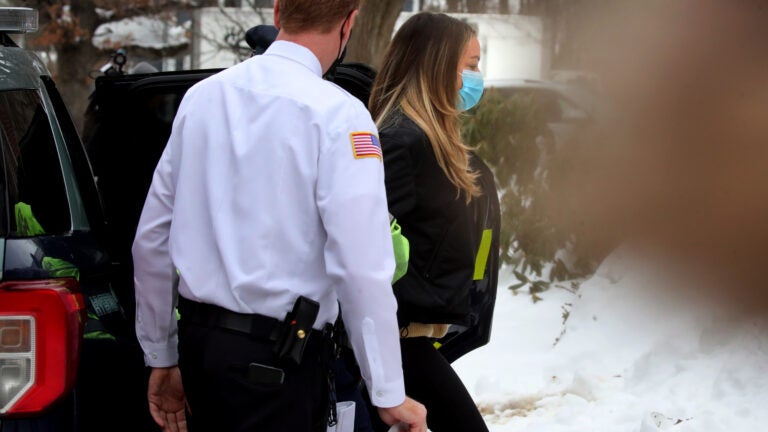 A Mansfield woman told authorities she had no idea she might have hit her boyfriend with her car after dropping him off on a Canton street Friday night, hours before he was found unresponsive in the cold, according to prosecutors.
John O'Keefe, 46, an off-duty Boston police officer, and his girlfriend of two years, Karen Read, 41, appeared fine and "in a good mood" while at a bar in Canton Friday night, a witness told authorities.
But early the next morning, Read and two friends found O'Keefe in the snow, not breathing and his skin cold, in front of a house on Fairview Road where Read had dropped him off just a few hours earlier; he was pronounced dead soon afterward at Good Samaritan Hospital in Brockton.
Read told authorities she'd returned to the scene after discovering a broken tail light on her SUV and fearing for O'Keefe's safety. Authorities spoke with a paramedic who arrived on scene. The paramedic said Read had stated, "I hit him" multiple times, prosecutor Adam Lally said in court.
Read is being charged with manslaughter, leaving the scene of a motor vehicle collision causing death, and motor vehicle homicide, according to the Norfolk District Attorney's Office. She appeared in Stoughton District Court Wednesday, where she pleaded not guilty to all charges; bail was set at $50,000. The charges are related to her allegedly striking O'Keefe with a vehicle and leaving him in the snow during the nor'easter.
Via an autopsy, authorities found O'Keefe had multiple skull fractures. His pancreas was also a dark red color, which meant that hypothermia contributed to his death, according to Lally. Both of O'Keefe's eyes were swollen shut. He also had multiple cuts to his right arm as well as a two-inch cut on the back of his head.
When authorities spoke with Read while she was at her parents' home in Dighton, she told them that she and O'Keefe had been at C.F. McCarthy's bar in Canton Friday night. He was drinking beer, and she consumed vodka sodas, according to Lally. They then went to Waterfall, a bar across the street.
Afterward, she and O'Keefe were invited to a home on Fairview Road. She decided to drop O'Keefe off and go home since she was having "stomach issues," Lally said in court. She made a three-point turn and left; she didn't see O'Keefe go inside the home, she said.
Early the next morning, Read said, she saw that her Lexus SUV had a broken tail light, and she didn't know how that happened. She returned to Fairview Road with two friends and found O'Keefe, snow covering his legs and blood emanating from his nose and mouth. She attempted CPR, Lally said.
One of the friends told authorities that Read had called her around 4:53 a.m. Saturday morning, and that she was "distraught," according to Lally. Read allegedly said to the witness, "Could I have hit him? Did I hit him?" Read also mentioned the cracked tail light to the witness, who drove her back to the scene.
Read works at a financial company as an equity analyst, according to her attorney David Yannetti in court. She also serves as an adjunct professor at a university in Massachusetts and has done so since 2008.
Yannetti argued that Read would not attempt to flee the state if out on bail, considering that her family is here. She also was born and grew up in Massachusetts. He argued that bail would not need to be as high, requesting that it be $5,000 instead of $50,000. He also argued that the manslaughter charge was "a tremendous reach," stating that Read didn't have criminal intent.
He also noted that Read suffers from colitis and multiple sclerosis, and she was diagnosed with a brain tumor last summer.
Read posted bail shortly before noon on Wednesday; she is set to appear in court again on March 1. Along with the bail, she is also ordered to stay away from the victim's family and his home, and not to drive unless allowed by the state Registry of Motor Vehicles.
Newsletter Signup
Stay up to date on all the latest news from Boston.com