Crime
Activist Monica Cannon-Grant and her husband are facing federal fraud charges. Here's what we know.
The founders of Violence In Boston allegedly used donations to the nonprofit on personal expenses, such as travel, restaurants, and nail salons.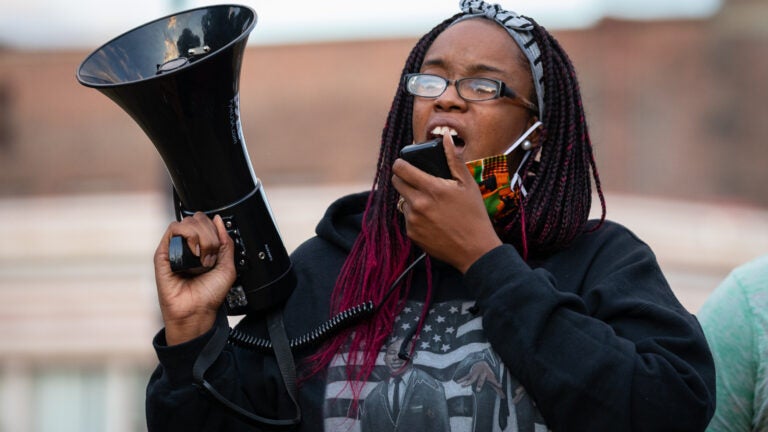 A federal grand jury has indicted Monica Cannon-Grant, a high-profile local activist in Boston's racial justice movement, and her husband on allegations they defrauded donors of the nonprofit they founded, Violence In Boston; committed unemployment fraud; and lied to a mortgage lender, prosecutors announced Tuesday.
Cannon-Grant, 41, and Clark Grant, 38, were charged in an 18-count indictment alleging the couple spent financial donations to the nonprofit on themselves, using the cash to pay for hotel reservations, gas, restaurant meals, food deliveries, nail salon services, and personal travel, while concealing their transactions from bookkeepers, directors, and financial auditors.
The two also received roughly $100,000 in unemployment benefits they were not entitled to, officials allege.
Both were charged with two counts of wire fraud conspiracy, one count of conspiracy, 13 counts of wire fraud, and one count of making false statements to a mortgage lending business, according to Massachusetts U.S. Attorney Rachael Rollins's office.
Cannon-Grant, who was arrested Tuesday morning, was also charged with one count of mail fraud.
Read the full indictment below.
In federal court in Boston that afternoon, Judge Judith Dein ordered Cannon-Grant released on personal recognizance, with conditions set around her employment and volunteer work.
Cannon-Grant is barred from applying for any loans, grants, or employment benefits under those terms. She is also prohibited from working any position — as either an employee or volunteer — that allows her access to an organization's finances.
Prosecutors and Bill Connolly, an attorney representing Cannon-Grant, were set to work out parameters for how Cannon-Grant can continue working at Violence In Boston without access to the organization's funding.
"If you have any questions about whether or not you should be engaging in any work or other activities, consult with probation or your counsel beforehand, so we don't end up in a problem," Dein told Cannon-Grant.
An arraignment is set to be scheduled for sometime next week.
Grant, meanwhile, was initially charged in October for allegedly committing unemployment fraud and making false statements to help obtain a mortgage for the couple's Taunton home, which they purchased last year. An arraignment for Grant under the latest indictment had not been set as of Tuesday morning.
Violence In Boston strives to reduce violence and address related trauma while advocating against social injustices, according to its website.
Though established in 2017, the organization — and by extension, Cannon-Grant — has received significant attention since 2020, when the murder of George Floyd by police in Minneapolis bolstered the nation's racial justice movement.
Cannon-Grant was often a driving force behind local demonstrations that attracted thousands that year. Her name soon became synonymous with the city's offshoot of the racial justice movement, earning her press attention — including from this publication — and accolades. Last year, Cannon-Grant was named one of the most powerful people in Boston by Boston magazine and a Bostonian of the Year in 2020 by The Boston Globe Magazine.
How the couple allegedly spent money from donors
According to a statement from Rollins's office, the grand jury alleges the couple "conspired to use VIB as a vehicle to solicit and receive charitable contributions from institutional and individual donors" that the pair then used for personal expenses and to grow their own wealth, hiding their actions from their fellow VIB directors and officers.
"Specifically, from 2017 through at least 2020, it is alleged that Cannon-Grant and Grant exercised exclusive control over VIB financial accounts and diverted VIB money to themselves through cash withdrawals, cashed checks, debit purchases and transfers to their personal bank accounts," the statement says.
At several times between 2017 and 2021, Cannon-Grant applied for publicly and privately funded grants for Violence In Boston, prosecutors say. But the couple allegedly spent the money on themselves, paying for expenses like auto repairs, food, and Uber rides, according to officials.
The indictment states Cannon-Grant, the nonprofit's CEO, gave herself a salary of $25,096 for 2020 that jumped to $170,092 in 2021. Violence In Boston received over $1 million in fundraising between 2017 and 2021, which was held in a Bank of America account that Grant and Cannon-Grant held "exclusive control and authority over," the filing reads.
"From 2017 through at least 2020, Cannon-Grant and Clark Grant presented themselves as uncompensated VIB directors to donors and other charitable institutions," the indictment reads. "In reality, Cannon-Grant and Clark Grant … used VIB funds to pay for personal expenditures."
In 2017, for instance, Cannon-Grant cashed a $10,400 check from a Massachusetts-based department store, which she told the company would be used "to purchase meals for needy children in the Boston Public Schools system," according to the indictment. But Cannon Grant, with nothing in the bank account bearing her name at the time, allegedly used over $3,000 of those funds to purchase money orders to cover her rent.
Other alleged instances over the years included a pattern of Cannon-Grant collecting donations, depsoting the checks, and using the funds to pay for personal goods, such as during a trip to the Wrentham Outlet Mall in December 2019, the filing shows.
When Violence In Boston began collecting "siginficantly more money" in 2020, Grant and Cannon-Grant "began to help themselves to greater amounts from the VIB bank account," including withdrawing $16,000 from ATMs in April 2020 alone, when the nonprofit brought in approximately $50,000 — its largest monthly haul until that point in time, prosecutors wrote.
On July 6 of that year, the pair allegedly took out $9,700 from the organization's PayPal account to buy a 2012 Honda sedan for a relative.
The couple allegedly defrauded the district attorney's office
Prosecutors allege the couple even defrauded Rollins's former office – an allegation that could mean Rollins will be recused from the case due to Department of Justice policies.
In 2019, while serving as Suffolk County district attorney, Rollins announced her office awarded $100,000 in grants to 21 local nonprofits, including $6,000 for Violence In Boston.
"Our communities are stronger thanks to the dedication of our nonprofits and their staff who work daily to prevent youth violence and substance use and who focus on improving the mental health of our young people in Suffolk County," Rollins said in a press release at the time. "They deserve all of our thanks and support."
According to the indictment, Cannon-Grant booked a hotel reservation for three nights and two rooms in Columbia, Maryland, around June 1, 2019. She had $1.35 in her bank account at the time, while Grant had a balance of $21.01. The Violence In Boston account was overdrawn, with a balance of -$84.20.
Around June 6, Violence In Boston submitted a grant application to Rollins's office stating that the funding would be used for a youth retreat to Philadelphia in September, and agreeing the funding would be used only for that purpose, the filing states. Cannon-Grant also allegedly agreed to provide an "after action report" following the trip.
Cannon-Grant accepted the grant on June 28, 2019, and cashed the check that day, prosecutors wrote.
Bank account records show the couple spent the $6,000 on a $145 visit to a Boston nail salon, over $400 worth of groceries and Walmart purchases in Maryland, and "hundreds of dollars in meal costs in Connecticut, New Jersey, and Maryland … hundreds of dollars in fuel, parking, and car rental costs, and hundreds of dollars in ATM withdrawals," the indictment alleges.
By July 31, the Violence In Boston bank account showed a balance of -$552.38, officials wrote.
No bank records showed transactions in Philadelphia in either July or September 2019, officials wrote.
In an email to a local organization on July 15, Cannon-Grant said she was not able to respond to emails prior to that date because, "I was on vacation," according to the indictment.
The couple did not disclose to their nonprofit directors that they used the grant to pay for a personal trip, and Violence In Boston never submitted an "after action report," prosecutors allege.
According to The Boston Globe, the investigation into Cannon-Grant was launched while Rollins was still district attorney. She stepped into her current role in January.
Although Cannon-Grant and Grant are the only two defendants in the case, the court file states there were "others known and unknown to the grand jury" who conspried to defraud the nonprofit's donors for the sake of personally enriching its founders.
Other allegations of fraud — including receiving $100K in unemployment
Additionally, the pair allegedly took in COVID-19 pandemic-related unemployment assistance from the state despite "collecting income from a variety of sources, including VIB funds utilized for Cannon-Grant and Grant's personal expenses, consulting fees paid to Cannon-Grant, compensation paid directly by VIB to Cannon-Grant, and the annual salary paid to Grant by his employer for his full-time job."
The two applied for unemployment benefits from May 2020 through 2021 "that they knew they were not eligible to receive," officials allege.
Grant collected $67,950 in COVID-19 pandemic unemployment benefits between May 2020 and September 2021 despite being employed full time, prosecutors alleged last year.
In the latest indictment, prosecutors also allege Cannon-Grant defrauded the government of unemployment payments and collected approximately $33,426 in total.
"The defendants allegedly coordinated the submission of false online applications and certifications for (pandemic unemployment assistance) funds, concealed their income, used the fraudulently obtained PUA funds to pay for their joint household expenses and other personal expenditures, and created and submitted phony documentation in order to continue receiving weekly PUA COVID-19 benefits," the statement says.
Authorities outlined several pieces of evidence illustrating that Cannon-Grant allegedly knew she was committing fraud, including a March 26, 2021, text she sent to her husband after the state's unemployment agency requested additional documentation to substantiate her claim.
"Unemployment caught my a**!" Cannon-Grant allegedly wrote. "Asked me to provide documents by June unless I'll have to pay it all back."
The couple also submitted false information to an Illinois-based mortgage lender when applying for a loan in July 2021 by listing VIB's assets as their own, prosecutors allege.
On their application, they hid the fraudulent unemployment benefits and the "fraudulent nature of gift funds Grant received in order to help pay for mortgage fees and closing costs," officials said.
What Cannon-Grant has said about the allegations
Violence In Boston did not immediately return a request for comment on Tuesday.
But as The Boston Globe reported the investigation into the couple last week, Violence In Boston's lawyer, Rob Goldstein, said the organization was unaware of "the nature or scope of any investigation but can confirm that both Monica and Violence In Boston are fully cooperating with any and all informational requests so that any investigation can be swiftly wrapped up and Monica and Violence in Boston can focus solely on their important work."
Cannon-Grant told the newspaper she was "clueless to what you're talking about" when a reporter asked about the ongoing investigation.
"I have no comment," she continued. "I probably should talk to my lawyers."
Later that day, however, Cannon-Grant acknowledged the federal probe on an online radio show, and alleged she was being targeted by white supremacists, the government, and a small number of Black people who are jealous of her, according to the Globe.
She noted that Violence In Boston has grown in recent years into a "multimillion-dollar organization."
"More money, more problems," she said.
In the days before her arrest, Cannon-Grant posted and shared other posts on Twitter that attempted to cast doubt on the Globe's credibility.
Cannon-Grant referred to the probe in one tweet on March 8 as the "Federal investigation into no where."

"If they know ANYTHING about Black Women is that we have Reciepts so please get it right," she wrote, referring to two Globe reporters. "The Globe loves you until they don't."
"Don't ask me how I feel," she posted on March 9. "I go every day unprotected as a Black woman in Boston. After @BostonGlobe Drop this hit piece they put a battery pack in Racist & trolls that threaten me on a regular basis. Still I got up cried it out & went & bought food for the food pantry."
Goldstein, who is representing Cannon-Grant, in a statement to the Globe on Tuesday said "we are extremely disappointed the government rushed to judgment here."

"VIB and Monica have been fully cooperating and their production of records remains ongoing," Goldstein said. "Drawing conclusions from an incomplete factual record does not represent the fair and fully informed process a citizen deserves from its government, especially someone like Monica who has worked tirelessly on behalf of her community. We remain fully confident Monica will be vindicated when a complete factual record emerges."
Read the full indictment
11-main by Christopher Gavin on Scribd
Newsletter Signup
Stay up to date on all the latest news from Boston.com