Crime
Two teens arrested for TechBoston Academy shooting
One teen was from Dorchester and one was from Lynn.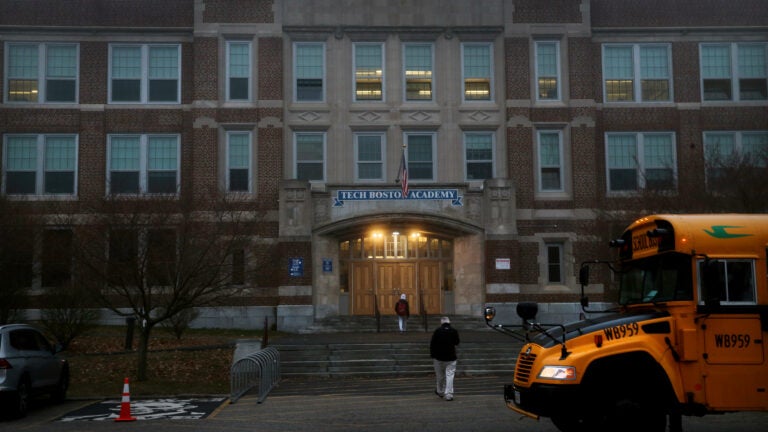 Two teenage boys have been arrested in connection with the double shooting of a teacher and a student at TechBoston Academy that happened earlier this month, Boston police announced Saturday.
The shooting happened March 16 around 5:40 p.m. in the parking lot of TechBoston Academy. Teacher Khelmon Bethel, 31, and a 17-year-old student were preparing for a school event when they were both shot.
Both were taken to a hospital with serious but non-life-threatening injuries.
At the time, no suspects were identified, but as a result of an investigation into the incident, two suspects are now in custody.
At 2:50 p.m. on Wednesday, March 23, officers said they found and arrested a 17-year-old male from Lynn following a brief foot chase. The arrest resulted in the recovery of a loaded 9mm Glock 19 handgun equipped with a laser sight.
Following his arrest, officers executed a search warrant at the suspect's residence, leading to the recovery of a .22 caliber handgun equipped with a laser sight.
At about 1:30 p.m., on Saturday, March 26, a 16-year-old male from Dorchester surrendered himself to members of the BPD Youth Violence Strike Force and was placed in custody without incident.
The 17-year-old suspect has since been arraigned in Dorchester Juvenile Court on charges of delinquent to wit: unlawful possession of a firearm, unlawful possession of ammunition, carrying a loaded firearm, two counts of assault and battery by means of a dangerous weapon, and discharging a firearm within 500 feet of a dwelling.
The 16-year-old suspect is expected to appear in Suffolk County Juvenile Court on the same charges.
Newsletter Signup
Stay up to date on all the latest news from Boston.com