Crime
Jean McGuire, longtime leader of Metco program, fought off attacker who stabbed her in Franklin Park
Anyone who was in the area at that time and may have witnessed the incident or observed anything suspicious is urged to call detectives at 617-343-4275.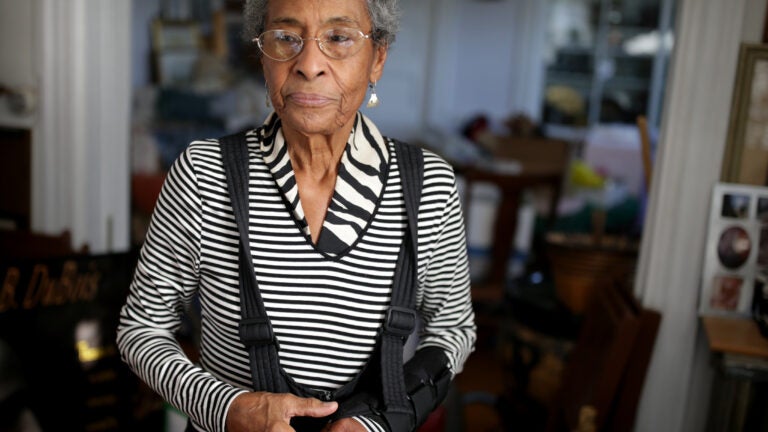 A 91-year-old local civil rights icon was "stabbed multiple times" in Franklin Park while walking her dog Tuesday evening, according to Boston police and multiple media outlets.
The victim, who is recovering from the attack, was identified Wednesday by The Boston Globe as Jean McGuire, the longtime leader of Boston's Metco program and the first woman of color to be elected to the Boston School Committee.
Officers responded to the scene at 25 Playstead Road in Jamaica Plain around 8:30 p.m. after receiving a report of an unconscious person, the department said in a release.
McGuire, who was attacked by an unknown suspect, was taken to a local hospital with non-life-threatening injuries, police said. McGuire's friend, Jeriline Brady Mcginnis, told the Globe that McGuire fought off her attacker with the help of her dog, Bailey.
"[Jean] attacked this guy. She was kicking him in the nuts while Bailey was working him over. And he tried to run, and the dog chased him. And [the attacker] disappeared out of sight," Mcginnis said. "Bailey stood up for her."
Police believe that the suspect may have been injured during the attack.
In a report obtained by the Globe, police said McGuire was discovered by people coming from the nearby Franklin Park Zoo. McGuire was able to ask for help and the passersby called 911, police wrote.
Anyone who was in the area at that time and may have witnessed the incident or observed anything suspicious is urged to call detectives at 617-343-4275.
Anonymous tips can also be submitted by calling the CrimeStoppers Tip Line at 1-800-494-TIPS or by texting the word 'TIP' to CRIME (27463).
Suffolk District Attorney Kevin Hayden met with McGuire at Beth Israel Hospital Wednesday. He spoke with reporters shortly afterward, informing the press that she is in recovery.
"On a positive note, Ms. McGuire is as spunky and as vibrant as ever, and is going to be just fine," he said.
Hayden referenced other acts of violence in the area recently, including the high school student shot in Dorchester and the 14-year-old boy fatally shot in Roxbury.
"I'm certainly outraged," he said. " I think we have to be at the point where we have an entire community that is equally as outraged and will not stand for this sort of random violence any further."
The District Attorney confirmed that the investigation into McGuire's stabbing is ongoing.
For 43 years, McGuire led the Metropolitan Council for Educational Opportunity, Inc. (METCO), the program created during Boston's busing crisis in the 1970s to send students from urban neighborhoods into suburban school systems, the Globe reported.
"It is alarming that this act of violence would happen to Dr. McGuire in her own community," the METCO Directors Association said in a statement. "Dr. McGuire is a pioneer of the METCO Program and an educational leader in Boston. She has been a civil rights activist for over sixty years and an individual who has sacrificed for and given so much of herself to the City of Boston … As an Association we pray for her continued recovery."
McGuire was the first Black social worker to work in the Boston Public Schools, and helped to develop a curriculum that highlighted Black history. Her long history as a leader provided her with notoriety both in the city and in her neighborhood.
"Jean has been walking in the park since forever. As residents hear about this it's going to be really upsetting," Connie Forbes, a Franklin Park area resident who knows McGuire, told the Globe. "She's a lively, active part of the community. She walks in Franklin Park, with her dogs usually. She's fearless."
Mcginnis described the moment she learned of the attack to WCVB, saying, "Honestly, if you would've asked me my name at that point I wouldn't have been able to tell you. My anger was so high I could hear my heartbeat through my whole body. My anger was that high. Of course, not nice things went through my head. I had to keep myself from going in my own car and doing something stupid. Because it has to be a very, very brave man that can attack a 91-year-old woman in the park."
Correction: An earlier version of this story incorrectly identified Mginnis as McGuire's sister.
Newsletter Signup
Stay up to date on all the latest news from Boston.com