Crime
Adam Montgomery charged with murder in daughter Harmony Montgomery's death
"I ask that in memory of Harmony, that we all make every effort to do something nice for a child today."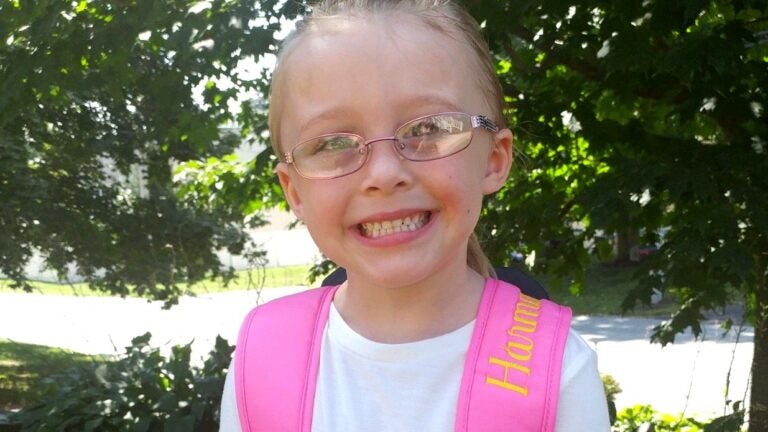 Harmony Montgomery, the young girl from Manchester, New Hampshire, who was at the center of an unusual missing child case last year and, later, a homicide investigation, was killed in late 2019 after her father repeatedly struck her in the head with a closed fist, authorities alleged Monday.
Adam Montgomery, of Manchester, is now facing a new slate of charges related to her death, including second-degree murder, falsifying physical evidence, abuse of a corpse, and tampering with a witness, according to Manchester Police Chief Allen Aldenberg.
"We understand that today's news, while significant for purposes of this investigation, is yet another difficult moment for those who loved Harmony and those who have followed this case," New Hampshire Attorney General John Formella said during a press conference announcing the charges in Manchester. "Our hearts go out especially to Harmony's family."
According to Formella's office, the second-degree murder charge is for "recklessly causing the death of Harmony Montgomery, a person under 13 years of age, under circumstances manifesting an extreme indifference to the value of human life."
Investigators believe Harmony was killed "on or about Dec. 7, 2019," when she was 5.
Authorities also allege Adam Montgomery, between that date and March 4, 2020, falsified "physical evidence for purposely altering, destroying, concelling,or removing the body of Harmony Montgomery with a purpose to impair its verity or availability in an official proceeding or investigation."
Additionally, officials allege Adam Montgomery abused Harmony's corpse "for purposely and unlawfully removing, concealing or destroying the corpse."
The fourth charge alleges Adam Montgomery tampered with witnesses in an attempt to "induce or otherwise cause Kayla Montgomery (his estranged wife and Harmony's stepmother) to testify or inform falsely, …between approximately Dec. 7, 2019 and Jan. 4, 2022."
The charges arrived nearly a year after Harmony's mother, Crystal Sorey, raised concerns she had not seen her daughter in more than six months. Sorey had lost custody of Harmony, who was blind in one eye, in 2018.
Adam Montgomery, who was already in law enforcement custody on other charges related to his daughter, was booked without incident Monday morning, Aldenberg said.
He is scheduled to be arraigned in Hillsborough County Superior Court – Northern District in Manchester on Tuesday.
"I'm certain the charges that we have brought forward today will garner additional discussions, speculation, and undoubtedly, will elicit a wide range of emotions from the public," Aldenberg told reporters.
"I ask that in memory of Harmony, that we all make every effort to do something nice for a child today," he continued. "I know of no other way to respect and honor this innocent, defenseless child than to extend an act of kindness to another child in her memory."
Authorities did not take questions on Monday, citing the pending case.
Officials asked anyone with information about the location of Harmony's remains or details regarding her murder to call or text the 24-hour tip line dedicated to Harmony at 603-203-6060.
"Our work is not finished," Aldenberg said.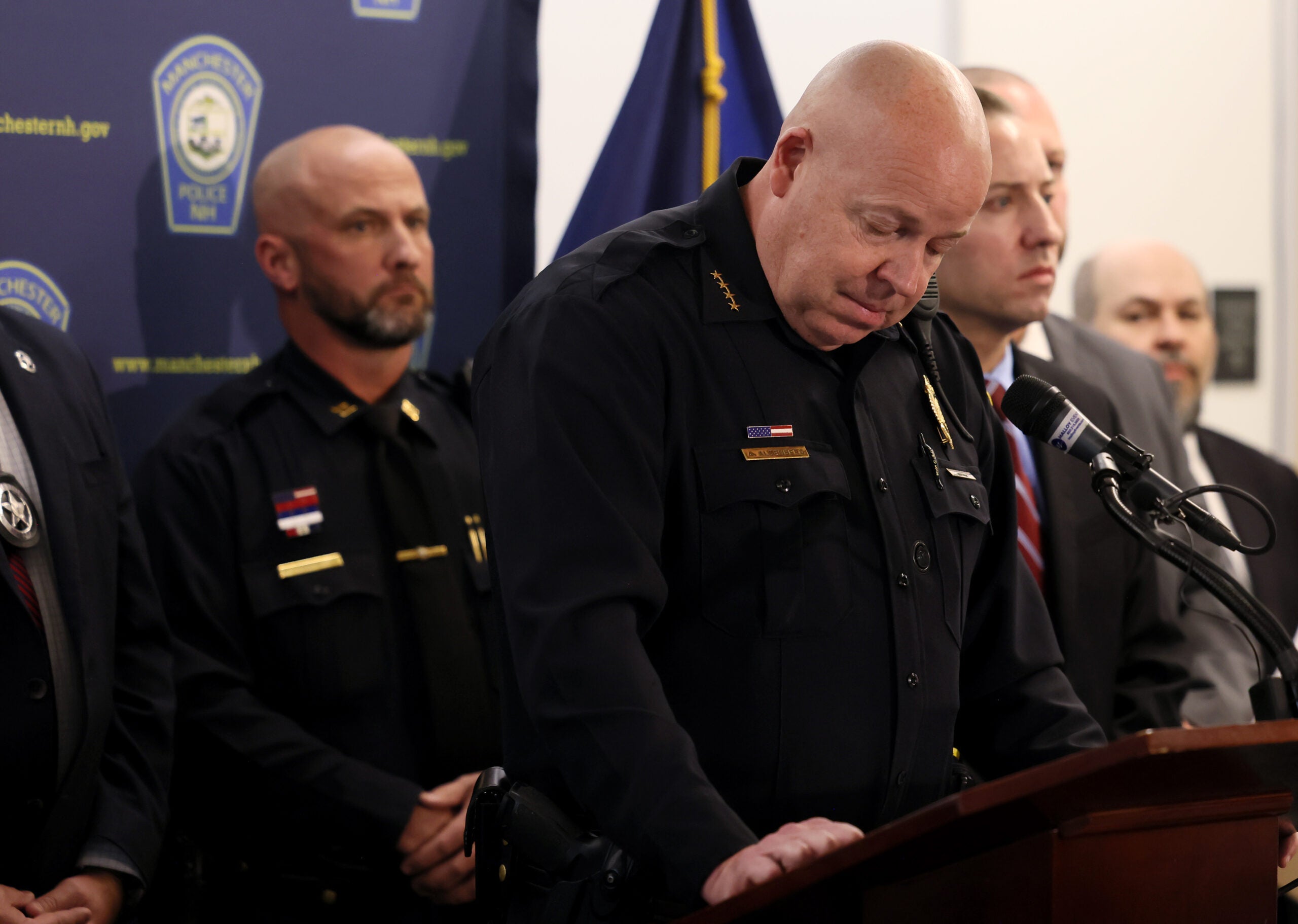 Police began investigating Harmony's disappearance in December last year, after learning the girl had not been seen alive since late 2019.
Through that investigation, authorities in January charged Adam Montgomery with assaulting Harmony, with court documents alleging a pattern of abuse.
In July 2019, only months before when authorities believe Harmony was killed, Harmony allegedly suffered a black eye after being hit by her father.
Adam Montgomery allegedly struck his daughter across her face after instructing her to watch an infant while he was in the bathroom.
When he returned, the infant was crying, and Harmony was holding her hand across the baby's mouth in an attempt to quiet him, according to what Adam later told his uncle.
Then he said he hit her, the relative recalled to Manchester police.
"I bashed her around this house," Adam allegedly said to his uncle, when the latter asked how Harmony got the bruise.
The uncle ultimately contacted the New Hampshire Division of Children, Youth, and Families.
Speaking to investigators, Adam's uncle recalled other instances of abuse that invovled Harmony "being spanked hard on the butt, (Harmony) being forced to stand in the corner for hours, and Adam ordering (Harmony) to scrub the toilet with her toothbrush," an affidavit states.
According to the filing, Adam struggled with substance abuse and his uncle believed he had relapsed on drugs during that time period.
Kayla Montgomery recalled seeing Harmony with a black eye to police but told investigors that "Adam told her that it was caused by one of their other children striking (Harmony) with a toy," officials wrote.
As the search for Harmony gained traction late last year, investigators, in court filings, said they found Adam sleeping in a vehicle in Manchester on Dec. 31, 2021.
He made "some contradictory statements" when speaking to police that raised their suspicion and concern for Harmony's well-being, officials wrote.
He had initially told police his daughter was fine and he saw her "somewhat recently."
But he later said he had not seen his daughter since her mother came to pick her up in Manchester sometime around Thanksgiving 2019. He told detectives he does not have a phone number but has sporadic access to email.
"We each emphasized that our primary concern in locating (Harmony) and establishing that she is safe," police wrote. "Adam stopped answering questions multiple times and stated, 'I have nothing else to say'…
"We stressed my concern that (Harmony) had not been physically observed in over two years and that we had concern for whether or not she was still alive," investigators added. "Adam did not exhibit much emotion or reaction to this. Adam said that he believed (Harmony) was in MA with her mother."
When he was pressed for information about Harmony's whereabouts, Adam Montgomery said "words to the effect of, 'Not talking to you,' 'I have nothing to say,' and 'If I'm not under arrest, I'm leaving,'" investigators wrote.
Harmony's mother at that time last year, however, denied receiving her daughter in late 2019 or seeing her anytime after April of that year.
Adam Montgomery has an extensive criminal record, including being a suspect in an unsolved murder of a Lynn man in 2008.
Earlier this year, he was also arrested on unrelated firearm theft charges.
Meanwhile, Kayla Montgomery has been accused of falsely claiming that Harmony was living with her in order to collect welfare benefits and faces perjury charges in connection to statements she made to the grand jury. She has also been arrested on charges unrelated to the case.
Both have pleaded not guilty to the earlier charges.
Kayla Montgomery was arrested again last month after failing to appear at a scheduled court hearing.
In August, authorities announced that their search for Harmony had become a homicide investigation after concluding that Harmony was murdered in early December last year.
Officials said though they had not located the girl's remains.
However, authorities had just recently confirmed "biological evidence," which led them to believe Harmony was killed, Formella said at the time.
Newsletter Signup
Stay up to date on all the latest news from Boston.com