Crime
Update: Authorities release photo of masked suspect after Martha's Vineyard bank robbed, staff tied up
All three armed robbers were wearing this same mask, officials said.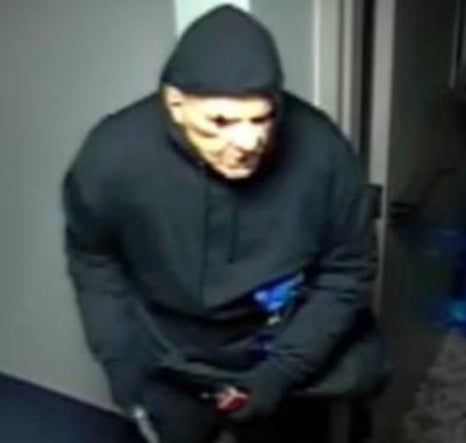 Update: Officials released a photo of one of the masked Martha's Vineyard bank robbers Thursday night, noting that all three suspects were wearing this same mask.
"Three unknown individuals rushed into the bank as employees entered to open the bank for business. These subjects were masked, gloved and armed with handguns," the Cape & Islands District Attorney's Office said in the accompanying release.
As of Friday morning, no arrests had been announced in the robbery at the Rockland Trust bank in Vineyard Haven on Thursday morning. An active police scene at a Falmouth Holiday Inn Thursday related to the investigation was also cleared that afternoon with no suspects in custody.
"The District Attorney and [Tisbury Police Chief Chris Habekost] want to stress that Island residents should remain vigilant, however, they should not be overly alarmed," the DA's office said. "This was a targeted crime and there is no additional information that should cause undue fear."
Anyone with information is asked to contact Tisbury police at 508-696-4240 or Trooper Dustin Shaw at 508-693-0545.
Original report:
Armed robbers held up a bank on Martha's Vineyard Thursday morning and escaped in a stolen vehicle, officials said.
"Active police scene at Rockland Trust in Vineyard Haven," Tisbury police wrote on Facebook. "Confirmed armed robbery with firearms."
Tisbury Police Chief Chris Habekost told the Vineyard Gazette that the robbery occurred around 8:15 a.m., when three people armed with handguns entered the building. They tied up bank staff and escaped in a stolen vehicle, which later turned up near the Manuel F. Correllus state forest, the news outlet reported.
No one was physically injured.
In a later Facebook post, the Tisbury Police Department confirmed it is receiving assistance from the FBI and Massachusetts State Police.
The robbery took place at the Rockland Trust at 257 Edgartown Road, according to FBI spokesperson Kristen Setera.
"The FBI is responding to the scene and is assisting our law enforcement partners in the investigation," Setera told Boston.com. She declined to comment further, citing the ongoing investigation.
Habekost told The Martha's Vineyard Times that police officers were monitoring the ferry terminal. The Steamship Authority provides service from Vineyard Haven to Woods Hole, in Falmouth.
Ongoing police activity reported in Falmouth is believed to be connected to the robbery, a high-level law enforcement source told NBC10 Boston.
Falmouth police said there is currently an active police incident scene on Jones Road. The road will be shut down between Gifford Street and Davis Straits, the department said.
"Area schools have been put in a shelter in place status as a precaution," Falmouth police wrote on Facebook, asking community members to avoid the area. "There is currently no immediate danger to the general public."
Newsletter Signup
Stay up to date on all the latest news from Boston.com