Crime
Medford Massage Envy therapist faces charges after allegedly assaulting 2 women
Lawyers say sexual assault at Massage Envy locations is an ongoing and nationwide problem.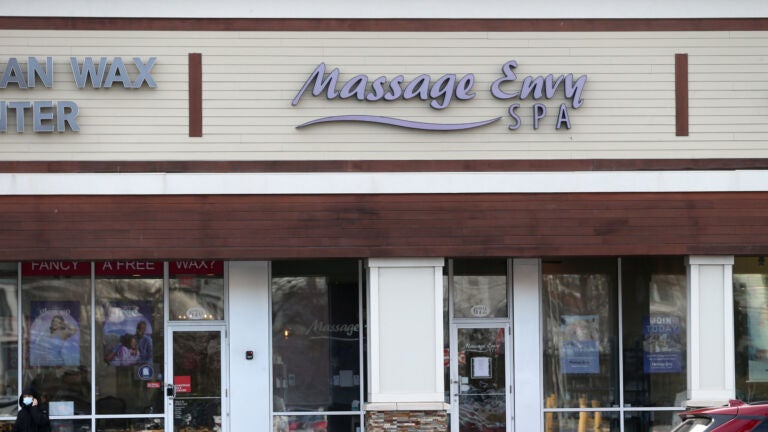 A former massage therapist at Massage Envy in Medford is facing criminal charges after allegedly sexually assaulting two women in the span of three days.
Medford police have charged Gilberto DaSilva with rape for one of the alleged assaults, and the other woman who says she was assaulted is suing him for assault and battery, The Boston Globe reported.
That woman is also suing Massage Envy and its managers, claiming that it is negligent in its hiring practices and supervising of therapists, the Globe reported. She also alleges that the company is violating consumer protection laws by claiming its locations are safe.
"What happened to me during the massage was awful and continues to affect my life negatively," she told the Globe. "I informed management three different times over two days about what happened to me, asking that he be reprimanded or fired. They took absolutely no action. They continued to allow the perpetrator to have unfettered access to other women."
One of DaSilva's lawyers told the Globe that DaSilva has maintained his innocence since day one and continues to do so.
The owner of the Medford Massage Envy, Ajay Misra, and the location's managers both refused to comment to the Globe, referring the newspaper to the company's corporate office in Arizona.
"Massage Envy is committed to promoting a safe environment for members, guests and service providers," Massage Envy told the Globe in a statement. "We urge anyone who experiences anything other than a safe, quality massage to report it immediately to the franchised location so that it can be investigated."
The company, which is one of the country's largest spa chains with about 1,100 locations, turned down comment on DaSilva and his criminal charges, saying it "cannot comment on pending allegations or litigation involving any independently owned and operated franchised location."
What allegedly happened
On March 3, 2021, the first woman claims, DaSilva ripped off the sheet covering her legs on the massage table before moving his hand up her leg, getting close enough to her genitals to touch her pubic hair, NBC 10 Boston reported.
"You're vulnerable. You're lying naked on a table in a room with one other person," the woman told the news station. "… I was scared to fight and so I just stayed there, still as a statue, counting down the minutes until the hour was over."
On March 5, 2021, police allege, DaSilva raped another customer, who had to run away from the table naked to escape, the Globe reported.
According to court documents, the newspaper wrote, DaSilva's response to his manager after the woman ran out of the spa screaming was "I don't know what happened. I don't know what's wrong with her. I don't think she's ever had a massage before."
Erica Brody, an attorney for the first woman, told the Globe that when police responded to the second assault, managers at the Medford Massage Envy didn't tell police this was the second alleged assault by DaSilva in three days.
"When people go to get a massage, they deserve to feel safe," Brody told the newspaper. "The way Massage Envy responded to my client's complaint was appalling and the fact that the massage board has taken no action against Massage Envy is outrageous."
But, NBC 10 Boston reports, Massage Envy Medford did tell police about the first alleged assault a few days later.
Police have not charged DaSilva for the alleged March 3 assault because they were already seeking charges against him for the alleged rape on March 5, the Globe wrote.
Past allegations against DaSilva and Massage Envy
The Medford Massage Envy has been sued for sexual misconduct at least one other time, the Globe reported, but at the time, it was under different ownership. A customer who visited the location in 2020 claimed that a massage therapist touched his penis during a massage.
DaSilva has also faced similar charges. In 2004, while running a cleaning company, he was accused of sexually assaulting and harassing an employee, the Globe reported.
While criminal charges against him were eventually dropped, the newspaper wrote, the Massachusetts Commission Against Discrimination sided with the employee and ordered him to pay them $164,000 in 2009.
According to NBC 10 Boston, DaSilva did not have to disclose the decision by the commission to the state's Board of Registration of Massage Therapy when he applied for a license, and that he had very positive references when applying.
The Medford Massage Envy is still licensed by the board, and DaSilva remained licensed as a massage therapist until August 2022 when his license expired and he did not renew it, the Globe reported.
Despite Massage Envy's claims that it has a "zero tolerance policy" towards sexual misconduct and assault, lawyers who have sued Massage Envy before told the Globe that sexual misconduct is a widespread problem across the company.
"Our firm alone — and we're only one of many — we represented hundreds of women who have allegations against Massage Envy," Brian Kent, a Philadelphia lawyer, told the newspaper. "We have an estimated 100 cases in California. In Florida, we have approximately 25 or 30."
Kent told the Globe that Massage Envy typically evades police involvement as much as possible and does not report any incidents that might "hurt the brand," though they have hired a Chicago-based company called Redirect Risk to investigate assault allegations.
"Massage employees are the only people, other than medical professionals, who have a semi-legitimate reason to have their hands on naked bodies," Boston attorney Carmen Durso, who has sued Massage Envy in sexual assault cases twice, told the Globe. "So naturally it attracts a lot of the wrong people."
Newsletter Signup
Stay up to date on all the latest news from Boston.com