Crime
'Please, mama. Come tomorrow.' Ana Walshe's mother speaks out on plea to visit.
"Clearly, there must have been some problems."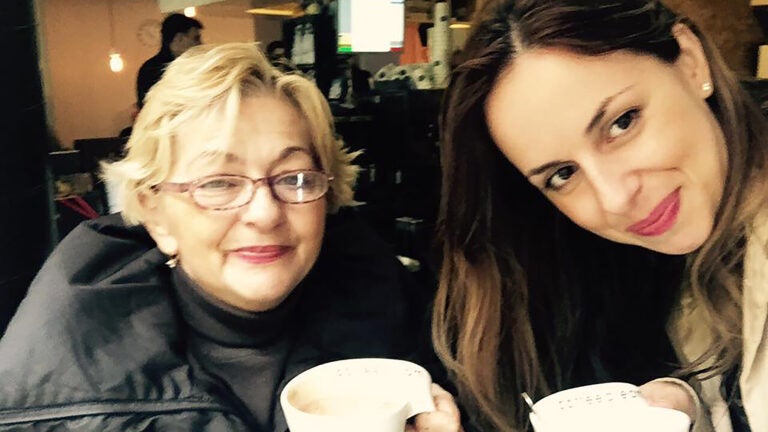 New details continue to emerge in the case surrounding the disappearance of Ana Walshe. Now, Ana Walshe's mother has broken her silence and shed light on her daughter's mindset shortly before she went missing.
Ana Walshe's mother, Milanka Ljubicic, told Fox News Digital that her daughter asked her to travel from Serbia to Washington, D.C. in a text message sent on Christmas Day.
"She just said, 'Please, mama. Come tomorrow,'" Ljubicic said in an interview that was conducted in Belgrade. "Which means, that clearly, there must have been some problems."
Ana Walshe has been missing since Jan. 1.
Ljubicic said that her daughter did not give a reason for her urgent request, and Ljubicic said that she could not travel on such short notice.
"I can't get myself together in one day. I am 69 years old, I have to get my medications and a thousand other things," she said during the interview, which Fox translated into English.
Ljubicic suggested that she visit on Jan. 5 or 6 instead. But Ana Walshe told her mother that she and her husband, Brian, were making plans to visit Serbia in February.
Brian Walshe, who has a complicated legal history, was arrested Sunday on charges of misleading police. Prosecutors said Monday that blood and a bloody, damaged knife were found in the basement of the Cohasset home the couple lives in with their three young boys. Ana Walshe also owns a house in Washington, where she worked and regularly traveled to.
A source told CNN this week that investigators uncovered chilling searches while looking through Brian Walshe's search history, including a search for "how to dispose of a 115-pound woman's body."
He was seen on security footage purchasing $450 of cleaning supplies from Home Depot, including mops, a bucket, and a tarp just a day after Ana Walshe was last seen, prosecutors said.
WBZ reported Monday that investigators found trash bags with blood, a hatchet, a hack saw, a rug, and used cleaning supplies while searching a Peabody trash station in connection with the investigation.
Ljubicic, speaking with Fox, elaborated on Brian Walshe and his relationship with her daughter. Ljubicic said that Ana Walshe was at times "irritated" with the limitations their family had to navigate due to her husband's home confinement. Brian Walshe pleaded guilty in 2021 to charges related to an attempt to scam a Los Angeles buyer using fake Andy Warhol paintings.
Ana Walshe reportedly told her mother that her frustrations stemmed from the fact that she "had to work in Washington living in a house by herself, while he was at home with the three kids."
But Ljubicic said she never noticed anything suspicious about her son-in-law.
"They love each other," Ljubicic said of Brian and Ana Walshe.
In the past, Ljubicic and her daughter credited Brian Walshe with saving Ljubicic's life. While staying with the family in Cohasset in December 2021, Ljubicic experienced a "major neurological event," Ana Walshe wrote in a June 2022 letter to Judge Douglas P. Woodlock.
Brian Walshe heard Ljubicic's distressed pleas and immediately called for emergency services, Ana Walshe wrote.
"She keeps repeating that she wouldn't be here if it wasn't for her son-in-law, Brian," Ana Walshe wrote. "Not only did he save her life, but he also brought her and the entire family comfort and joy during the course of her illness… He always believed she would achieve full recovery and would not give up on her even in the darkest moments."
Ana Walshe, who was born Ana Ljubicic in Belgrade, holds both US and Serbian citizenship. She was well known to Representatives of the Serbian government in the US who work at the Consulate General office in New York City, The Boston Globe reported.
"We remember her as [a] lovely young woman. Having met her, we are all in disbelief that this is happening to her," Olgica Vlacic, the acting consul general, told the Globe.
Those in Serbia are following the case intently, Vlacic said.
"Everyone in Serbia is praying for her safe return," Vlacic told the Globe. "In these difficult times, our hearts go out to her family and her three young sons who stand to suffer the greatest loss if Ana does not return."
Ljubicic said that she missed an opportunity to speak with her daughter right before she went missing. Ana Walshe tried calling Ljubicic around midnight on Dec. 31, and then once again about an hour later, according to Fox.
"She called again at 1 a.m. and I missed that call too. She called her elder sister who was also asleep. Then she tried to call her maid-of-honor who didn't hear the phone because of the loud music," she said. "And now, I regret not getting the phone, because she's disappeared."
Newsletter Signup
Stay up to date on all the latest news from Boston.com