Crime
Boston Police officers face additional charges connected to overtime fraud scheme
The defendants allegedly embezzled money by lying about overtime work at the department's evidence facility.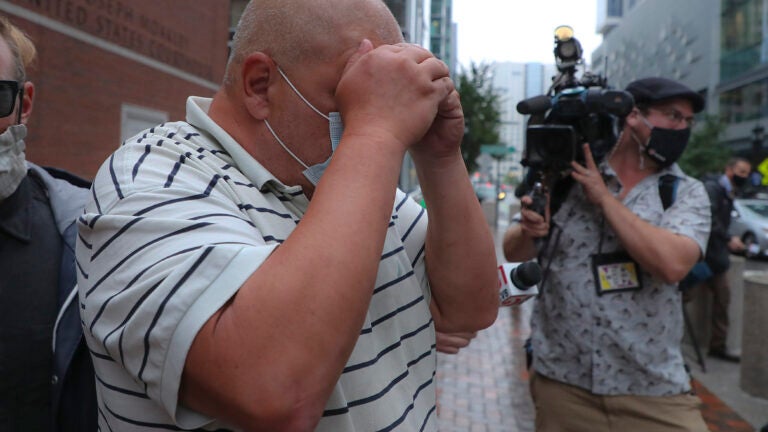 Four Boston Police officers are facing new charges for their roles in an overtime fraud scandal that was first made public in 2020.
The new charges were contained in a superseding indictment this week, and an investigation into the operation remains ongoing, according to U.S. Attorney Rachael Rollins's office. Timothy Torigian, 57, of Walpole; Robert Twitchell, 61, of Norton; Henry Doherty, 64, of Dorchester; and Kendra Conway, 52, of Boston were charged. Each faces one additional count of conspiracy to commit wire fraud.
These defendants, along with five others, were charged in 2020 with conspiracy to commit theft concerning programs receiving federal funds and embezzlement from an agency receiving federal funds. Four of the co-defendants charged in 2020 have since pleaded guilty, officials said, and charges against the other co-defendant were dismissed.
The scandal allegedly involved officers working at the BPD's Evidence Control Unit in Hyde Park. The officers were tasked with storing, cataloging, and retrieving evidence inside the warehouse. Officers assigned to the ECU were eligible to earn time-and-a-half pay for overtime assignments.
Prosecutors allege that beginning at least as early as May 2016, the defendants routinely left their overtime shifts early but submitted false paperwork claiming to have worked the entire shifts. The defendants allegedly left their positions two or more hours early on numerous occasions.
Some of the alleged activity took place during what is known as a "purge" overtime, where officers were tasked with reducing evidence inventory from 4 to 8 p.m. on weekdays. On the days that the defendants claimed to work until 8 p.m., prosecutors said that the warehouse was closed and locked well before that time. Sometimes the ECU was closed and locked by 6 p.m. or earlier.
The officers submitted fraudulent overtime slips on a regular basis, and their supervisors helped perpetuate the ruse, prosecutors said. These supervisors, who also left early from their shifts, allegedly submitted their own false paperwork and knowingly endorsed the fraudulent slips of their subordinates.
On other occasions, the defendants allegedly took similar actions during what is known as "kiosk" overtime. This was available to two ECU officers one Saturday per month, from 6 a.m. to 2:30 p.m. During "kiosk" overtime, officers must collect materials like unused prescription drugs from kiosks in each BPD district and bring the items to an incinerator in Saugus.
The defendants that worked this shift allegedly submitted overtime slips on a regular basis where they claimed to have worked eight and a half hours. In reality, prosecutors said, they frequently completed their work and left the shift early, sometimes before 10 a.m.
The defendants allegedly collectively embezzled more than $200,000 in overtime pay from May 2016 to February 2019. Torigian received more than $42,000 for hours he did not work, Twitchell and Doherty each received more than $25,000 for hours they did not work, and Conway received more than $16,000 for hours she did not work, prosecutors said.
The allegations against these BPD officers are reminiscent of another scandal that rocked the Massachusetts State Police. A total of 46 troopers were implicated in that years-long scam, during which they allegedly wrote phony tickets and falsified time sheets, The Boston Globe reported.
Last year, the Globe reported that BPD's overtime spending dropped by nearly $6 million in 2021, the largest decrease in a decade. Canceling public events and court sessions due to the pandemic played a part in this drop, but a police spokesperson told the Globe that the department had undertaken "a concerted effort to decrease overtime across the city."
Newsletter Signup
Stay up to date on all the latest news from Boston.com