Crime
Former Everett school superintendent pleads guilty to two sexual assault allegations
Frederick Foresteire was convicted last week of inappropriately touching a women who worked for him.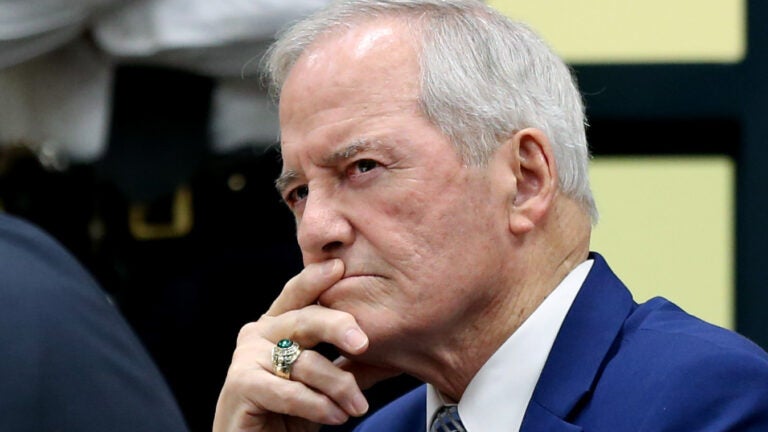 Former Everett Superintendent of Schools Frederick Foresteire pleaded guilty Wednesday to two additional counts of indecent assault and battery, prosecutors announced.
Following a three-day trial in Malden District Court, Foresteire was convicted last week and sentenced to 90 days in jail for touching an employee's buttocks when she worked for him at the Everett Public School administration building in 2017 and 2018.
With Wednesday's plea, Foresteire will no longer have to stand trial for the other two allegations of inappropriate touching.
This week's guilty pleas were related to allegations that Foresteire, 79, assaulted two other women who worked with him, in 2015.
"The defendant was the supervisor of both women at the Everett Public School Department in 2015 when he indecently touched them," Middlesex District Attorney Marian Ryan said in a statement.
The two new convictions will not lead to extra jail time. Judge Emily Karstetter sentenced Foresteire to 18 months in the Middlesex House of Correction with 90 days to serve and the balance suspended for two years, according to Ryan's office.
He was ordered to stay away from the victim, witnesses, and all Everett public schools. He must also register as a sex offender.
Foresteire, an Everett resident, served as superintendent from 1989 until he retired in 2018.
The victim in the case that led to last week's sentencing worked as a payroll clerk under Foresteire. She told jurors that he frequently made unwanted comments and advances on her, including calling her "Miss Argentina," The Boston Globe reported.
The woman said in court that Foresteire would constantly put his hand around her waist and near her buttocks, which made her uncomfortable and nervous. She described trying to avoid her Foresteire's advances as a cat-and-mouse game.
"Even if there were people around, and if no one could see, his hand would make it to my butt, always," the woman said in court, according to the Globe. "If I was by myself, it would be a smack on the butt, or a squeeze on the butt, whatever he felt like doing that day."
Foresteire had maintained his innocence, but admitted to calling the employee "Miss Argentina," the Globe reported. He said in court that she liked the nickname and "brought it on herself."
Foresteire was not convicted of three charges: a felony and two misdemeanor counts of assault and battery. These involved allegations that he pulled the woman's shirt and bra strap off her shoulder, at times exposing her breast and putting his mouth on her breast, according to the Globe.
"He did not do these things, and he told you he did not do these things," Gerard Malone, Foresteire's lawyer, told jurors. "He's always denied it, he continues to deny it."
Newsletter Signup
Stay up to date on all the latest news from Boston.com