Crime
At least 10 swastikas, hateful graffiti found on N.H. synagogue, businesses
The hateful messages were found all around Portsmouth.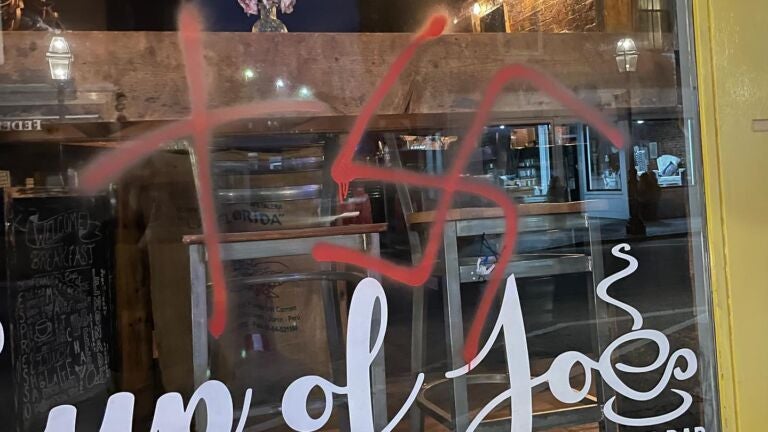 New Hampshire authorities are hoping the public can help identify a vandal that spray-painted at least 10 swastikas and other hateful messages around downtown Portsmouth overnight Tuesday, including on a synagogue.
The New Hampshire Attorney General's Office said in a news release that the vandal used red spray paint to deface buildings in the area of Deer Street, Middle Street, Court Street, and Marcy Street around 2:30 a.m. that morning.
"This graffiti consists of hate symbols to include swastikas and what appears to be intentional targeting of houses of worship and political messages," Portsmouth police wrote in a press release. "The Portsmouth Police Department takes hate motivated crimes very seriously and is actively engaged in the investigation of this incident."
Pictured from the targeted synagogue, Temple Israel on State Street, show a dark spot where the swastika was washed away.
"It's very disturbing, and it's very reminiscent of things that we saw in Nazi Germany prior to the Holocaust," Rabbi Kaya Stern-Kaufman, of Temple Israel, told WMUR. "…It's a larger issue than antisemitism, but certainly it's a big part of it."
One of the vandalized businesses was Cup of Joe Cafe and Bar on Market Street. A photo posted to Facebook shows a swastika spray-painted on the coffee shop's front window.
"It is with utter shock, disappointment, sadness, anger, and a wave of so many other emotions that I share this photo with you," the cafe wrote in the post. "…Since opening our doors in 2018, we've had the mission of being a place for all. A safe haven. Hatred of this kind is not welcomed in our community. It's hard to believe that this is still happening in 2023."
The cafe said in the post that this is not the first time they have been targeted.
Owner Joanna Kelley told WMUR that neo-Nazis and white supremacists have put stickers on her storefront and barraged the business's Facebook posts with hateful messages before.
"We know that hate-filled attacks like this happen to people of color and the LGBTQIA+ community everyday, all over the country," Cup of Joe wrote on Facebook. "As we prepare to celebrate our fifth year in business, we will not be scared into silence. We will demand justice, we will not fear hate, and we will continue our mission."
Grim North Tattoo and Piercing on High Street also found swastikas spray-painted on their front windows Tuesday morning. The tattoo shop said in an Instagram post that it believes it was targeted because it supports the LGBTQ+ community and because one of its owners is a person of color.
"We are absolutely disgusted and furious. This disgusting hate crime is not welcome in Portsmouth. We will continue to celebrate diversity, raise POC voices, and support our LGBTQA+ people," it wrote.
According to WHDH, Three Bridges Yoga Studio, which is also located on High Street, was also targeted.
"I'm disgusted. I'm saddened," Owner Stephanie Paolini told the news station. "This just isn't Portsmouth. It just seems wildly out of character for what goes on here."
The Portsmouth Police Department released multiple security videos of the vandal, as well as photos, on Facebook. The photos and video show a person in a red hoodie with "Maine" written on it spray painting the buildings.
The Portsmouth Herald reported that police are unsure whether the vandal caught on security video acted alone or not.
It also wrote that white supremacist group NSC-131, which has been active in New England for the past several years, has increased its presence in Portsmouth over the last few months.
Last month, the City of Portsmouth filed civil rights charges against two members of NSC-131.
Investigators are asking residents and businesses in the areas in which the graffiti was found to provide any information they may have about the vandalism, as well as any security video from Tuesday night.
"This type of hateful and threatening criminal activity, motivated by racial or religious intolerance, particularly at places of worship, has no place in New Hampshire and will not be tolerated," Attorney General John Formella said in the release.
"… Our communities are safer and stronger when we all join together and have zero tolerance for violence motivated by hatred for our fellow citizens whether based on race, creed, or other protected characteristics."
Federal, state, and local police are investigating the vandalism along with the AG's Civil Rights Unit.
Anyone with information about the vandalism is asked to call 603-616-7656 or give an anonymous tip online at www.seacoastcrimestoppers.org.
The graffiti comes less than two weeks after a group of young men was caught on video kicking the New England Holocaust Memorial in Boston.
Newsletter Signup
Stay up to date on all the latest news from Boston.com