Crime
Video shows tense moments after man allegedly tried to open door on flight to Boston
Francisco Severo Torres later told officials that he tried to open the door to jump out of the plane and admitted he knew that many people would die if he did, per court documents.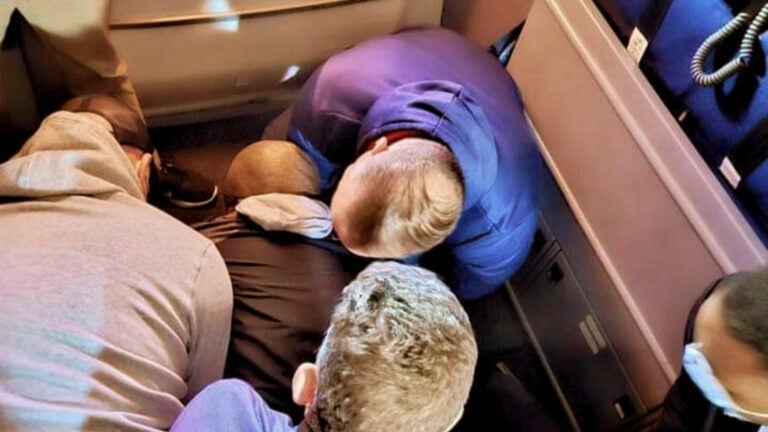 Before he allegedly attempted to stab a flight attendant on a Boston-bound flight Sunday, a Leominster man was captured on video ranting at fellow passengers and saying he was taking over the plane.
Earlier in the flight, 33-year-old Francisco Severo Torres allegedly tried to open an emergency exit onboard United Airlines flight 2609 from Los Angeles to Boston, U.S. Attorney Rachael Rollins's office announced Monday.
Torres was arrested at Logan International Airport Sunday evening and charged with one count of interference and attempted interference with flight crew members and attendants using a dangerous weapon.
He made an initial appearance in federal court Monday and was detained pending a Thursday hearing. Boston.com has reached out to his public defender for comment.
Torres told investigators that he attempted to open the emergency door to jump out of the plane and admitted he knew that many people would die if he did, according to an affidavit from a Boston police detective working with the FBI as a federal task force officer.
According to the affidavit, Torres said that he was trying to defend himself when he attempted to stab one of the flight attendants in the neck with a broken spoon.
"Torres stated that he believed the flight attendant was trying to kill him, so he was trying to kill the flight attendant first," the court document said.
Video of the incident, via The Boston Globe:
In cellphone video captured by a fellow passenger, Torres can be heard ranting, "Where's the Homeland Security with the gun, because I'm waiting for them to point the gun at me so I can show everybody that I won't die when I take every bullet in that clip to wherever in my body they shoot it, and then I will kill every man on this plane."
He later added: "Tell them to bring SWAT to shoot me down, because they're going to have to shoot me down today. Remember that. Where are they diverting us? Because wherever it is, there's going to be a blood bath everywhere."
At another point, Torres proclaimed himself "Balthazar" and said his father called himself "Dracula."
Passengers and flight crew tackled and restrained Torres with plastic ties following the alleged stabbing attempt, according to The Boston Globe.
"Somehow he escaped. He was out of control,'' said passenger Lisa J. Olsen, who was sitting two rows ahead of Torres and filmed the incident.
She told the Globe another set of plastic ties were used to secure Torres a second time. "It took four men to hold him down," she told the newspaper. "It was just amazing how all of these passengers and crew just, you know, without hesitation just stepped in to control him."
Olsen said male passengers took turns keeping Torres under control, swapping out as people tired, according to the Globe.
The flight landed safely, with no serious injuries reported, United Airlines previously told Boston.com in a statement.
"We have zero tolerance for any type of violence on our flights, and this customer will be banned from flying on United pending an investigation," the airline said. "We are cooperating with law enforcement in their investigation."
Sara Nelson, president of the Association of Flight Attendants, shared a similar sentiment, noting in a statement that the union is thankful for the FBI's "quick action."
"Violence has no place anywhere and certainly not in a closed cabin flying several miles in the air," Nelson said. "Aviation's first responders are charged with the safety of everyone onboard. When incidents like this happen, it not only risks the safety of the crew involved, it takes away from Flight Attendants' ability to respond to medical, safety, or security emergencies. Bottom line: it puts everyone at risk and there's zero tolerance for that."
Newsletter Signup
Stay up to date on all the latest news from Boston.com