Crime
Prosecutors drop drugging, rape charges against Rhode Island-based NBA trainer
Robert McClanaghan, who has worked with Joe Mazzulla and Stephen Curry, was arrested in November. Prosecutors said Wednesday that they could not prove the charges beyond a reasonable doubt.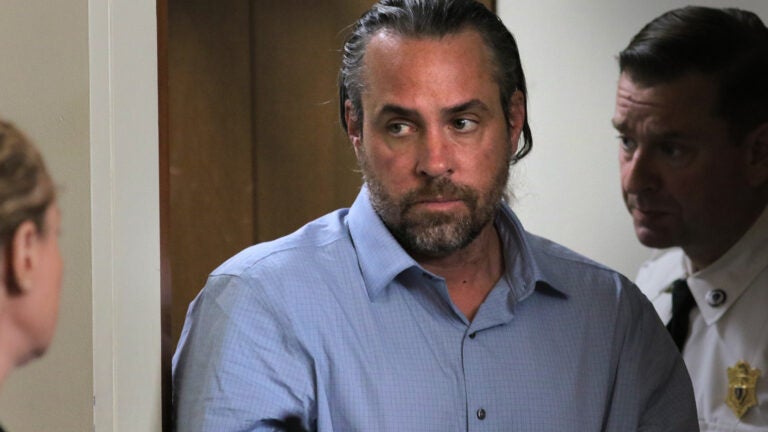 Prosecutors said Wednesday that they have dropped all charges against a Rhode Island man who works as a trainer for NBA stars. Robert McClanaghan, of Warwick, R.I., was accused of drugging and raping a woman last year.
Suffolk District Attorney Kevin Hayden's office, in court documents filed Wednesday, said that it no longer believes it can prove the charges beyond a reasonable doubt.
"Based on a review of all available evidence, including information that emerged after the defendant's arrest, the Commonwealth has determined it cannot prove these charges beyond a reasonable doubt at trial," prosecutors wrote in a court document called a nolle prosequi obtained by Boston.com.
McClanaghan was arrested on Nov. 18 following an investigation by Hayden's office and the Boston Police Sexual Assault Unit. The alleged drugging and rape occurred in Downtown Boston, police said at the time.
The woman who reported the alleged rape was informed of the decision to drop charges against McClanaghan through counsel, according to the court document.
Kelli Porges, McClanaghan's defense attorney, said Wednesday that her client is ready to start the next chapter of his life.
"Rob and his family are relieved that this nightmare is over, and that he has been exonerated. Rob has maintained his innocence from the very beginning of this case and now he has been vindicated. He is with his family and looking toward rebuilding his life," Porges said in a statement to Boston.com.
In November, Hayden's office released details about the investigation. Assistant District Attorney Erin Murphy said at the time that video surveillance taken at a hotel bar showed McClanaghan "retrieve something from his pants pocket and appear to sprinkle something over the top of the victim's drink." Footage also showed McClanaghan and the woman entering an elevator and going up to a room.
When announcing his arrest, police issued a warning about the dangers of scentless, colorless, and tasteless drugs that can be quickly slipped into drinks.
Murphy said that the woman remembered little of what happened next, and woke up in a hotel bed bleeding from her vagina and covered in bruises. She showed detectives a photo McClanaghan sent to her phone that morning, which depicted "a man performing sexual acts on a woman on a bed similar to the victim's hotel bed," Murphy said.
The woman told police that her underwear was missing, Murphy said. A subsequent search of McClanaghan's house found the woman's underwear, along with other women's underwear, prosecutors said in November.
But on Wednesday, Hayden's office said that the evidence they uncovered was not enough to prosecute McClanaghan.
"Our responsibility in all cases is to follow the evidence wherever it leads. In some cases that endeavor does not add up to a viable prosecution. We have a duty to recognize that conclusion and to take the appropriate action when it is reached. We have taken that appropriate action today. Out of respect for the privacy of all parties involved we will have no further comment," Hayden's office said in a statement to Boston.com.
On McClanaghan's website, where he advertises himself as a corporate speaker, coach, and consultant. He has worked with many NBA stars, including LeBron James, Kevin Durant, Stephen Curry, and Kyrie Irving, according to his website. The site also features testimonials from ESPN's NBA insider Adrian Wojnarowski and Syracuse men's basketball coach Jim Boeheim.
Before making it as an NBA trainer, McClanaghan worked as a physical education teacher and assistant basketball coach at Bishop Hendricken High School in Warwick, The Boston Globe reported. McClanaghan trained with Boston Celtics Head Coach Joe Mazzulla, who was a student at the school.
McClanaghan and Mazzulla met up for 6 a.m. workouts multiple times a week, the Globe reported. Later on, while Mazzulla worked as an unpaid assistant at Glenville State in West Virginia, Mazzulla used his spare time to edit clips of McClanaghan's NBA clients for extra money.
In a 2021 article for The Players' Tribune, McClanaghan wrote about his struggles with depression and anxiety.
Stephen Curry wrote the forward to McClanaghan's 2019 book "Net Work: Training the NBA's Best and Finding the Keys to Greatness." The Golden State Warriors star detailed his first impressions of McClanaghan.
"I thought it was pretty hilarious at first. Here's this guy, hair slicked back, looking real put-together. The furthest he ever got as a player was a walk-on at Syracuse, but he's jumping right into the drills, guarding me, talking trash, cracking jokes. He had a way of appealing to the competitor in me," Curry wrote. "That was the start of a great relationship. I've worked with Rob ever since."
Newsletter Signup
Stay up to date on all the latest news from Boston.com