Crime
Boston pizza chain owner accused of physically abusing employees and threatening deportation
Papantoniadis allegedly broke an employee's teeth and on one occasion kicked the man in the genitals hard enough that he required surgery.
The owner of a Boston pizzeria chain was arrested Thursday after he allegedly assaulted his employees, threatened them with deportation, and forced them to work long hours while withholding wages, according to federal prosecutors.
Stash's Pizza owner Stavros "Steve" Papantoniadis, 47, is charged with one count of forced labor, U.S. Attorney Rachael Rollins's office announced. The Westwood resident made an initial appearance in federal court Thursday afternoon and was detained pending a March 20 hearing.
He did not enter a plea, and a lawyer who represented him declined to comment, according to The Boston Globe.
Papantoniadis owns pizzerias in Dorchester and Roslindale and previously operated Stash's Pizza, Boston Pizza Company, and Pacini's Italian Eatery locations in Norwood, Norwell, Randolph, Weymouth, and Wareham, the U.S. Attorney's Office said. On Thursday afternoon, the Norwood Stash's Pizza website featured a disclaimer noting that the shop has been independently owned since 2019 and is not affiliated with other locations.
The latest allegations against Papantoniadis come a few years after he and Polyxeny "Paulina" Papantoniadis were ordered in 2019 to pay $330,000 in back wages and damages to 150 current and former employees over violations of the minimum wage, overtime, and recordkeeping provisions of the Fair Labor Standards Act.
What are the allegations against Papantoniadis?
Papantoniadis is accused of using fear, violence, and threat of deportation to force victims to work against their will, Rollins said in a press release.
"The allegations in this case are horrific," she said in a statement. "Nobody has the right to violently kick, slap, punch or choke anyone, and certainly not an employer to an employee. This case illustrates the manipulative, violent and abusive tactics some employers utilize for their own greed and financial gain."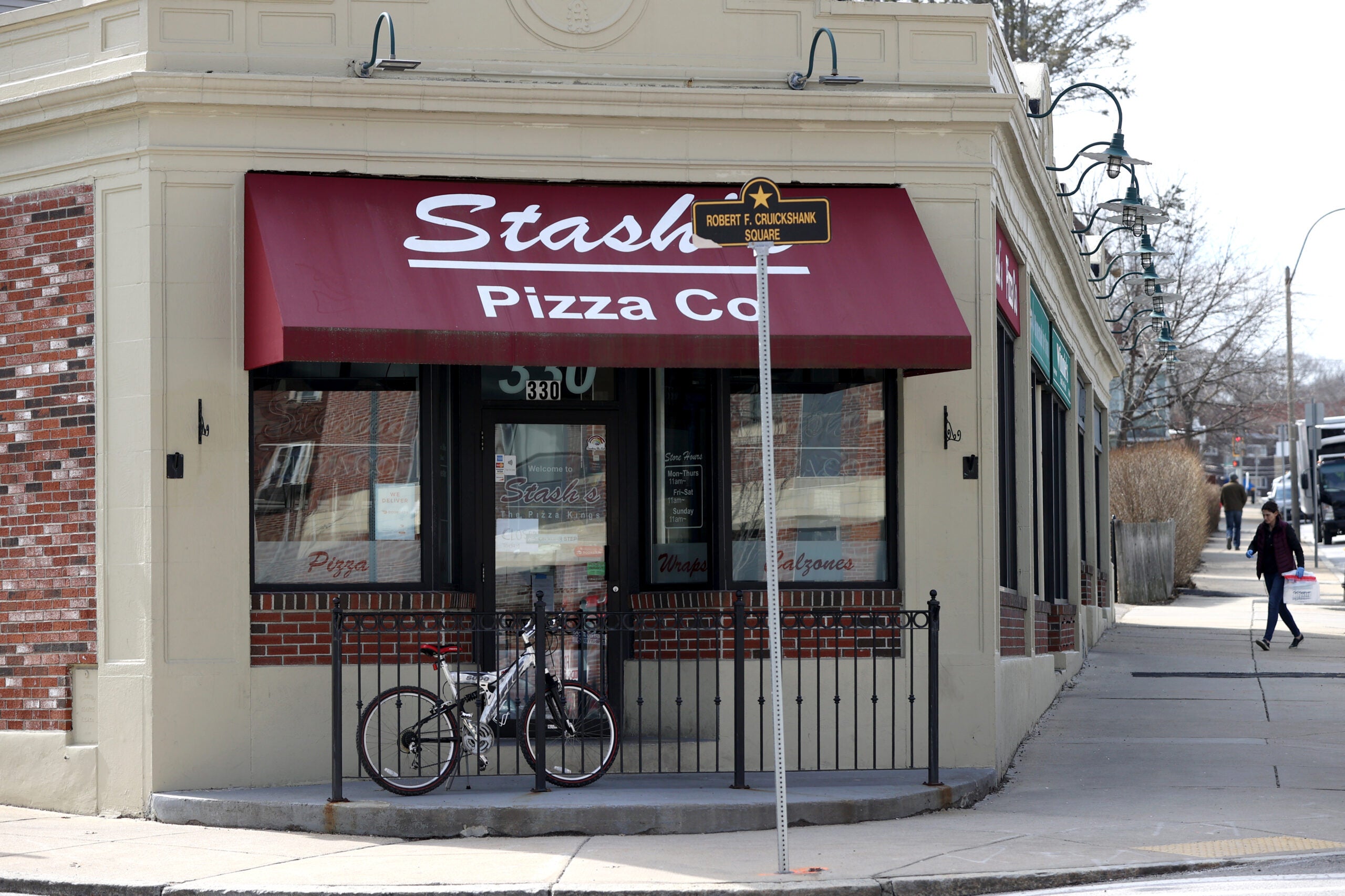 Over several years, Papantoniadis allegedly targeted immigrants lacking permanent legal status and, in most cases, demanded they work six to seven days per week, "at times for far more than eight hours per day and often without breaks or overtime compensation," according to the press release.
Papantoniadis allegedly made derogatory comments about an employee's religion and violently attacked the man several times, calling him a "f*cking Muslim" and pushing him to the floor when he missed a day of work.
On one occasion, Papantoniadis allegedly kicked the employee in the genitals hard enough to cause severe pain; the man later required surgery and had a catheter installed, the Globe reported.
When that same employee — who worked for Papantoniadis from 2001 to 2015 — sought medical treatment, his boss threatened to kill him or report him to immigration authorities if he did not return to work, the U.S. Attorney's Office said.
At other points, Papantoniadis allegedly slapped and choked the employee, even breaking his teeth.
Another employee told federal investigators that when he planned to quit, Papantoniadis attacked him and sent him running into the parking lot, according to the press release.
When another employee tried to quit, prosecutors say Papantoniadis made a false police report, stating that the man hit his car and left the scene of the accident. Police pulled the employee over and cited him as a result, the U.S. Attorney's Office said.
What comes next?
If convicted on the forced labor charge, Papantoniadis could face up to 20 years in prison, up to five years of supervised release, and a fine of up to $250,000.
"Forced labor is a form of human trafficking," Rollins said. "It is not a wage dispute. If someone is being compelled to work through the use of force, threats of force, or coercion, that is a federal crime."
Newsletter Signup
Stay up to date on all the latest news from Boston.com