Crime
Former Boston police officer charged in Jan. 6 attack on the U.S. Capitol
Federal prosecutors allege that Joseph Fisher assaulted a U.S. Capitol police officer during the 2021 insurrection.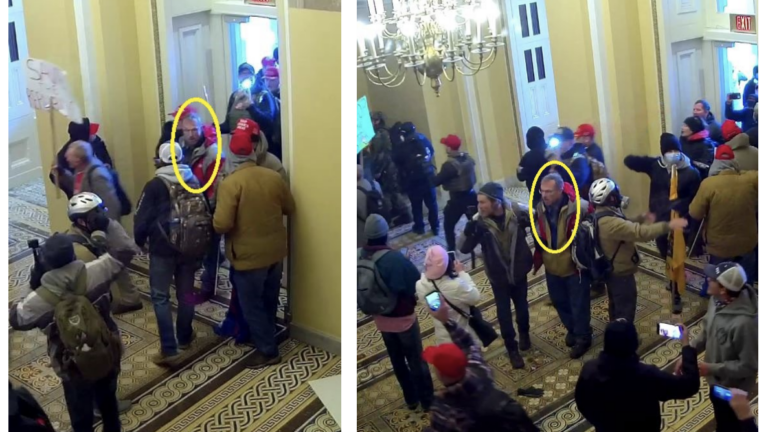 A former Boston police officer was arrested Thursday for allegedly entering the U.S. Capitol and assaulting a police officer during the Jan. 6, 2021, insurrection, federal prosecutors announced.
FBI officers arrested Joseph Robert Fisher, 52, at his Plymouth home Thursday morning. He faces several felony and misdemeanor charges, including assaulting, resisting, or impeding certain officers and obstructing law enforcement during a civil disorder.
More on the Jan. 6 fallout:
Boston payroll records indicate that Fisher last worked as an officer in 2017.
On the morning of Jan. 6, Fisher reportedly attended the rally for former President Donald Trump on the national mall, according to an FBI affidavit filed in the case. Investigators believe that Fisher entered the U.S. Capitol at approximately 2:24 p.m. that day based on surveillance footage, according to the affidavit.
Fisher's beanie — which featured the logos of several Boston sports teams — helped investigators put a name to his face, the document noted.
Prosecutors allege that Fisher was in the Capitol Visitor Center's Orientation Lobby around 2:38 p.m. when a fight broke out between a U.S. Capitol police officer and other rioters.
"As a U.S. Capitol Police Officer pursued a rioter who had deployed pepper spray, Fisher pushed a chair into the Capitol Police Officer," the U.S. Attorney's Office for the District of Columbia said in a press release.
Fisher then physically fought with the officer before exiting the Capitol, prosecutors said.
Fisher appeared in federal court Thursday afternoon and was released on certain conditions, WCVB reporter Sharman Sacchetti wrote on Twitter. She said he is due to appear in federal court in Washington, D.C., via Zoom on April 6.
The FBI Boston Division — which spans Massachusetts, New Hampshire, Maine, and Rhode Island — said in a separate statement that it has arrested 22 people so far in connection with the insurrection.
Newsletter Signup
Stay up to date on all the latest news from Boston.com