Crime
Whitman man faces attempted murder charge after allegedly kicking rider into T pit
Whitman police confirmed that Kedrian Perry-Marshall is also a suspect in a Tuesday night stabbing.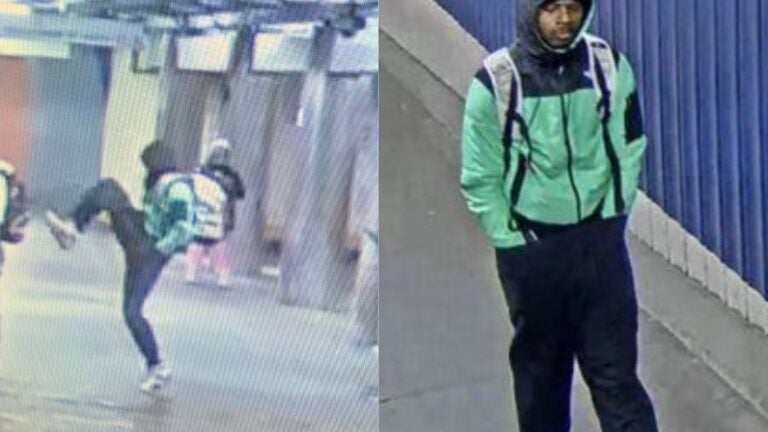 A 23-year-old Whitman man was arrested for attempted murder Wednesday after allegedly kicking someone into the pit at a T station downtown, MBTA Transit Police said.
Kedrian Perry-Marshall "violently kicked an unsuspecting individual" at State Street station around 2 p.m. Tuesday, TPD alleged in a tweet.
The alleged assault was unprovoked, Transit Police Supt. Richard Sullivan told Boston.com in an email. Sullivan said there were no trains entering the station at the time of the incident, and the unidentified victim "got out of the pit under his own power."
He declined medical attention and was not injured, according to TPD.
The 16-year-old victim's father, Melvin Gonzalez, told WCVB that his son lives in the South End and takes the train to East Boston every day.
"Thank God he didn't hit the third rail or something," Gonzalez told the news outlet.
Transit police detectives arrested Perry-Marshall the next day following an "intense investigation," the department wrote on Twitter. Boston.com left a voicemail with his attorney seeking comment.
Whitman Chief of Police Timothy Hanlon told Boston.com in an email that his department has been working with MBTA Transit Police since Wednesday morning, and that the two departments were also able to identify Perry-Marshall as the suspect in a Tuesday night apartment complex stabbing in Whitman.
The Whitman Police Department had previously shared images of the suspect, shown in a light green fleece jacket that appears to match the one Perry-Marshall wore in photos from TPD.
Hanlon later announced in a press release that Whitman police obtained an arrest warrant for Perry-Marshall, who will also be charged with attempted murder in the Whitman stabbing.
Perry-Marshall was arraigned in Boston Municipal Court Thursday afternoon and will be arraigned in Brockton District Court on the Whitman charge at a later date, according to the press release.
Newsletter Signup
Stay up to date on all the latest news from Boston.com