Crime
Police say shooter was employee at Louisville bank where he opened fire; 5th victim dies of wounds
The chief identified the shooter as Connor Sturgeon, who she said was livestreaming during the attack.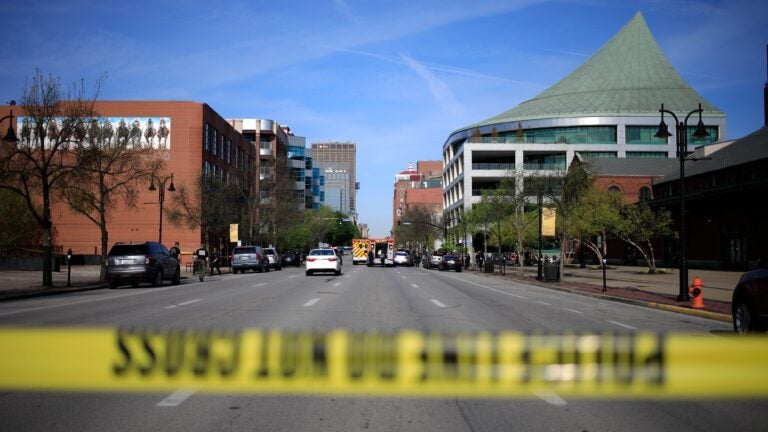 LOUISVILLE, Ky. (AP) — A 23-year-old bank employee armed with a rifle opened fire at his Louisville workplace Monday morning, killing five people — including a close friend of the governor — while livestreaming the attack, authorities said. Four people died at the scene and a fifth succumbed to wounds Monday night.
"Let's be clear about what this was," Louisville Mayor Craig Greenberg said. "This was an evil act of targeted violence."
The shooting, the 15th mass killing in the country this year, comes just two weeks after a former student killed three children and three adults at a Christian elementary school in Nashville, Tennessee, about 160 miles to the south. That state's governor and his wife also had friends killed in that shooting.
Police arrived as shots were still being fired inside Old National Bank and killed the shooter in an exchange of gunfire, Louisville Metro Police Department Chief Jacquelyn Gwinn-Villaroel said at a news conference.
"The suspect shot at officers," the police chief said. "We then returned fire and stopped that threat."
The chief identified the shooter as Connor Sturgeon, who she said was livestreaming during the attack.
"That's tragic to know that that incident was out there and captured," she said.
Meta, the company that owns Facebook and Instagram, said in a statement that it had "quickly removed the livestream of this tragic incident this morning."
Nine people, including two police officers, were treated for injuries from the shooting, University of Louisville Hospital spokeswoman Heather Fountaine said in an email.
One of the officers, a 26-year-old who had graduated from the police academy on March 31, was in critical condition after being shot in the head and having surgery, the police chief said. At least three patients had been discharged.
Kentucky Gov. Andy Beshear said he lost one of his closest friends in the shooting — Tommy Elliott — in the building not far from the minor league ballpark Louisville Slugger Field and Waterfront Park.
"Tommy Elliott helped me build my law career, helped me become governor, gave me advice on being a good dad," said Beshear, his voice shaking with emotion. "He's one of the people I talked to most in the world, and very rarely were we talking about my job. He was an incredible friend."
Also killed in the shooting were Josh Barrick, Jim Tutt, Juliana Farmer, and a fifth victim who was not immediately identified police said.
"These are irreplaceable, amazing individuals that a terrible act of violence tore from all of us," the governor said of the victims.
It was the second time that Beshear was personally touched by a mass tragedy since becoming governor.
In late 2021, one of the towns devastated by tornadoes that tore through Kentucky was Dawson Springs, the hometown of Beshear's father, former two-term Kentucky Gov. Steve Beshear. Andy Beshear frequently visited Dawson Springs as a boy and has talked emotionally about his father's hometown.
Beshear spoke as the investigation in Louisville continued and police searched for a motive. Crime scene investigators could be seen marking and photographing numerous bullet holes in the windows near the bank's front door.
As part of the investigation, police descended on a neighborhood about 5 miles (8 kilometers) south of the downtown shooting. The street was blocked as federal and local officers talked to residents. One home was cordoned off with caution tape. Kami Cooper, 38, who lives in the neighborhood, said she didn't recall ever meeting the suspect but said it's an unnerving feeling to have lived on the same street as someone who could do such a thing.
"I'm almost speechless. You see it on the news but not at home," Cooper said.
A man who fled the building during the shooting told WHAS-TV that the shooter opened fire with a long rifle in a conference room in the back of the building's first floor.
"Whoever was next to me got shot — blood is on me from it," he told the news station, pointing to his shirt. He said he fled to a break room and shut the door.
Deputy Police Chief Paul Humphrey said the actions of responding police officers undoubtedly saved lives.
"This is a tragic event," he said. "But it was the heroic response of officers that made sure that no more people were more seriously injured than what happened."
Just a few hours later and blocks away, an unrelated shooting killed one man and wounded a woman outside a community college, police said.
The 15 mass shootings this year are the most during the first 100 days of a calendar year since 2009, when 16 had occurred by April 10, according to a mass killings database maintained by The Associated Press and USA Today in partnership with Northeastern University.
Going back to 2006, the first year for which data has been compiled, the years with the most mass killings were 2019 and 2022, with 45 and 42 mass killings recorded during the entire calendar year. The pace in 2009 slowed later in the year, with 32 mass killings recorded that year.
Contributing to this report were Becky Reynolds in Louisville, Bruce Schreiner in Frankfort, Kentucky, Beatrice Dupuy in New York, database journalist Larry Fenn, researchers Rhonda Shafner and Jennifer Farrar in New York and AP Technology writer Michael Liedtke in San Ramon, California.
Extra News Alerts
Get breaking updates as they happen.