Crime
4 fatally shot in Maine home, followed by gunfire on highway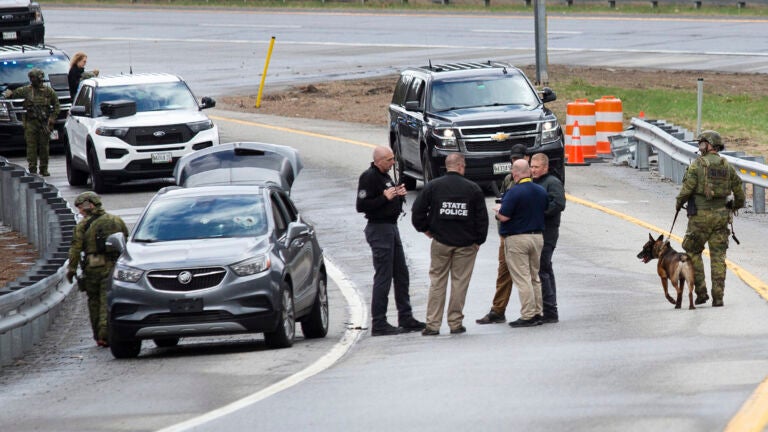 YARMOUTH, Maine (AP) — Four people were found fatally shot in a Maine home Tuesday shortly before gunfire injured three others on a busy highway 25 miles away in a pair of crimes that were linked, state police said. One person was in custody.
The bodies were found in a home in Bowdoin a short time before three people were shot in their vehicles to the south on Interstate 295 in Yarmouth, authorities said.
Maine State Police said the shootings were connected but didn't immediately discuss a motive or identify the person in custody, police spokesperson Shannon Moss said.
The shootings on I-295 led to a heavy police presence in Yarmouth, including officers carrying rifles. At one point, heavily armed officers peered inside the trunk of a car that had apparent bullet holes in the windshield at an off ramp. Witnesses told reporters they saw one person in handcuffs.
Yarmouth is a community of 9,000 about 12 miles north of Portland, the state's largest city, which I-295 connects to the state capital, Augusta. Bowdoin is a rural farming community with about 3,000 residents.
"We are confident that there is no imminent threat to the general public at this time," said Sagadahoc County Sheriff Joel Merry, whose deputies were assisting in Bowdoin. He referred questions to state police.
At the scene in Bowdoin, yellow crime scene tape hung around a home with a long, gravel driveway in a wooded area. About 10 marked and unmarked law enforcement vehicles and a crime scene van were parked outside, and investigators moved about and talked.
In Yarmouth, traffic backed up on the interstate as police shut down the southbound lanes, and state, county and local police canvassed the area. Representatives for the Maine Department of Transportation said they closed the southbound side of I-295 in Yarmouth in late morning at the request of state police.
Employees at Water Treatment Equipment Inc., a business near the highway scene, locked the doors and pulled down the shades after being alerted to the lockdown, which lasted about 90 minutes, manager Kim Snyder said. Workers saw cars backing up on the highway, along with police cars, ambulances and fire trucks.
"It definitely shifted the day, and the worry kicked in," she said. "They hadn't caught the active shooter. We didn't know what was going on. There was a lot of the unknowns."
Police later lifted the shelter-in-place order and announced there was no further threat.
Lenora Felker, who works near the highway at Rosemont Market and Bakery, said she sensed something was afoot when people started streaming in, saying the highway was closed, followed by dozens of law enforcement officers who descended on the area.
Officers canvassed businesses asking if they had seen "anyone that was wet and muddy fleeing," Felker said. But she knew all the customers and didn't see anything "out of the ordinary," she said.
Sharp reported from Portland. Associated Press photographer Robert Bukaty in Bowdoin and writers Michael Casey and Steve LeBlanc in Boston contributed to this report.