Crime
Man who threatened to shoot down South Shore pride flag released with GPS bracelet
Gage Scammell, 29, threatened to shoot and burn down a pride flag at Hingham's Derby Street Shoppes, police say.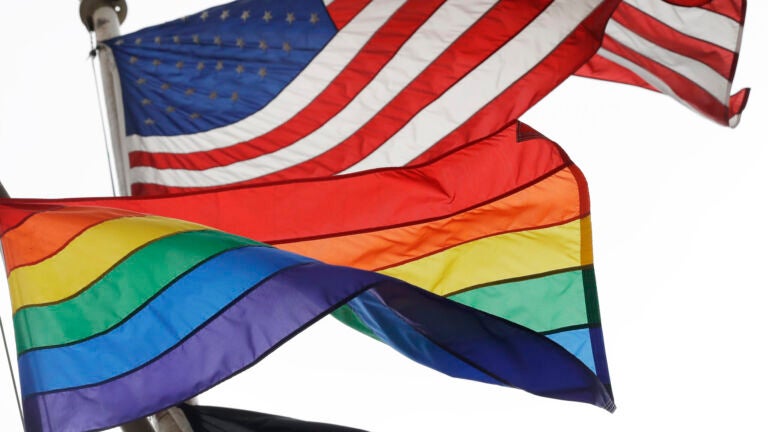 The 29-year-old Weymouth man who was arrested April 13 for allegedly threatening to shoot down and burn a pride flag at Hingham's Derby Street Shoppes was found dangerous and released with a GPS tracker amid other conditions.
Police arrested Gage Scammell after they say he left a voicemail threatening to shoot down and burn the pride flag that Derby Shoppes had put on display if it was not taken down within three days. He also allegedly made "disparaging statements regarding the Jewish faith."
After investigation, police identified Scammell and took him into custody. They charged him with one count each of a bomb/hijack threat with serious public alarm, threatening to commit a crime, and attempted civil rights violation. At arraignment, the commonwealth moved for a dangerousness hearing, where Scammell pleaded not guilty.
Hingham District Court Judge James Byrne on Thursday found Scammell dangerous. He was released on personal recognizance, ordered to avoid Derby Shoppes, and to wear a GPS tracker, according the Plymouth County District Attorney's office.
Additionally, Scammell was ordered to adhere to a 11 p.m. to 5 a.m. curfew, maintain/ seek employment, not carry weapons other than a pocket knife for work, not consume alcohol while being tested for consumption twice daily, and attend two Alcoholics Anonymous meetings per week.
"The Hingham Police Department supports and stands with our LGBTQ+ and
Jewish communities and we will not tolerate any threats or discrimination against them," Hingham Police said in a statement following Scammell's arrest. "Hingham is a welcoming and accepting community and we will continue to work with our local stakeholders to ensure that our town is safe and inclusive for everyone."
Scammel's next scheduled date in court is June 7.
Newsletter Signup
Stay up to date on all the latest news from Boston.com