Crime
Rioter from Maine who hurled bow like a spear at police during Jan. 6 attack gets more than 7 years in prison
Kyle Fitzsimons, 39, of Maine, was wearing a white butcher's coat embroidered with his first name when he separately assaulted at least five officers near a tunnel to the U.S. Capitol.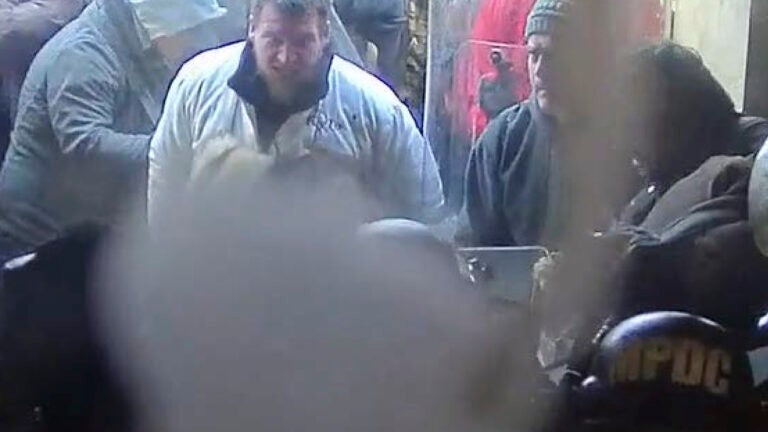 WASHINGTON (AP) — A professional butcher whose bloody, wild-eyed face became one of the most memorable images of the U.S. Capitol riot was sentenced Thursday to more than seven years in prison for hurling a bow like a spear at police and attacking several other officers.
Kyle Fitzsimons, 39, of Maine, was wearing a white butcher's coat embroidered with his first name when he separately assaulted at least five officers near a tunnel as police desperately tried to protect an entrance to the Capitol from the angry mob of President Donald Trump's supporters, prosecutors said.
The federal judge who sentenced Fitzsimons also convicted him of 11 charges related to the Jan. 6, 2021, riot at the Capitol. U.S. District Judge Rudolph Contreras heard testimony without a jury at a bench trial for Fitzsimons last September.
The judge said Fitzsimons attacked police in a "burst of frenzied fury" and unleashed an "orgy of assaultive rage" that lasted a few minutes.
"He was part of the most violent clashes that day," Contreras said.
Fitzsimons apologized to the officers he attacked, the court, his family and "anyone else I've disappointed by my conduct." He said he initially resisted the idea that he posed a "danger to the republic."
"But now I know it to be true," he told the judge before learning his sentence.
Fitzsimons, was sentenced to seven years and three months in prison followed by three years of supervised release. He has been in custody since February 2021, and will get credit for the two years and five months he already has served in jail.
Fitzsimons is among more than 1,000 people who have been charged with federal crimes in the riot that left more than 100 police officers injured and delayed the certification of President Joe Biden's election victory over Trump. More than 560 people have been sentenced for Jan. 6-related crimes, with over half receiving terms of imprisonment.
An 18-year prison term for Oath Keepers founder Stewart Rhodes is the longest sentence handed down so far in the Jan. 6 attack, though prosecutors indicated Wednesday that they are appealing the sentences for Rhodes and other Oath Keepers after they were given lighter punishments than prosecutors had sought.
Prosecutors had recommended a prison sentence of 15 years and eight months for Fitzsimons, calling him one of the most violent and aggressive participants in the riot. They said he caused a "career-ending and life-altering" shoulder injury to Capitol Police Sgt. Aquilino Gonell.
Fitzsimons traveled to Washington, D.C., from his home in Lebanon, Maine, a day before the riot erupted. After attending Trump's "Stop the Steal" rally on Jan. 6, he returned to his car and changed clothes, donning his butcher's coat. He also wore a fur pelt around his neck and carried an unstrung wooden archery bow.
Fitzsimons joined the mob's attack on police at the Lower West Terrace tunnel entrance, according to prosecutors. He threw his bow like a spear, hitting a Metropolitan Police Department officer's head. He repeatedly swiped at a police detective's face, trying to dislodge his gas mask. And he wrenched Gonell's shoulder, permanently damaging it.
Gonell said he feared for his life, believing Fitzsimons was trying to drag him in the angry crowd of rioters.
"He is lucky I made a choice not to use lethal force on him, but I came very close to," Gonell wrote in a victim impact statement.
As he retreated, Fitzsimons had blood on his face from a blow to his head. Turning his back to the tunnel, he stared "proudly, ferally, and wild-eyed at the angry mob," prosecutors said in a court filing.
"Finally, after walking away from the 'medieval battle' at the tunnel, Fitzsimons proudly celebrated his actions and urged other rioters to 'get in there' and fight the police like he had," prosecutors wrote.
Prosecutors sought a $26,892 fine from Fitzsimons, accusing him of trying to profit from his notoriety. They also said he has shown no remorse and given interviews from jail in which he insinuated that he is "an innocent victim of a biased prosecution." But the judge declined to impose a fine against Fitzsimons.
On December 26, 2020, Fitzsimons called and left two menacing voicemails at the Washington office of Rep. Jared Golden, a Maine Democrat, prosecutors said.
"I will be in D.C. on the 6th. I don't think I'll see you there. But maybe I will. Maybe I will," he said during the first call.
In a separate case Wednesday, a member of the Proud Boys extremist group who goes by the nickname "Milkshake" was sentenced to five years in prison after pleading guilty to felony charges — including assault — in the riot.
Prosecutors say that days before the riot, Daniel Lyons Scott, 29, declared during a Florida rally that if a U.S. senator didn't vote against the certification of Biden's victory, they should "give him the rope!" Before Trump even began speaking near the White House on Jan. 6, Scott yelled to a group of Proud Boys, "Let's take the (expletive) Capitol!" according to court papers.
Scott, of Englewood, Florida, pushed two officers up stairs of the Capitol's West Terrace as police were trying to keep the crowd at bay, and then pulled one of the officers down into the crowd. When the police line broke, Proud Boys and other rioters managed to surge up the stairs. Those rioters, "unleashed by Scott's assaults," later became the first group to the enter the Capitol, prosecutors said in court papers.
Scott's lawyer said in court documents that his client's talk before the riot "was more the blowing off of steam than part of an effort to actually stop the certification of the electoral votes, much less to reverse the results of the election and reinstall Trump as president."
Defense attorney Nathan Silver wrote that Scott attributes his pushing into the police line to "almost 'snapping' from frustration" from what he described as police's "aggressive crowd control effort." An email seeking a comment on the sentence was sent to Scott's lawyer.
A slew of Proud Boys leaders, members and associates have been charged with federal crimes in the riot. Former Proud Boys national chairman Enrique Tarrio and three other leaders were convicted in May of seditious conspiracy for what authorities said was a plot to halt the transfer of power from Trump to Biden.
Associated Press reporter Alanna Durkin Richer in Boston contributed.
Extra News Alerts
Get breaking updates as they happen.