Crime
Arrests have been made in a human remains trade tied to Harvard Medical School. Here's what to know.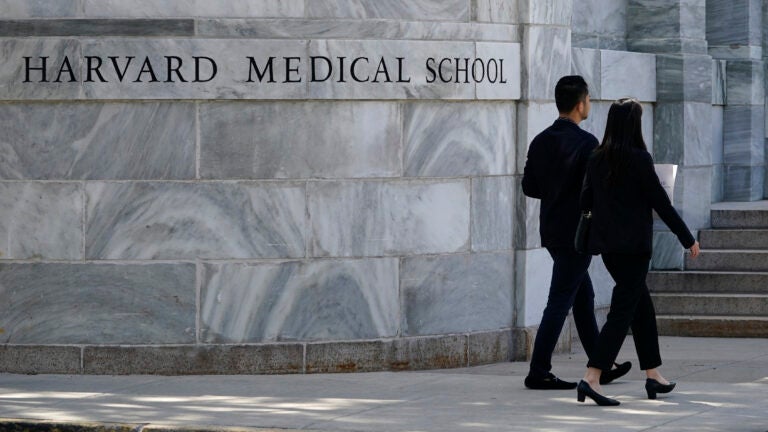 WHAT HAPPENED?
Federal investigators discovered a human remains trade with connections to Harvard Medical School and have arrested people in several states. According to prosecutors, the defendants were part of a nationwide network of people who bought and sold remains stolen from the medical school and an Arkansas mortuary. One of those charged, 55-year-old Cedric Lodge, of New Hampshire, allegedly took dissected parts of cadavers that had been donated to Harvard in a scheme that started back in 2018, prosecutors said. Another person facing criminal charges, Katrina Maclean of Salem, Massachusetts, owned a store that sells "creations that shock the mind" with along with "creepy dolls, oddities and bone art," according to the store's social media page.
WHO IS FACING CHARGES?
The indictment charges Lodge; his wife, Denise; Maclean; Joshua Taylor, of West Lawn, Pennsylvania; and Mathew Lampi, of East Bethel, Minnesota, with conspiracy and interstate transport of stolen goods. Authorities were first clued in to the nationwide network after the arrest of Jeremy Lee Pauley, who was charged with abuse of a corpse, receiving stolen property and other state charges in Pennsylvania in July 2022. Police say Pauley allegedly tried to buy stolen human remains from an Arkansas woman for possible resale on Facebook. An FBI affidavit in a Kentucky case last week said Pauley bought hearts, brains, lungs and two fetal specimens from the Arkansas woman, who had allegedly taken them from a mortuary.
WHAT HAPPENED IN KENTUCKY?
Last week, federal officials charged a Kentucky man who had communicated with Pauley on Facebook about the sale of skulls and spines. Investigators said in an affidavit that James Nott had "40 human skulls, spinal cords, femurs, and hip bones" in his home during a search of his apartment in Mount Washington, Kentucky, on Tuesday. They found one skull wrapped in a head scarf and another on the bed where Nott slept, along with a Harvard medical school bag. During the search, an FBI agent asked Nott if anyone else was in the residence. He responded, "only my dead friends." Nott also had several guns and ammunition in the apartment about 20 miles (32 kilometers) south of Louisville. Nott was charged by federal investigators with illegally possessing a firearm.
LAWS CONCERNING HUMAN REMAINS
There are no federal criminal statutes that deal with the mishandling or sale of human remains, and in most states, the sale of human remains is not illegal, said Tanya D. Marsh, a Wake Forest University law professor who has written books about cemetery and human remains law. Marsh said there is a widespread market for human remains "and it's not expressly legal, but in a lot of states, it's not expressly illegal either." She calls it a "gray market." There are laws in many states against grave robbing, but "the vast majority of states don't have any law that has to do with human remains that haven't been buried yet," Marsh said.
DONATED BODIES
Medical schools like Harvard receive donated bodies after a person chooses to offer their remains upon death. After the bodies are used for research or education, some schools may offer to return the cremated remains to the family or bury them in a cemetery, Marsh said. Lodge, who was charged in the scheme, was a former manager at the Harvard Medical School morgue. He took the body parts from Harvard's morgue without the school's knowledge or permission, federal prosecutors said. The body parts in Pauley's case were originally donated to the University of Arkansas for medical research. They ended up being stolen from a mortuary where they were supposed to be cremated, authorities said.