Crime
Citing Trump case, Mass. guardsman Teixeira urges judge to release him while he awaits trial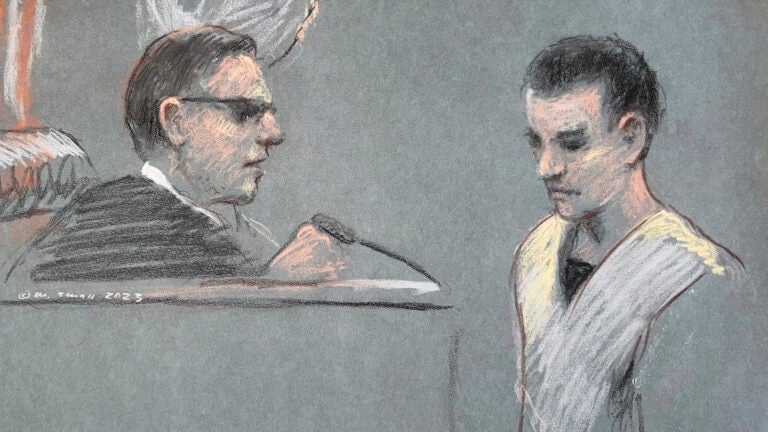 BOSTON (AP) — Jack Teixeira, the Massachusetts Air National Guard member accused of leaking secret military papers challenged a judge's decision that he remain behind bars, pointing Monday to the pretrial release of former President Donald Trump and others charged in high-profile classified documents cases.
A magistrate judge who ruled in May that 21-year-old Teixeira must remain behind bars while the case plays out found that releasing him would pose a risk that he would attempt to flee the country or obstruct justice. Teixeira's lawyers are now asking a different judge to reverse that decision.
In court papers, the defense attorneys argued that Teixeira has no financial ability or incentive to flee, and claimed the government "greatly overexaggerates Mr. Teixeira's risk to national security." Teixeira's lawyers noted that prosecutors did not seek to detain Trump — or his co-defendant, Walt Nauta — even though the former president and his valet "possess extraordinary means to flee the United States."
"Former President Trump and The Trump Organization own properties in multiple foreign countries, and former President Trump has access to a private plane. Yet, the risk of flight posed by their knowledge of national security information, and their abnormal ability to flee, didn't even result in a request that either surrender their passport," Teixeira's lawyers wrote.
Teixeira's attorneys wrote that the "disparate approach" in these cases — which are both charged under the Espionage Act — shows that the government's "argument for Mr. Teixeira's detention on this basis is illusory."
Teixeira pleaded not guilty last month to six counts of willful retention and transmission of national defense information. Each count is punishable by up to 10 years in prison.
Trump has also pleaded not guilty to dozens of felony counts accusing him of hoarding classified documents at his Mar-a-Lago estate in Florida and refusing government demands to give them back. While Trump was not required to surrender a passport — prosecutors said he was not considered a flight risk — the magistrate judge directed the former president to not discuss the case with certain witnesses. Trump has denied any wrongdoing and attacked the prosecution as politically motivated.
Teixeira, of North Dighton, has been behind bars since his April arrest on charges stemming from the most consequential intelligence leak in years. His lawyers have suggested that he be released to his father and largely confined to his home with location monitoring and no access to the internet.
Teixeira is accused of sharing classified military documents about Russia's war in Ukraine and other sensitive national security topics on Discord, a social media platform popular with people playing online games.
Authorities say Teixeira, who enlisted in the Air National Guard in 2019, began around January sharing military secrets with other Discord users — first by typing out classified documents and then sharing photographs of files that bore SECRET and TOP SECRET markings. Teixeira worked as a a "cyber transport systems specialist," essentially an IT specialist responsible for military communications networks.
Authorities have provided few details about an alleged possible motive, but accounts of those in the online private chat group where the documents were disclosled have depicted Teixeira as motivated more by bravado than ideology.
The judge's decision to detain Teixeira came after Justice Department lawyers revealed in court filings a history of disturbing online remarks. He wrote in November that he would "kill a (expletive) ton of people" if he had his way, because it would be "culling the weak minded." Prosecutors also argued he said he may still have material that hasn't been released, which could be of "tremendous value to hostile nation states that could offer him safe harbor and attempt to facilitate his escape from the United States."
Teixeira's lawyers wrote that there is no evidence their client "ever carried his online conversations into reality or ever endangered any person in his community." They also said there's no evidence to suggest that Teixeira is so valuable that a foreign adversary would be willing to smuggle him out of the country.