Crime
Unborn child's father and associate indicted for murder of pregnant Brockton woman found in Rhode Island pond
Rhode Island residents Gary Gromkiewicz and Michael Lambert are accused of killing Leila Duarte DaLuz on Dec. 21, 2022.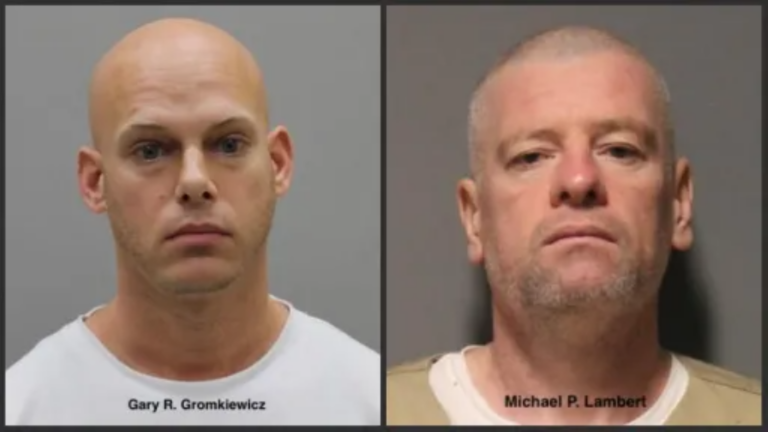 A grand jury has indicted two men for the murder of a pregnant Brockton woman whose body was found in a Rhode Island pond last December.
The two men, 35-year-old Gary Gromkiewicz and 46-year-old Michael Lambert, Gromkiewicz's known associate, are accused of killing 34-year-old Leila Duarte DaLuz. DaLuz was Gromkiewicz's ex-girlfriend, and she was pregnant with his child when she died, prosecutors say.
The two Rhode Island men were originally arrested and charged with DaLuz's murder in May, nearly five months after a local fisherman found her body under the ice in Carbuncle Pond in Coventry on Dec. 21, 2022.
DaLuz was found with cuts on her head, but she drowned in the pond, according to a Thursday press release from the Rhode Island Attorney General's office.
"According to the medical examiner's report, the victim sustained blunt force trauma to the head. The medical examiner also found water in her lungs, indicating she was alive when she entered the water," the release reads.
DaLuz was identified days later through a missing person's report out of Brockton, WPRI reported. She was reportedly found wearing a wedding ring Gromkiewicz had bought her two years before.
Gromkiewicz and DaLuz's relationship
Prosecutors claim Gromkiewicz and DaLuz had a rocky relationship, the news station reported. They also reportedly said Gromkiewicz, a Lincoln resident, proposed to a different woman on Dec. 24, 2022.
A few days after DaLuz's body was found, prosecutors said, Lincoln police called Gromkiewicz, WPRI reported. During the phone call, prosecutors reportedly said he became "increasingly agitated."
The news station reported that, according to a prosecutor, right before Gromkiewicz hung up, he said "'I'm all set. I have a girlfriend. I don't want anything to do with Leila. If you find her, don't call me. I don't care.'"
The case against Gromkiewicz and Lambert
The prosecution alleges that around 2:30 a.m. on Dec. 21, 2022, Gromkiewicz and Lambert drove to Brockton to pick DaLuz up at her home. According to cell phone location data, the attorney general's release said, they then drove around Rhode Island for several hours.
During that time, the group made stops at gas stations and convenience stores that were captured on security camera footage, the release said. Cell phone location data indicates that they then drove to a part of Coventry near Carbuncle Pond.
The release does not provide further details about DaLuz's murder or the evidence against Gromkiewicz and Lambert. Prosecutors previously said they executed 53 search warrants in connection with the investigation.
Both Gromkiewicz and Lambert are charged with murder and conspiracy to commit murder, the release said. They are being held without bail and are scheduled to be arraigned in Kent County Superior Court on Sept. 29.
Lambert has a previous murder conviction from 1995. According to The Providence Journal, he was convicted of second-degree murder for stabbing a homeless man to death under a Providence I-95 onramp on Thanksgiving Day in 1994.
Gromkiewicz was previously convicted of assault and robbery, The Boston Globe reported. Prosecutors reportedly said the two men met in prison.
Newsletter Signup
Stay up to date on all the latest news from Boston.com