Crime
Her father is the BTK killer. She's helping to close more cases.
Kerri Rawson sees her life in two parts: before and after she learned that her father was a serial killer.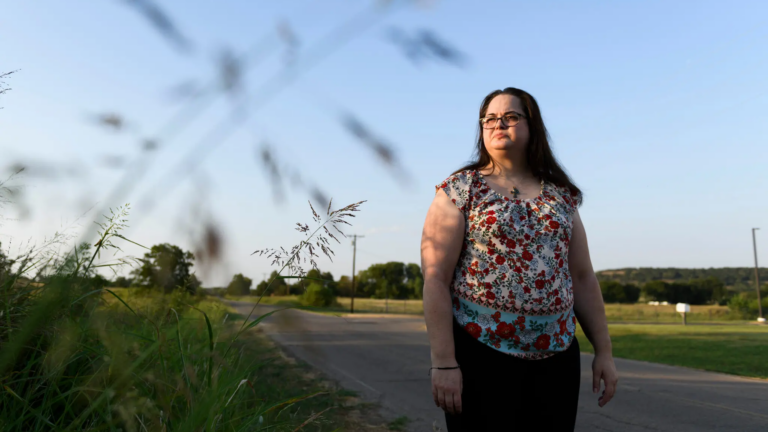 Kerri Rawson sees her life in two parts: before and after she learned that her father was a serial killer.
The before included camping and fishing vacations as a family; helping her father build a treehouse and working alongside him in the garden; going to church every Sunday. It also included verbal and emotional abuse, she said.
The after began in 2005. Rawson was 26. An FBI agent knocked on her door and said that her father, Dennis Rader, had been arrested. He was accused of being an especially cruel and vicious serial killer, who had been murdering people for decades. He sent taunting letters and poems to media outlets and police, calling himself BTK for his merciless method: bind, torture, kill.
After years of therapy, Rawson, 45, is offering intimate details about Rader's life to investigators who asked for her help solving cold cases that may involve her father. Her contributions in recent months have helped investigators identify him as the prime suspect in two unsolved cold cases: a missing person investigation and a homicide. And there may be more.
"I have always just wanted to help," Rawson said in an interview. "I wanted access to this stuff when I could handle it, because I knew I could maybe learn more. There were these missing puzzle pieces."
Helping investigators is part of her healing process, she said, and a way of defining her own version of normal. In doing so, she has embraced many titles: writer, mother, survivor, trauma victim advocate. But one sticks out: daughter of a serial killer. She even includes it in her social media bios.
By owning that title, she said, she has been able to assert a sense of agency and control over a situation that for years left her a bystander and a victim.
'A normal midwest American family'
Rawson grew up outside Wichita, Kansas, in what she said "just looked like a normal Midwest American family." Her father was a Cub Scout and Boy Scout leader who shined his shoes on Saturday nights and wore his best suits when he took his wife, Paula Dietz, and their children — Rawson and her brother, Brian — to church on Sundays.
"He looked immaculate," Rawson recalled. "If you look at what he wore to his plea hearings, that's his church clothes."
Rader made sure Rawson and her brother "toed the line and didn't get into trouble and go down the wrong path," she said. "He treated me like an equal."
In the process, he "toughened me up," Rawson said. "I don't know if he did it knowing what was coming or to be tough enough to step up to him."
Rader's killing spree is believed to have started in 1974, before she was born. He strangled four members of a Wichita family with a cord from venetian blinds. He would kill many more people, all women from that point forward, through the early 1990s, keeping meticulous notes in journals.
He was caught in 2005 after one of his communication frenzies, when authorities traced a floppy disk to a computer at the Lutheran church where he was the council president. Investigators had also compelled a hospital to turn over a sample of Rawson's DNA from a Pap smear, without her knowledge. They then used that to link her father to the BTK killings.
Rader is serving 10 consecutive life terms, one for each person he was found guilty of killing, at the El Dorado Correctional Facility in El Dorado, Kansas.
"When you talk to me now, I'll tell you about all the camping and fishing vacations and this really great life I thought I had growing up," Rawson said.
But trauma therapy helped her identify abusive moments in her childhood, she said. "My family was physically, verbally, mentally, and emotionally abused."
Rader would grow mad when one of them would get hurt, she said. When her mother twisted her ankle and cut her knee on a family hike, for example, Rader "just started screaming" at Dietz, blaming her for ruining the day. He would tell Rawson not to pick at her scabs, telling her "no man will want you and you'll be ugly," she recalled.
On at least two occasions, Rader tried to strangle her brother, including once at the dinner table, choking him until he turned white. Rawson, who was 18, joined her mother in pushing Rader off him. They never spoke about it as a family again. Her brother joined the military and does not give interviews about their father.
Rawson also had what she describes as night terrors as a child, episodes that began in earnest when she was 6. That's when her father murdered Marine Hedge, 53, their neighbor down the street.
"I knew that she had gone missing," she said, "and I somehow knew that they had found her body later, a couple miles east of our church. And somehow, at 6, I knew that she had been strangled."
She vaguely remembers her father blaming Hedge's boyfriend. When her mother would comfort her during her night terrors, "I would say, 'There's a bad man in the house,'" Rawson said. "She would always say, 'No, there's no bad man in the house.'"
It would be 20 more years before she learned the truth.
An uneasy prison meeting
In 2004, Rawson and her husband at the time, Darian Rawson, spent the Christmas holidays with her parents. It was a few months before the FBI visit.
The day they were leaving, Rader dressed for work and was about to head out to his job as a compliance officer for Park City, Kansas. She and her father exchanged "I love you's" and hugged goodbye.
"I can still tell you what he felt like, what he smelled like," she said. He wore Old Spice cologne. That was the last time she saw him until this past June.
That's when the Osage County Sheriff's Office in Oklahoma asked her to help with its investigation into the disappearance of Cynthia Kinney, who was 16 when she vanished from a laundromat in Pawhuska, Oklahoma, in 1976. They believed her father might be behind it.
Rawson acts in a volunteer capacity, but the sheriff's office pays for her travel to Oklahoma, she said.
Gary Upton, an undersheriff with the sheriff's office, said Rawson was "a blessing," helping to make sure there weren't any gaps in the department's timeline. He showed her items that she had never seen, including some of Rader's journals, maps, drawings, and photos her father had taken at crime scenes.
"It made so much sense to talk to the person who was perhaps in the other room or under the same roof as he was making these notes," Upton said.
But the biggest challenge for Rawson was her first face-to-face meeting with her father in 18 years. Her world had been shattered back then, and she was only now able to confront the father she had loved as the monstrous killer she now knew him to be.
Rawson had placed a no-contact order on Rader after the arrest. The only reason she even considered seeing him, she said, was to help investigators.
Inside a large visitation room at the prison, Rawson found a feeble man in a wheelchair. He is now 78.
"It didn't really feel like anything when he hugged me," she said. "It didn't feel like that guy from back in 2004."
Over the course of two visits, Rawson asked her father about Kinney, and other possible victims, and about locations that investigators were interested in. She also asked about the "project names" he had given his crimes in diary entries. But she never used the word murder.
"I just called it BTK," she said. "I was like, 'Were you doing BTK at this time?'
"We were having very open discussions," she said. "I think he actually appreciated it. He knew I took the time to do the research and study and have a conversation with him about it. He'll call you out on it if you go in there and don't know your stuff. He won't talk to you."
The second time, she was even more prepared.
"It wasn't going to work if I was going to go be upset or I was going to be mad," she said. "I literally just went in there very clear and focused."
Last month, Rader was named the primary suspect in two unsolved cases — in part, authorities said, because of Rawson's contributions.
In addition to Kinney, authorities in Osage County believe Rader is responsible for the killing of Shawna Beth Garber, a 22-year-old woman whose body was found in McDonald County, Missouri, in 1990.
Rawson has gone on multiple ride-alongs with law enforcement, pointing out familiar points from her childhood in Kansas and Missouri that could offer more clues.
One of those visits included Pineville, Missouri. The law enforcement team came upon a stream that Rawson recognized as a fishing hole she had visited with her father.
Garber's body had been discovered just up the road.
Now, Rawson is part of a national task force created by the Osage County Sheriff's Office to examine the Kinney case. But it is not the only case she and law enforcement are looking into: At least four cases are being reexamined for connections with Rader, and there could be more.
'This is my life'
Over the past few months, Rawson said, investigators from Osage County have become her team and her family. With their support, she was able to confront her father and merge the before-and-after parts of her life, "integrating him into one person," she said. "It's like my core is now stitching back up."
In the process, Rawson has shared much of her experience with the public, sometimes finding herself at the center of accusations of distracting investigations or even making money off her father's crimes.
Jeff Davis, whose mother, Dolores Davis, 62, was strangled in her Wichita home in 1991 and has previously been critical of Rawson's public efforts, said he had no issue with her work if it helped lead to further convictions.
"I don't have a problem with her having her 15 minutes of fame," Davis said in a telephone interview. "She's talked about being a source expert on her dad, which she should be. I don't see it as being a real distraction from the families."
Rawson now lives in Florida, where she is raising her children, Emilie, 15, and Ian, 12.
A former substitute teacher, she has supported herself in recent years with royalties from a book about her experience — she is working on a second — and from appearances at conferences like CrimeCon. She is often called upon to comment on other gruesome crimes, including the killings at New York's Gilgo Beach and at the University of Idaho. But mostly she talks about her father.
"I think most people listening to me would think it's insane, but I don't know any differently," she said. "This is my life. It's not like I've been given a choice."
This article originally appeared in The New York Times.