Crime
Taunton police: Man assaulted chief, several officers with knife
It all started when a vehicle pulled up alongside a traffic stop and the driver allegedly started shouting at police.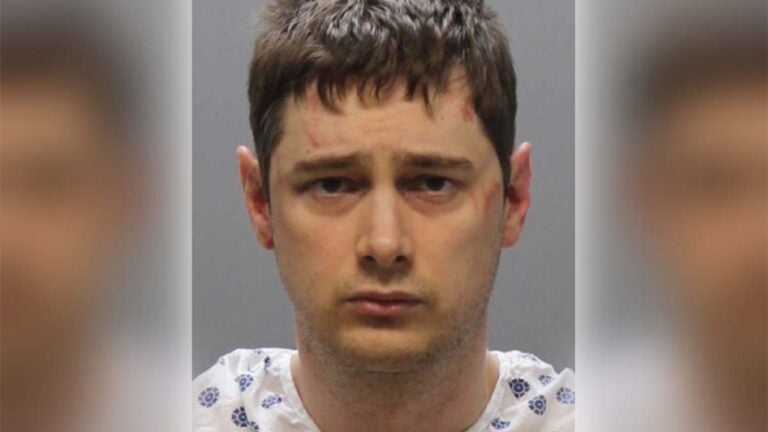 A Lakeville man faces a slew of charges after he allegedly used a knife to assault multiple Taunton police officers during an incident Tuesday night.
Taunton police initially pulled over another motorist — who cooperated with police — for a moving violation on County Street shortly after 6:30 p.m. when a second vehicle pulled up and the driver — later identified as 35-year-old Douglas Hagerty — began shouting at officers, according to a press release.
Haggerty reportedly sped off in a 2010 gray Honda Accord, but police did not pursue him.
Shortly after the incident, another Taunton officer reported seeing the same vehicle moving "in an unsafe and reckless manner on County Street," the release noted.
When an officer tried to pull him over, Hagerty stopped the vehicle at first but then drove off, nearly hitting the officer in the process, police said.
Next, Hagerty drove in the direction of a marked Taunton police cruiser and struck another cruiser near Cherry Street, authorities said.
The suspect then allegedly crashed into an entryway of a multifamily home owned by one of his relatives on West Britannia and ran inside, as police followed.
Hagerty brandished a knife and waved it around, slashing two officers with it, according to police.
Taunton Police Chief Edward Walsh left his nearby home and responded to the scene, trying to subdue Hagerty, who swung a knife and stabbed the chief's abdomen, police said.
The chief deployed his taser and then took Hagerty into custody.
Authorities brought the suspect to an area hospital to be treated for hand injuries prior to booking.
Multiple officers received treatment for injuries from the incident.
Emergency responders medflighted one officer, who suffered serious slash wounds to his neck, face, and back, to a Boston hospital.
The chief and three other officers were transported to local hospitals for evaluation and treatment.
Police charged Hagerty with armed assault with intent to murder, assault and battery with a dangerous weapon (three counts), assault with a dangerous weapon (two counts), malicious damage to a motor vehicle (two counts), failure to stop for police, reckless operation of a motor vehicle, and resisting arrest.
He was expected to be arraigned in Taunton District Court on Wednesday.
Newsletter Signup
Stay up to date on all the latest news from Boston.com