Crime
In Boston court, man pleads guilty to arranging hundreds of sham marriages for non-citizens
Prosecutors said Marcialito "Mars" Biol Benitez arranged marriages and submitted fraudulent green card applications for at least 600 clients.
A California man pleaded guilty in Boston federal court Wednesday to arranging hundreds of sham marriages as part of a scheme to circumvent immigration laws.
Marcialito "Mars" Biol Benitez, 49, pleaded guilty to conspiracy to commit marriage fraud and immigration document fraud, acting U.S. Attorney Joshua S. Levy's office said in a news release. Benitez, a Philippine national living in Los Angeles, is scheduled for sentencing on Jan. 10.
Federal prosecutors said Benitez's L.A.-based "agency" arranged sham marriages between foreign nationals and U.S. citizens, his clients including at least one foreign national who lived in Massachusetts.
All told, prosecutors said Benitez arranged marriages and submitted fraudulent green card applications for at least 600 clients between October 2016 and March 2022. The agency charged cash fees that ranged from $20,000 to $35,000, Levy's office said in the release.
Benitez was arrested with 10 others back in April 2022 and is the seventh defendant to plead guilty. Prosecutors alleged that Benitez's co-conspirators helped arrange marriages and submit fraudulent documents, also recruiting American citizens to marry clients in exchange for payment.
According to Levy's office, after pairing foreign nationals with citizens, Benitez's agency would stage fake wedding ceremonies at chapels, parks, and other locations. For many clients, the agency would also snap photos of the couple in front of prop wedding decorations.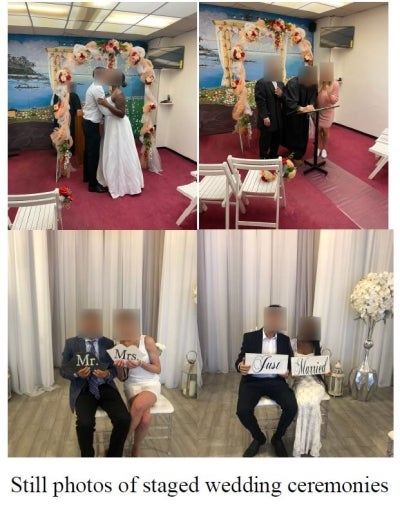 An indictment filed in U.S. District Court in Boston details the agency's dealings with a woman from Massachusetts, referred to in the document as Client 1.
On May 26, 2020, Benitez showed Client 1 a list of names and photographs of prospective spouses, according to the indictment. She met her spouse the next day and entered into an agreement that required payment of $18,000 to the agency and $10,000 to the spouse.
The pair wed in a park ceremony one day later, and Client 1 signed immigration documents the agency had prepared for her.
When Client 1 later expressed concern that her spouse was unwilling to prepare for an interview with United States Citizenship and Immigration Services, Benitez allegedly advised her to bribe him. USCIS approved Client 1's green card on April 23, 2021.
According to Levy's office, Benitez's agency also helped certain clients — typically those whose spouses were unresponsive or uncooperative — obtain green cards under the Violence Against Women Act by fabricating allegations of domestic violence. VAWA provisions permit non-citizen victims of spousal abuse to seek lawful permanent resident status without their spouses' involvement.
Benitez faces up to five years in prison, three years of supervised release, and a fine of $250,000.
Newsletter Signup
Stay up to date on all the latest news from Boston.com