Crime
Second suspect in Holyoke shooting held without bail
Johnluis Sanchez was charged with murder for his alleged role in a shooting that wounded a pregnant woman and claimed her baby's life.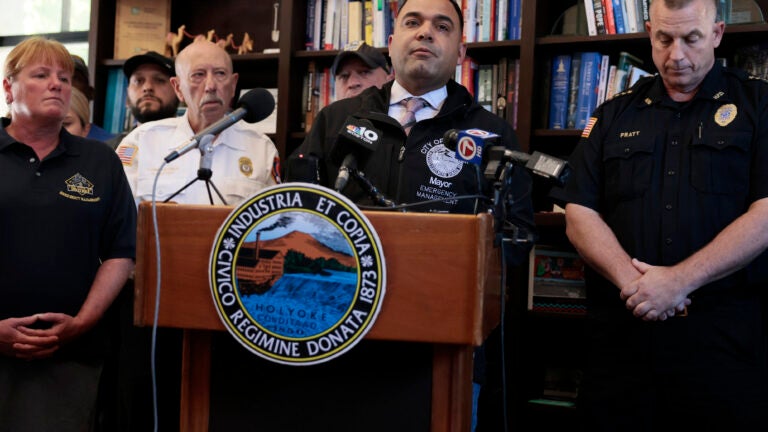 A second man charged in connection with a Holyoke shooting that wounded a pregnant woman and led to the death of her baby Wednesday has been ordered held without bail.
Johnluis Sanchez, 30, faced a judge in Holyoke District Court on Friday. Hospitalized following the daytime shooting two days prior, Sanchez was arraigned via Zoom on a charge of murder, according to the Hampden County District Attorney's Office.
His bail was also revoked in a pending firearms case out of Holyoke District Court. Hampden District Attorney Anthony Gulluni said in a statement that Sanchez — due back in court Nov. 3 — is expected to face more charges down the line.
According to The Boston Globe, defense attorney Joseph M. Pacella requested that the judge order Sanchez to be held in the Hampshire County House of Corrections, not in Hampden County Jail.
Pacella told the judge there are "long-standing" issues "that create a safety issue for [Sanchez] in the Hampden County House of Correction vis-a-vis this incident and prior incidents," according to the Globe. The judge reportedly approved the request but left final say up to the Hampden County Sheriff's Department.
Alejandro Ramos, 22, was also charged with murder in connection with the shooting and was ordered held without bail following his arraignment Thursday. Gulluni said authorities are still actively searching for a third man suspected in the shooting.
The gunfire broke out shortly before 12:40 p.m. Wednesday in downtown Holyoke. Gulluni said investigators believe one of the rounds struck a nearby bus and wounded a pregnant woman seated onboard. The unidentified woman was rushed to a nearby hospital in critical condition, and her infant was delivered and later died.
During a news conference Thursday, Holyoke Mayor Joshua Garcia said, "the dreams of a young couple died, along with their baby, when a man drew a gun and fired recklessly at men with whom he was fighting."
In his remarks, which he shared on Facebook, Garcia said he spent some time on Wednesday evening "keeping watch" at the hospital with the 29-year-old woman's boyfriend.
"I couldn't think of anything else to do, except to be there and care," Garcia said. "To try to convey the love and support of a city stunned by the unspeakable."
He also expressed anger and frustration, noting that Wednesday's shooting came just 90 minutes after city officials held a press conference about tackling gun violence in Holyoke.
"With the proper support, we'll get the work done," he said. "In the meantime, I want you to, every day, through commitment and kindness, through duty and care, don't lose faith and keep making Holyoke the city in which that beautiful, lost baby would have grown strong, and proud and loved."
Newsletter Signup
Stay up to date on all the latest news from Boston.com