Crime
Unsealed court docs detail evidence collected in Duxbury mother Lindsay Clancy's case
Clancy, who is accused of killing her three children, allegedly used her cellphone to research "ways to kill," investigators alleged in newly available court documents.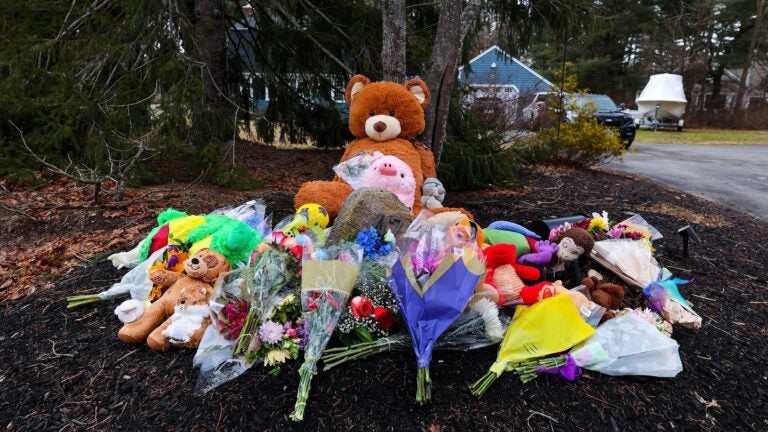 Lindsay Clancy, the Duxbury woman accused of murdering her three children in January, allegedly used her cellphone and journals to track her mental state and research ways to kill, according to newly unsealed court documents.
Prosecutors say Clancy, 33, strangled 5-year-old Cora, 3-year-old Dawson, and 8-month-old Callan Clancy with "workout bands" in their family home before cutting herself and jumping out a second-story window on Jan. 24.
After initially facing charges in Plymouth District Court, she was indicted last month and charged with three counts each of murder and strangulation. Her Plymouth Superior Court arraignment is slated for Thursday at 11 a.m.
Spanning 299 pages, the newly available search warrant applications offer a glimpse into the evidence investigators sought in Clancy's case, including exercise bands, electronics, prescription medications, samples of her blood and urine, and swabs from her fingernails.
In affidavits seeking search warrants for Clancy's electronic devices, investigators said they were aware she "used her cellular telephone and her journal to document her mental state and her feelings about her children, in addition to keeping track of her medications, and researching ways to kill."
The court documents do not indicate how investigators learned of Clancy's alleged research, nor do they detail any specific internet searches.
During Clancy's district court arraignment in February, prosecutors alleged that she planned the killings in advance and sent her husband, Patrick Clancy, out to run errands as a way to buy herself time.
"The defendant is a danger to herself and others," Assistant District Attorney Jennifer Sprague said at the time. "She planned these murders, gave herself the time and privacy needed to commit the murders, and then she strangled each child in the place where they should have felt the safest: At home with their mom."
Yet Clancy's attorney, Kevin J. Reddington, painted a vastly different picture of a devoted young mother whose mental health had been declining since the birth of her youngest child. He told the court that Clancy, who had sought mental health care and was prescribed several psychiatric medications in the months leading up to the killings, "was having bad thoughts; she was having worsening depression" and "wasn't sleeping."
According to the newly released affidavits, Patrick Clancy told investigators that his wife had been prescribed multiple medications, including zoloft, valium, trazodone, ativan, klonopin, prozac, and seroquel. He said she took as many as four medications a day, though always as prescribed.
Investigators seized four bottles of medication prescribed to Clancy, including the antidepressant amitriptyline; two prescriptions for the anxiety medication diazepam, also known as valium; and one for trazodone, an antidepressant that's sometimes used to treat sleep problems, according to the National Library of Medicine.
All four prescriptions had been filled within a couple of weeks prior.
Reddington has said Clancy is now paralyzed from the waist down due to severe spinal injuries she sustained in her jump. She has been hospitalized since the killings and was committed to Tewksbury Hospital in May for mental health care.
According to court documents, Thursday's arraignment will be held at Tewksbury Hospital with remote access available for members of the public.
Newsletter Signup
Stay up to date on all the latest news from Boston.com