Crime
DA asks the public for help finding Gardner murder suspect Aaron Pennington
Aaron Pennington, 33, allegedly shot and killed his wife, Breanne Pennington, 30, last month. Police recovered his car last week, but have yet to locate him.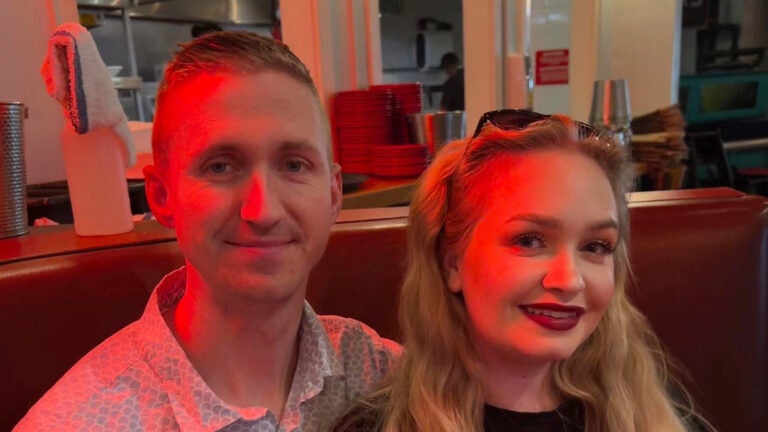 Authorities are still searching for Gardner resident Aaron Pennington, who is charged with murder for allegedly killing his wife, and are hoping the public might be able to help them find him.
Police have been looking for the 33-year-old Air Force veteran since Oct. 22 when they found his wife, 30-year-old Breanne Pennington, dead of a gunshot wound to the face in their Cherry Street home.
On Thursday, the Worcester County District Attorney's Office reiterated a call for anyone, especially people in the Gardner area, to be on the lookout for "suspicious activity."
The DA's office also asked people with trail cameras near Camp Collier, the Boy Scout camp in Gardner where they found Aaron Pennington's car, to monitor them for potential sightings of Pennington.
Pennington is described as a white man with blonde hair and blue eyes, the DA's office said. He is approximately 6-foot-2 and 175 pounds. Anyone who sees him should not approach him and should instead call 911 immediately, as he is believed to be armed and dangerous.
The investigation into Breanne Pennington's murder began Oct. 22 after the couple's four children went to a neighbor's house and the neighbor called 911, according to court documents. In the Pennington's home, police found spent shell casings, but not Breanne Pennigton's gun, and soon issued a warrant for her husband's arrest on a charge of carrying a firearm without a license.
Through interviews, investigators discovered that the Penningtons had long-standing "marital issues," and that Breanne Pennington was planning on leaving her husband and taking their children with her, according to court documents. They also learned that Aaron Pennington had been dealing with mental health issues, but didn't charge him with his wife's murder until days later when they found a suspicious note on his phone.
Pennington was last seen leaving his house a little before 9 a.m. on Oct. 22 in his car, which was found the next evening. Massachusetts State Police used Air Wings and K-9 units to search for him around the wooded area where the car was found, but ultimately came up empty.
No new developments in the case have been announced. Anyone with information about Aaron Pennington or his wife's death is asked to contact state police at 508-832-9124.
Newsletter Signup
Stay up to date on all the latest news from Boston.com