Crime
North End restaurant owner Patrick Mendoza was back in court for his shooting case. Here's what to know.
On Wednesday, the Monica's Trattoria owner was ordered held without bail until at least 2024, after an arraignment in Suffolk Superior Court the day before, according to the Suffolk County District Attorney's Office.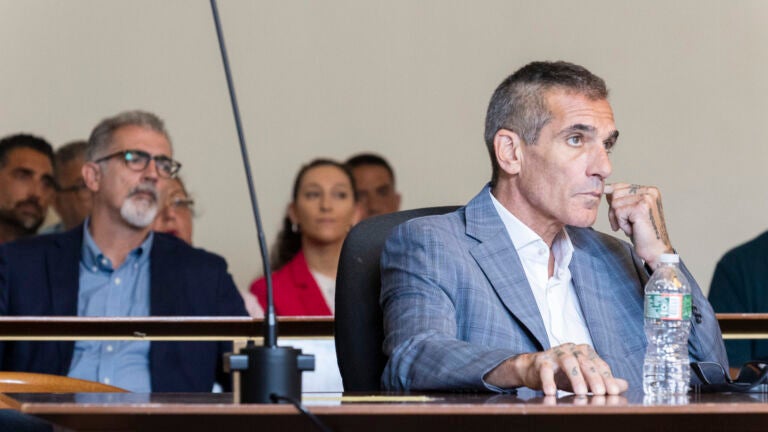 North End restaurant owner Patrick Mendoza has been ordered held without bail until at least May 2024 as he awaits trial for allegedly trying to shoot and kill a man outside Modern Pastry who he's been feuding with for years.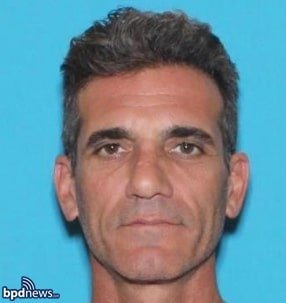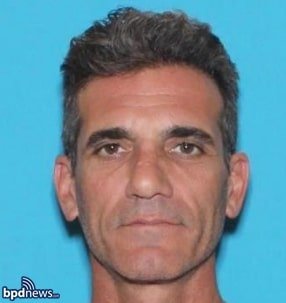 The 54-year-old Boston resident pleaded not guilty to charges related to the July incident during his arraignment in Suffolk Superior Court Tuesday, according to court records. A dangerousness hearing was held the same day, and on Wednesday, a judge granted prosecutors' request to keep him detained for at least six more months.
"This is an appropriate ruling given the extreme danger of Mr. Mendoza's actions, which occurred in one of the city's busiest areas and on one of its busiest streets," Suffolk County District Attorney Kevin Hayden reportedly said in a statement.
Mendoza, who co-own's Monica's Trattoria on Prince Street, was indicted in late September on charges of armed assault with intent to murder, attempted assault and battery with a firearm, and three other firearm offenses.
What happened in July, according to authorities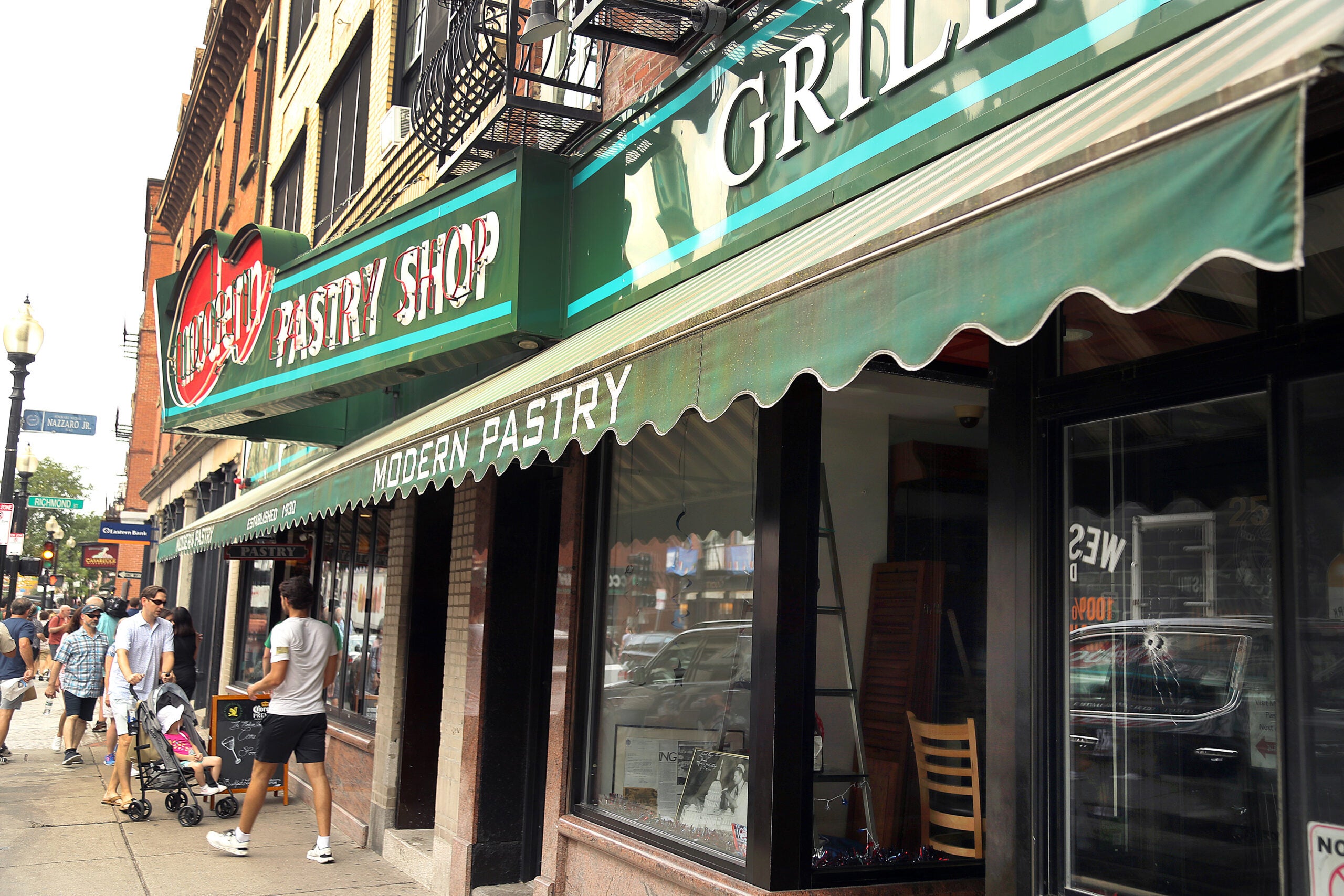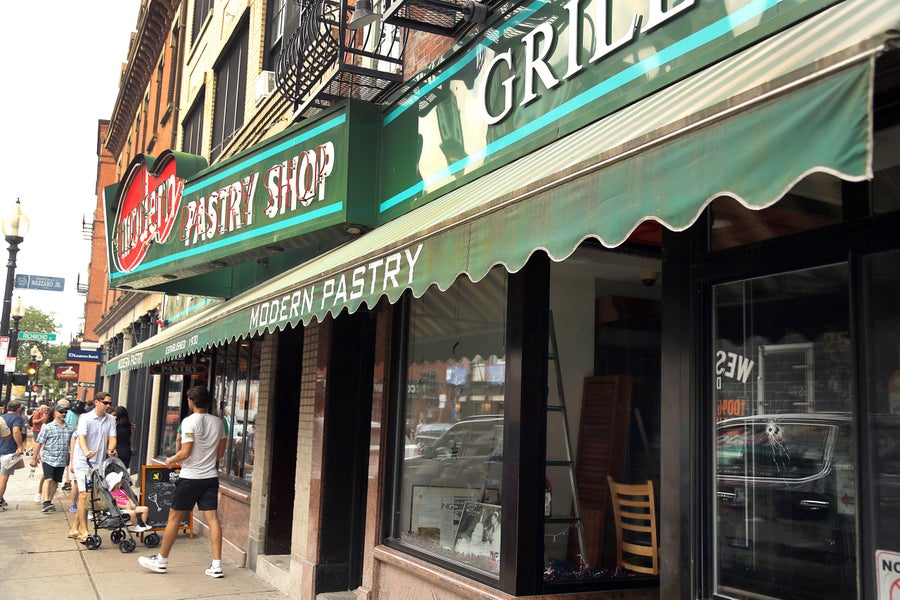 According to the police report, the shooting happened July 12 around 11 p.m. at 257 Hanover St. — Modern Pastry's address. The victim told police that Mendoza came up to him and shouted, "I'm gonna kill you [expletive]! It's going to be quick!"
Mendoza then allegedly shot at the victim before leaving the scene, according to court documents. The police report said the victim was able to duck behind a vehicle and successfully evade the bullets. No one was hurt, but the shooting left a bullet hole in Modern Pastry's front window.
Reportedly, the intended victim was Rocco Giovenello, who lives above Modern Pastry and is mentioned in court documents related to the case. He previously told local news outlets he's been feuding with Mendoza and his brother, Frank Mendoza, for years.
Security video from the scene mirrors the events described in official documents. Additionally, court documents say police recovered a palm print from a vehicle that the shooter can be seen touching in video footage of the shooting. That palm print allegedly matched Mendoza's.
After the shooting, Mendoza allegedly went on the run from police. A warrant for his arrest on charges related to the shooting was then issued, and about a week later, he turned himself in to police in Falmouth.
Police Reports About Patrick Mendoza by Susannah Sudborough on Scribd
Why Mendoza likely won't be released before trial
So far, Mendoza has been held without bail because judges have deemed him a danger to others. His high-profile defense attorney, Rosemary Scapicchio, has been trying to convince the court that he should have some type of bail option so that he does not remain in prison until his trial, which is at least months away.
According to the Boston Herald, during the arraignment Tuesday, Scapicchio argued that prosecutors hadn't even proven that Mendoza had fired a gun.
"The commonwealth has not brought anyone, not even a police officer, to talk about hearsay for an identification," she reportedly argued. "His liberty is at stake right now, and the idea that the commonwealth can, by document alone, take away someone's liberty is contrary to the Constitution."
But Chris Dearborn, a Suffolk University Law School professor, says that once a defendant is held without bail, it becomes difficult for the defense to get them released, as each subsequent ruling carries inertia.
"Given the public nature of the case and given the severity of the charges, not necessarily guilt or innocence, I think it's going to be an uphill battle," he said.
What's next for Patrick Mendoza
The time between arraignment and trial is typically a year, Dearborn said. Given the seriousness of the charges, he thinks the case will go to trial.
If this happens, a win for the prosecution would be a guilty verdict on all charges, or at least on the most serious charges, Dearborn said. For the defense, many small victories are possible, including getting the most serious charges against Mendoza reduced, dismissed, or acquitted.
"Sometimes it's about chipping away and winning smaller battles rather than winning the ultimate battle," he said.
With this many charges, it would be difficult to convince a jury to acquit Mendoza of every charge, the professor said. Even so, he cautioned not to make big assumptions about the case or Mendoza, especially given his lawyer's accolades.
A pretrial hearing for this case has been scheduled for Dec. 21, but court records show that Mendoza is due in court for proceedings regarding other open cases.
The court is still in the process of deciding whether Mendoza violated bail conditions related to a December 2022 assault and battery conviction. The Herald reports that Giovenello was the victim in this case as well.
Additionally, a trial during which the jury will decide if Mendoza is guilty of assault and battery and larceny is scheduled to begin Dec. 7.
Newsletter Signup
Stay up to date on all the latest news from Boston.com