Crime
FBI seizes more than 200 pounds of drugs in North Shore bust, including fentanyl meant to look like candy hearts
Law enforcement arrested three men in connection with the drug bust, including the alleged "ringleader."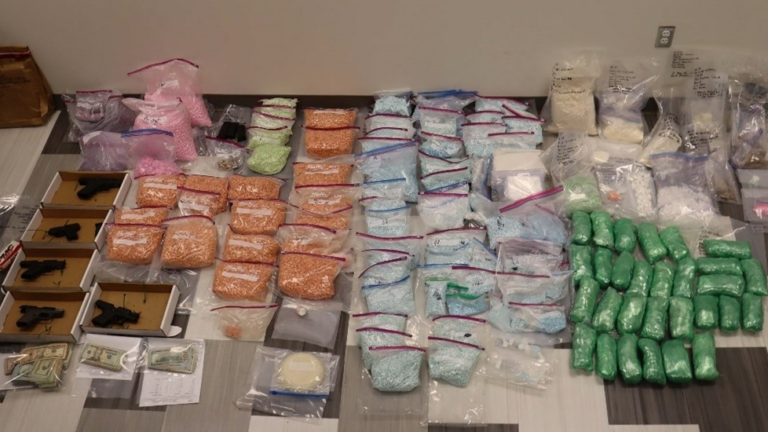 An FBI raid on the North Shore last week led to "one of the largest single location seizures of fentanyl" and other drugs in Massachusetts history, as well as the arrest of the alleged "ringleader" of a drug trafficking ring, Massachusetts U.S. Attorney Joshua Levy announced Monday.
Emilio Garcia, a 25-year-old who is believed to be the leader of the drug trafficking organization, 33-year-old Sebastien Bejin, and 40-year-old Deiby Felix are facing federal drug charges in connection with the raid, the U.S. Attorney's Office said in a press release. All three are Lynn residents.
"The numbers you're about to hear are staggering," the U.S Attorney said during a press conference.
On Nov. 1, the FBI executed a search warrant at a two-family home in Lynn and three other locations, Special Agent Jodi Cohen said during the conference. During the searches, the FBI allegedly seized nearly 230 pounds of suspected drugs.
The seizure allegedly included hundreds of thousands of counterfeit Percocet and Adderall pills which actually contained fentanyl and meth, as well as nearly 40 pounds of raw meth, Levy said. Altogether, he said, the seized drugs include more doses than there are people in Massachusetts. They are estimated to be worth about $8 million on the street.
Among the drugs, the FBI allegedly found over 20 pounds of fentanyl pills made to look like pink Valentine's Day conversation heart candies, Cohen said.
"It's another example of a potential bait and switch that can easily prove fatal to our young people," she said. "Pills or candy that contain these drugs, whether it's fentanyl or meth, are often deliberately made to look like something … a buyer may think is safe."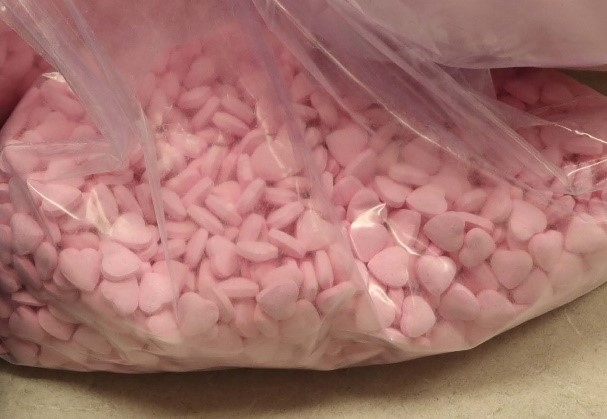 Levy also highlighted that the drug ring was allegedly operating in the basement of the Lynn home, which housed small children. Additionally, the FBI recovered five guns and $50,000 in cash during the raid, Cohen said.
The investigation into the drug ring began in July 2023 after a man, who was not identified, died of an opioid overdose in Salem, Levy said. State and local police tried to figure out where the man had gotten his drug supply from, and eventually, their investigation coincided with a federal investigation.
Law enforcement conducted surveillance for three months, and discovered that, each day, Garcia and Bejin would allegedly bring drugs from one stash location to another to supply "lower-level dealers," the U.S. Attorney's office said in the release. One of these other locations was allegedly Felix's home on Western Avenue in Lynn.
Garcia, Bejin, and Felix are set to be arraigned Nov. 13 in federal court, the U.S. Attorney said. For each count, the defendants could face up to 20 years in prison and a fine of up to $250,000.
The three men are also facing charges at the state level, Levy said, and the investigation into the drug ring is ongoing.
"Today's announcement is … one, a warning to the public. We have a ton of fake drugs out there. Now we have fentanyl that looks like candy circling our communities. You cannot be vigilant enough in protecting your loved ones," he said. "And second, it's a warning to the people who are peddling this poison. Law enforcement is unified in its efforts to do whatever it takes to get these deadly drugs off the streets."
Newsletter Signup
Stay up to date on all the latest news from Boston.com