Crime
Feds: Alleged sex ring drew politicians, business execs to brothels in Mass.
"This commercial sex ring was built on secrecy and exclusivity, catering to a wealthy and well-connected clientele," the acting U.S. attorney for Massachusetts said.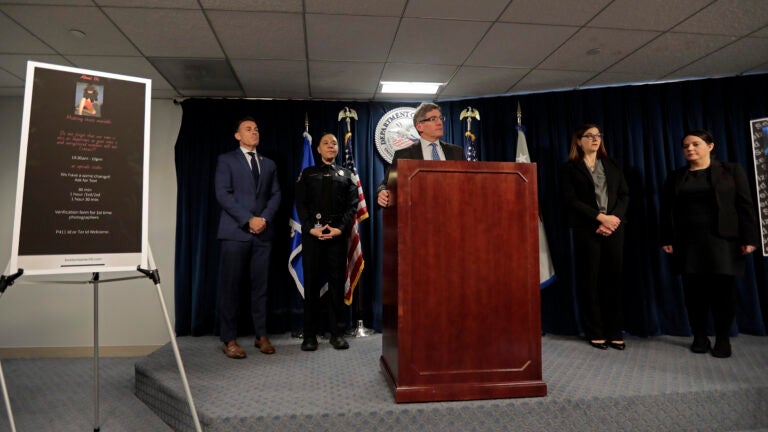 Federal prosecutors on Wednesday announced three arrests tied to a "high-end brothel network" that allegedly operated out of apartments in Greater Boston and Virginia, attracting clients who ranged from politicians to military officers, doctors, lawyers, and tech and pharmaceutical executives.
"This commercial sex ring was built on secrecy and exclusivity, catering to a wealthy and well-connected clientele," acting U.S. Attorney for Massachusetts Joshua Levy said during a press conference. "And business was booming — until today."
Prosecutors have charged three people with conspiracy to coerce and entice to travel to engage in illegal sexual activity: Han "Hana" Lee, 41, of Cambridge; Junmyung Lee, 30, of Dedham; and James Lee, 68, of Torrance, California.
Appearing remotely in federal court Wednesday, Han Lee and Junmyung Lee were ordered held pending a detention hearing early next week, The Boston Globe reported. Lawyers for both individuals declined to comment.
James Lee will appear in Boston court at a later date, Levy's office said in a press release. If convicted, the trio faces up to 20 years in prison, three years of supervised release, and a fine of up to $250,000.
The brothel network relied on two websites — bostontopten10.com and browneyesgirlsva.blog — which claimed to advertise nude models for professional photography, according to an affidavit unsealed in court Wednesday.
"The three individuals behind these websites facilitated the movement of predominantly Asian women across the United States for sex trafficking and a commercial sex ring, exploiting them in the process," Levy said.
How the brothels allegedly worked
Prospective sex buyers were allegedly instructed to respond to a survey and provide details online, including their driver's license, employer information, and credit card information. Levy said they often paid a monthly fee to be part of the club.
He explained that buyers would receive a text message with a "menu" of the different services and women available to them. One menu included in the affidavit shows rates ranging from $240 for a 30-minute "girlfriend experience" to $840 for 120 minutes of sex without a condom.
Levy said the alleged brothel network runs contrary to common depictions of sex trafficking in movies, where prostitutes might be seen waiting at the curb for prospective johns.
"This is not that operation," he said. "This is an operation over the internet, and with a clientele that is not going to be driving around the street necessarily for this."
Prosecutors allege that the commercial sex ring dates back to at least July 2020, with multiple brothels located in Cambridge and Watertown, as well as in Fairfax and Tysons, Virginia.
According to the affidavit, there may have been hundreds of buyers. Investigators have already identified several of the alleged customers through surveillance, phone records, and interviews, Levy said.
"Pick a profession; they're probably represented in this case," he said. "They are the men who fueled this commercial sex ring."
The buyers are neither named nor charged at this point, but Levy emphasized that the investigation is just getting started. He noted that authorities are executing multiple search warrants in Massachusetts, California, and Virginia.
"Today's charges should make one thing clear: No one is above the law," Levy said. "Doesn't matter where you live, doesn't matter what your job is, how much money you have, engaging in commercial sex rings … is illegal."
Newsletter Signup
Stay up to date on all the latest news from Boston.com