Crime
Judge upholds no-contact orders for 'Turtleboy' but allows controversial blogger back in court for Karen Read case
"Defendant created theater — and an abusive theater at that — at the expense of the witnesses and lead investigator in the Read case, and others related to them."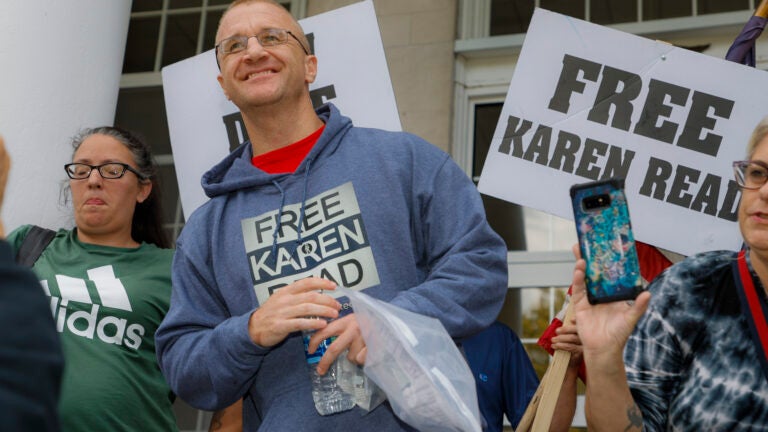 A state judge on Thursday declined to overturn bail conditions keeping "Turtleboy" blogger Aidan Kearney from contacting several witnesses in the murder case against Karen Read, though he agreed that Kearney can continue covering the sensational case in court.
The controversial blogger is facing several witness intimidation charges stemming from his coverage of the case against Read, who is accused striking Boston police officer John O'Keefe with her SUV and leaving him to die outside a fellow officer's home in Canton last year.
Kearney was released on personal recognizance following his arraignment in Stoughton District Court last month and ordered to stay away from and have no contact with the individuals he's accused of targeting — a group that includes the lead Massachusetts State Police investigator on Read's case.
In Thursday's decision, Norfolk Superior Court Judge Peter B. Krupp amended the stay-away order to specify a distance of 100 feet and agreed that Kearney can attend Read's future court proceedings even if it brings him near any of the named witnesses.
However, the judge ultimately declined to remove the no-contact and stay-away orders entirely.
Tim Bradl, Kearney's lawyer, said in a statement that the defense is weighing an appeal to the Massachusetts Supreme Judicial Court.
"Meanwhile, Mr. Kearney will continue to vigorously investigate the Read case and follow the evidence wherever it leads, all in pursuit of the truth," Bradl said.
Judge: Turtleboy created 'abusive theater'
Characterized by fiery rhetoric and provocative stunts, Kearney's series on the Read case is now up to 208 installments. Throughout his coverage, he's perpetuated a theory that Read is being framed for murder and that other guests at the home were to blame for O'Keefe's death — an alternate theory also argued by Read's lawyers and one that prosecutors have repeatedly denied.
In blogs, videos, and social media posts, Kearney has publicly accused several witnesses in the case of being part of the alleged coverup.
Prosecutors say some of his tactics — hosting rolling rallies outside witnesses' homes and making noisy scenes at their children's sporting events, for example — crossed the line into harassment. By contrast, Bradl has characterized Kearney's actions as constitutionally protected "time-honored journalistic tactics for newsgathering."
In Thursday's decision, Krupp appeared largely unconvinced by the defense team's First Amendment claims.
"In pursuit of his performative journalism and personal brand, defendant has berated witnesses in the Read case, badgered them although they have indicated that they do not wish to speak to him, and pressured them to change their testimony," Krupp said.
The judge later added: "The First Amendment does not authorize journalists to commit crimes."
Quoting from several Turtleboy videos, Krupp also suggested that some of Kearney's speech could be considered "true threats that are not protected by the First Amendment."
"Nor can this type of speech and conduct fairly be considered journalism," Krupp said, adding, "Defendant created theater — and an abusive theater at that — at the expense of the witnesses and lead investigator in the Read case, and others related to them."
He ultimately ruled that the stay-away and no-contact orders were "justified to protect the witnesses and the judicial process," though he agreed that the bail conditions were ambiguous and required clarification.
Bradl, in his statement, said he and Kearney "know we are correct in this constitutional cause, and we will not relent until the [witness intimidation] statute is put in its proper constitutional place."
"We expect an appellate court to uphold Mr. Kearney's, and everyone's First Amendment rights to exhort witnesses to tell the truth and if that is an effort to change their testimony, it would be a change for the better, and must be protected under the First Amendment," Bradl said.
Newsletter Signup
Stay up to date on all the latest news from Boston.com