Politics
Massachusetts Democrats don't buy Trump's argument against their bill to lower prescription drug costs
"Drug companies are already making plenty of money."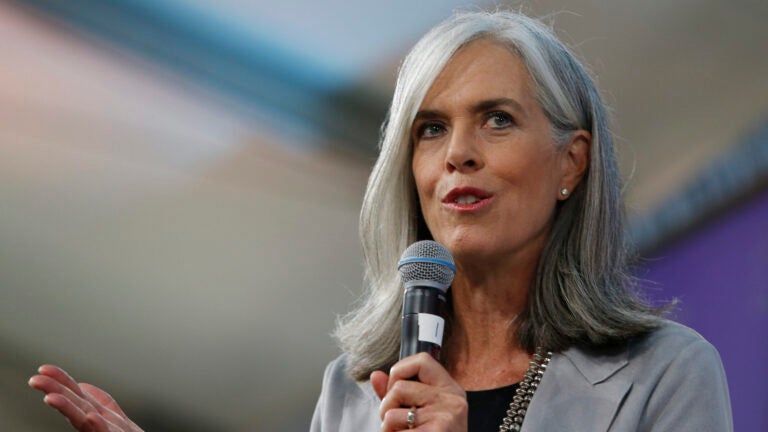 House Democrats often say they can "walk and chew gum" when it comes to investigating President Donald Trump and advancing their "for the people" legislative agenda. And they're trying to prove it this week.
Just two days after unveiling two articles of impeachment against the Republican president, the House passed a bill to tackle an issue with overwhelming public backing that even Trump has called a priority:
The cost of prescription drugs.
"We have heard from so many of our constituents about what a high priority addressing the costs of prescription drugs is," Rep. Katherine Clark told reporters in a conference call Thursday.
American patients currently pay several times more for certain high-priced drugs — like insulin — compared to their international peers, exacerbating the United States' disproportionately expensive health care system. And unlike other countries and even the Department of Veterans Affairs, the federal government has been prohibited from negotiating with pharmaceutical companies to lower the price of prescription drugs for those enrolled in Medicare Part D.
H.R. 3, which passed on a 230-to-192 vote Thursday afternoon (with two Republicans joining the Democratic majority), would change that — allowing the Department of Health and Human Services to negotiate prices for up to 250 drugs and make the lower prices available to both those enrolled in Medicare, as well as private insurance plans, which would be able to accept the lower rates or explain why if they did not.
The bill would also set a maximum price for specific drugs, create a $2,000-a-year cap on out-of-pocket prescription drug costs for Medicare beneficiaries, and require companies to pay Medicare rebates if the price of their drug increases faster than inflation.
The Congressional Budget Office has estimated that the bill would save Medicare nearly $500 billion over the next decade. H.R. 3 calls for those savings to be reinvested to expand Medicare to cover dental, vision, and hearing for the first time and increase the number of seniors who are eligible for federal subsidies under the program.
Rep. Jim McGovern calls the legislation a "once-in-a-generation bill" that would have a dramatic effect on the cost of drugs like insulin, which doubled from 2012 to 2016 to an average annual cost of $5,705 for someone with type 1 diabetes. According to McGovern, that person would spend 3.5 times less on insulin if H.R. 3 becomes law.
"I hope and pray that it doesn't die in Mitch McConnell's graveyard over in the Senate and that he will take up either this bill or another bill," McGovern said Thursday, adding that he'd be open to negotiations if the Republican-controlled Senate passes a similar prescription drug bill.
That might be the more feasible route, as H.R. 3 in its current form appears destined for the same fate in the Senate as the 400 or so other bills passed by House Democrats.
Earlier this month, the Trump administration announced it would veto the bill, arguing that allowing the government to negotiate and cap drug prices would "dramatically [reduce] the incentive to bring innovative therapeutics to market." According to CBO estimates, the bill would result in the introduction of eight fewer drugs to the U.S. market over the next decade out of about the 300 expected during that time period — and about 30 fewer drugs over the subsequent decade.
Democrats aren't subscribing to that argument, even in Massachusetts, a biotech hub where the pharmaceutical industry has an outsized presence and political sway; the Massachusetts Biotechnology Council, an industry trade group, has consistently opposed proposals to allow Medicare to negotiate drug prices.
"This whole argument that somehow if we lower prescription drugs we're going to somehow stifle innovation is just not true," McGovern said. "Drug companies are already making plenty of money."
In 2018, the top 10 pharmaceutical companies reported an operating margin of 25 percent, and, according to the Worcester congressman, the industry as a whole is projected to earn $7.4 trillion in profits over the next decade. The "worst part," he said, is that those profits aren't being reinvested into their actual product. Researchers have found that nine of the 10 biggest pharmaceutical companies spend more on marketing than research.
"That's their choice," said Rep. Lori Trahan.
While the Trump administration contends that H.R. 3 would "affect as much as one third of drugs under development," Trahan says she talked to "lots of pharmaceutical companies" this year in anticipation of Democrats' prescription drug bill and concluded they would have more than enough revenue left for innovation.
Rep. Bill Keating noted that H.R. 3 also invests an additional $10 billion for National Institutes of Health, bolstering public biomedical research that has spillover benefits for the private industry.
"That money is often leveraged by drug companies, too — being able to take advantage of that research and build on it," Keating said.
The bill also invests an additional $2 billion in the Food and Drug Administration, more than half of which would go toward modernizing the agency and adopting new manufacturing techniques. Clark noted that she often hears from the biotech and pharmaceutical industry about the need to invest in the FDA to make sure they're "partners in getting life-saving drugs to market."
But, as Trahan noted, those drugs currently only benefit those who can access them. And she hopes their bill will "finally tip the scale" on a status quo that has been better for large drug companies than it has been for patients.
"There is no such thing as a life-saving drug if people can't afford to take that medication," Trahan said.