Schools
Boston College students hold 'Solidarity Black Out' in the rain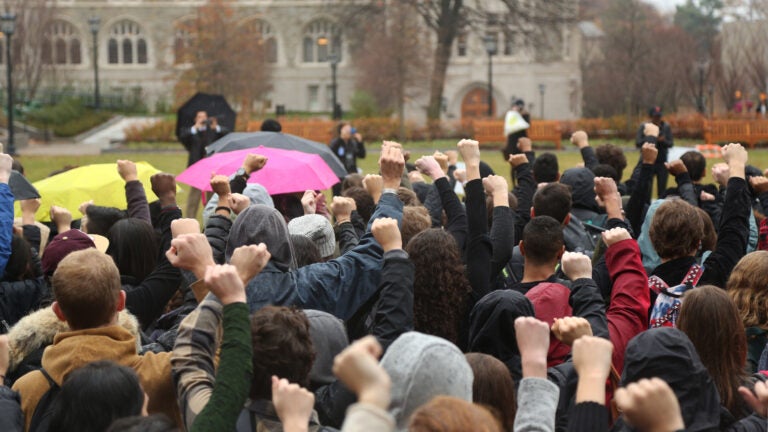 Hundreds of students, professors and administrators huddled together in the rain for a "Solidarity Black Out'' at Boston College Thursday afternoon in support of the anti-racism campus demonstrations at the University of Missouri and other universities across the nation.
The large turn-out was surprising to the event's organizer, Afua Laast, who said she planned the demonstration the night before. It started as a campaign to get BC students to wear all black to show solidarity with students of color at other schools. Several other colleges in the Boston area planned similar movements today.
"We're saying to them, 'your racism you experience is real,''' she said to the crowd, many of whom huddled together under umbrellas. "And so is ours.''
She then invited members of the crowd to share why they came to the demonstration, or to tell stories of racism they had experienced at BC.
The crowd was silent, and only the sound of raindrops on umbrellas could be heard.
"Anyone?'' Laast asked nervously.
Akosua Achampong then walked to the front of the crowd and stood up next to Laast on a bench.
"I'm here for the students who don't feel comfortable on this campus,'' she said loudly. "I'm here because I thought of leaving Boston College because of how alienated I felt. I'm here because, when I walk into the classroom, it's hard for me to imagine my future because I don't see people who look like me.''
She hopped off the bench. C. Shawn McGuffey, an associate professor of sociology, took her place.
"I'm here for the students of color who don't have me as a professor who come into my office to tell me stories of racism,'' he said. "But, in the 10 years I've been here, I've never seen so much solidarity as I do now.''
Other students hopped up onto the bench, some mumbling, as the crowd encouraged them to speak up. One student spoke of reading messages on Yik Yak, an anonymous social media app, that told students of color to go back to their countries.
The demonstration lasted only 20 minutes, but most students lingered in the rain to talk about what had just happened. Joseph Arquillo, a BC student, said he was pleased when a professor told students they should leave class to attend the event.
"A lot of people will comment on my privilege as a white male,'' he said. "This is my way of being able to show support for students of color and the racial tension they face, and let them know that we're here in solidarity.''
But not everyone shared the positive feelings about the event. After the demonstration, Achampong posted a Facebook status with screenshots from Yik Yak that showed fellow BC students mocking the protest.
"So racism is officially over now???'' one anonymous user wrote.
"This protest is a disgrace to our school,'' wrote another.
"I don't understand what you want BC admin to do," someone wrote on the app. "Affirmative action already exists. They don't need to give people special privileges. That's the opposite of equality.''
Achampong's status included 30 screenshots of students mocking the demonstration through messages posted on the app.
"Just a few comments made after Boston College students had a demonstration and still people don't seem to understand that we held the demonstration to validate our experiences,'' Achampong wrote on Facebook. "Racism is real.''
Photos from the Boston College demonstration
[bdc-gallery id="139348″]