Schools
Boston College students put a spin on Christmas carols to protest racism on campus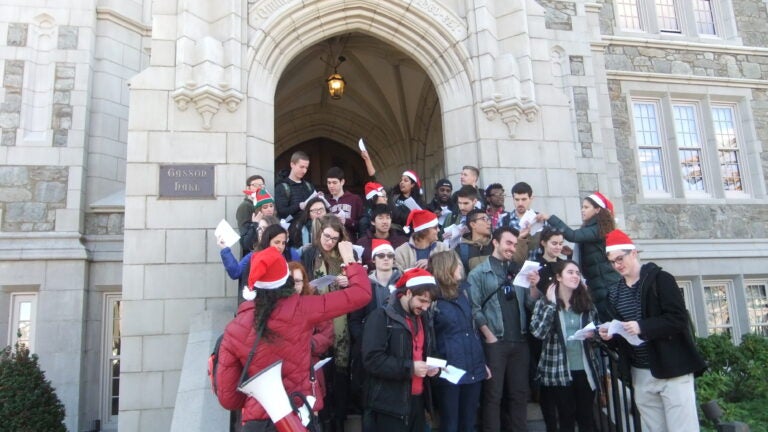 A group of Boston College students wearing Santa hats brought lyrics sheets to a board of trustees meeting Friday afternoon, hoping to carol for the members during their luncheon. When they weren't allowed to enter the room, they began singing in the main atrium of the building.
"Dear Trustees, are you listenin'? / A real plan you are missin'. / Until you agree, and change do we see, / We're walkin' through a white man's wonderland,'' they sang.
The caroling was part of a "Twelve Days of BC Racism campaign'' led by a group called Eradicate Boston College Racism. The organization includes students, staff, faculty, and administrators who work to promote racial equality at the school.
Other events in the campaign included a question and answer panel where Eradicate members explained the purpose and goals of their group, as well as an Alumni Giving Day in which BC alumni donated more than $1,000 to the group.
[fragment number=0]
At the end of the demonstration, the members read a "wish list'' for the board, which asked that a faculty member of color, a staff member of color, and a student of color be added to the board and given voting power.
The group also issued a list of demands to the university last month, making it one of 72 universities that has publicly called on administrators to take action to improve race relations on campus. Kevin Ferreira, a member of the group, said the administration hasn't responded to Eradicate's demands.
Jack Dunn, a spokesperson for Boston College, said the administration met with the undergraduate student government to address their requests regarding issues of diversity and inclusion and will continue to work with the student government in the months to come.
[fragment number=1]
Even though the board of trustees didn't acknowledge the students' demands, Ferreira said the group has no plans to stop planning campaigns — or singing.
"Gone away is our patience,'' the carolers sang yesterday. "Here to stay: demonstrations.''