Schools
Gov. Baker helps launch new website that 'fact checks' charter schools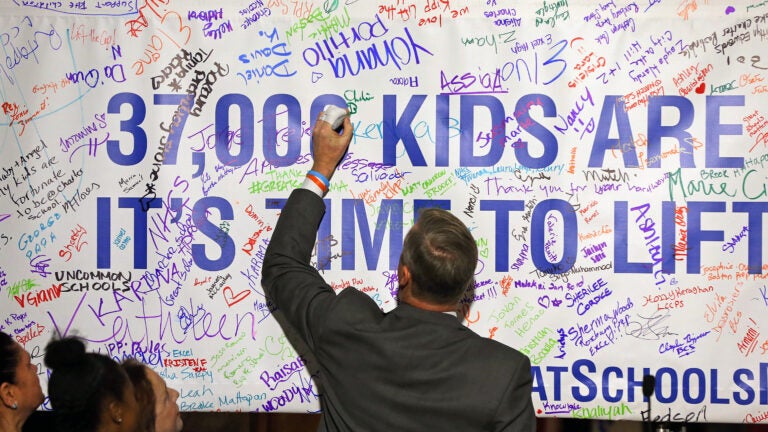 Governor Charlie Baker joined many of the state's charter school advocacy groups at a State House event Friday afternoon where they rolled out a new "fact check'' website about charter schools. The site's creators said it will address what they call misconceptions about the schools.
"This effort is about setting the record straight about public charter schools in Massachusetts,'' Beth Anderson, president of the Massachusetts Charter Public School Association, said in a statement. "Charter schools serve high-need kids incredibly well, close the achievement gap for low-income students of color, and have lower student attrition rates than district schools.''
The launch of the website comes just days after critics claimed Baker was overly focused on charter schools.
The governor was joined by representatives from the Massachusetts Charter Public School Association, the Boston Charter Alliance, Race to the Top Coalition, and the Mass High Tech Council. They discussed the website, which features academic studies and resources that they say will make sure policy-makers are able to make decisions "based on facts – not political noise.''
But, shortly after the event, the state's auditor Suzanne Bump issued a statement that said the campaign was misstating the findings of an audit her office conducted in 2014.
"The campaign itself needs to check its facts,'' she said. "The campaign uses my office's audit to demonstrate that there are currently over 37,000 students on the wait list. Our audit specifically states: 'We estimated that unduplicated counts taken at the end of the lottery process in March 2013 should have been no more than 38,034 students (with 14,800 from Boston), as opposed to the 40,376 unduplicated count reported by [the department].'''
Bump said that even the 38,034 figure was significantly overstated because a majority of charter schools roll forward waitlisted entries from prior years that may be outdated. She also said the software the department uses has a limited ability to detect students who are on numerous wait lists at multiple schools.
"When incomplete information is presented as fact, as is the case by this campaign, policymakers are not afforded the ability to make unbiased decisions and the public is misled,'' she said. "The education of our children is too important to base these important decisions on misleading information.''
Even though the website is new, Tracy Novick, a field director at the Massachusetts Association of School Committees, said the studies it features are not. The most recent one, she said, is from MIT. It was released in December 2015, and isn't reflective of the true state of charter schools, she said.
"They're choosy about which schools they include in each report,'' Novick said. "If you look at Boston and want to talk about English Language Learning students, you'll find that one school is serving most of them. And it's wonderful that they're serving them, but it skews the results to make it look like all charter schools in Boston are serving those students.''
In October, the association released its own report that found that 40 percent of English Language Learning students are enrolled at one charter school in the district. About 80 charter schools currently operate in Massachusetts, more than 30 of which are in Boston.
Baker filed legislation in October that would lift the current cap of 120 charter schools statewide. The bill would allow 12 new or expanded charter schools each year in districts that score in the bottom 25 percent on standardized tests. He devoted part of his state of the Commonwealth address to urging Massachusetts residents to "be bold'' on K-12 education and lift the charter school cap.
The governor's narrow focus on charter school students is troublesome, Novick said.
"This website is very narrow and fact-checking focus is troubling,'' she said. "If you're in a district school, you take everyone, regardless of when they show up, and regardless of their needs. The thing that bothers those in district public education is the number of students who we know aren't being served because of charter schools. That's a troubling mode of education to have the governor endorsing.''