Schools
Boston Public School students plan to walk out of class Monday to protest budget cuts
The city's public schools are facing a multi-million-dollar budget deficit in the coming year.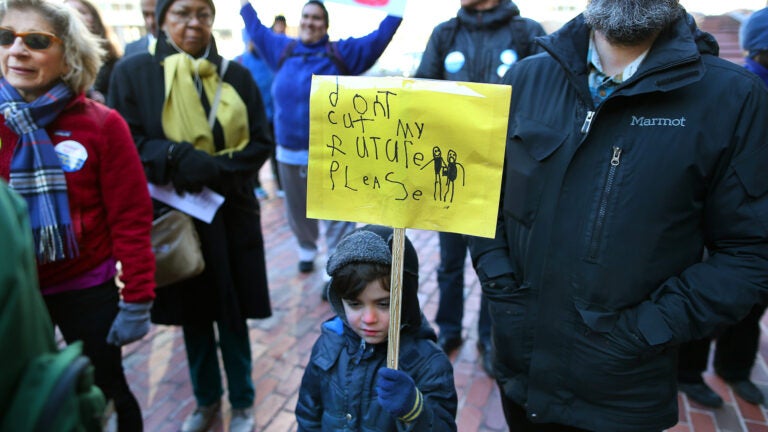 Jailyn Lopez is worried. The sophomore at Snowden International High School in Boston heard about the multi-million-dollar budget deficit facing Boston Public Schools next year, and felt that even if she and her classmates wrote letters to city officials or attended budget hearings, they wouldn't truly be expressing how terrified they feel.
"We want as many students as possible to speak up,'' she said. "We want to give others courage to take a stand and help stop these budget cuts.''
That's why she and two other students organized a district-wide walk-out that will take place Monday at 11:30 am. In a letter posted to Twitter, Lopez said students at any and all Boston Public Schools are encouraged to walk out of their classrooms and head toward Beacon Hill, where they'll hold a rally in front of the State House to protest the budget cuts.
"The education you are going to be provided with would be an education which will make it difficult and maybe even impossible to get into the college of your dreams,'' she wrote in the letter. "You won't be able to learn at full capacity if you don't have the classes you need. If students are engaged in school then there would be less cracks for our youth to even look towards violence. We have lost too many young lives already.''
The city's public schools are facing the deficit due to rising expenses and a decline in state and federal aid.
The exact amount of the deficit, however, has yet to be determined. The initial budget shortfall was estimated at about $50 million, though the mayor's office has said the total figure will be lower when the school committee votes on the final budget March 23.
This isn't the first public protest regarding the budget cuts. During February vacation week, several hundred parents, teachers and students held a rally in downtown Boston. Many parents also protested outside of Mayor Marty's Walsh's "State of the City'' address in January.
But this is the first student-organized demonstration. In a letter sent to school leaders Wednesday, Superintendent Tommy Chang said the district hopes teachers will use the event as an opportunity to discuss the role of advocacy in bringing about social change.
"Please remind students that if they do walk out, we expect them to act respectfully and safely at all times,'' he said in the letter. "We also remind students that they are expected to adhere to school policies on being in class during instructional time. Please remind staff that in the event of a walkout, keeping our students safe is always a top priority, and we would expect all adults to help us in this effort.''
Friday night, however, the district sent out robocalls and emails to Boston Public School parents to encourage them to tell their children to remain in school.
"While we encourage our students to become leaders in the community and advocate for their schools, BPS does not sanction students leaving school without permission during the day,'' the notification said. "Students who choose to participate will be marked absent from any classes that they miss. If your child does leave school, we will notify you by phone.''
Even if teachers try to keep students in the classroom, Lopez said in her letter that they should keep walking.
"Let's stand up for our future,'' she wrote. "If we don't then no one will.''