Education
Boston teachers praise student protest as a real-life history lesson
About 3,650 students marched through Boston Monday to protest the budget shortfall.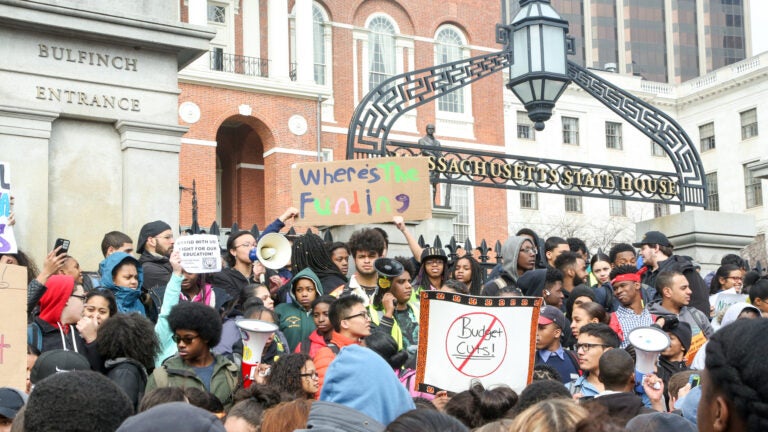 Many students weren't sure what to expect when they walked out of history class at TechBoston Academy Monday morning to take part in a district-wide protest on planned budget cuts. But when they returned to class Tuesday morning, they were buzzing with excitement from knowing they had been part of history themselves.
"Students were nervous about what disciplinary action might happen if they walked out of class,'' said a TechBoston Academy teacher who spoke on the condition of anonymity. "But today they couldn't stop talking about how neat it was to feel like they were a part of something that was bigger than they were.''
Despite numerous calls and texts to their parents that threatened to mark them absent if they walked out, about 3,650 students made their way toward Boston Common, the State House and Faneuil Hall, where they demanded more funding for Boston Public Schools.
The city's public schools are facing a deficit due to rising expenses and a decline in state and federal aid. The initial budget shortfall was estimated at about $50 million, though the mayor's office has said the total figure will be lower when the school committee votes on the final budget March 23.
Boston Public Schools released a statement saying the district appreciates the passion students have for their educations and their interest in making their voices heard — but it does not approve of students leaving class.
"While BPS encourages student activism and advocacy, we do not condone students leaving school without permission and missing valuable instruction time,'' spokesman Dan O'Brien said in the statement. "The district is working collaboratively with student leadership organizations to provide students across the city opportunities to lead meaningful discussions on the BPS budget process and become more engaged.''
Educators spoke to Boston.com on the condition of anonymity because the district declined to make teachers available for interviews.
At TechBoston Academy, teachers prepared students for the protest by making sure they were aware of their First Amendment rights, and assuring them that they wouldn't be suspended even if they were marked absent.
"We also talked about the academic ethics of deliberately skipping class and the ethical conundrum of standing up for something you believe in,'' a TechBoston Academy teacher said. "In class, we've learned that there are always going to be consequences for standing up for something that you think is right, and then, with the protest happening in real life, the students needed to weigh that.''
The student-organized protest spread largely through social media, which meant some students might not have had access to information detailing the event. English as a second language teachers at Charlestown High School knew that their students in particular might not be as well informed as their peers, so they spent half a class period telling them about the impending budget cuts.
"As English language learners, they're especially vulnerable to the cuts because their class sizes will increase,'' a teacher said. "After talking, most of them decided to go. I had them send me a picture of themselves at the protest so I knew they were going, and today in class they had an overwhelmingly positive reaction.''
A teacher at Excel High School in South Boston said educators there also spent time in class speaking to students about the implications of the walk-out. One teacher showed students a letter their principal sent to Gov. Charlie Baker about how the cuts would affect their school and explained the difference between private and public education, as well as how charter school reimbursements affect the school budget.
"I think our concern as teachers was that, if students weren't informed, they'd leave class and go to Burger King,'' a teacher said. "But that didn't happen. We're in South Boston and students got on the train, went to Park Street, and marched through Boston because they made an informed decision to stand up for their rights.''
A teacher at Excel High School was particularly encouraged by the timing because students were in the middle of their civil rights unit in history class, learning about how non-violence could be effective when used en masse.
"And after the district sent out so many notifications over the weekend, students told me they didn't feel supported, which I think made them more determined to walk out,'' the teacher said. "There's a misconception that teens in Boston don't care about their education, and, after yesterday, you can't say that anymore.''
A teacher at New Mission High School in Hyde Park said many students felt so empowered and determined by the demonstration that they went straight to the budget hearing Monday night to testify about their concerns.
"They feel the wind on their backs now because they have the sense that people are listening to what they're saying,'' the teacher said.
Teachers aren't entirely sure what, if anything, the students will plan next. But many expressed joy that, with the demonstration, students seemed to take their history lessons to heart — and to the streets.
"I think we were all disappointed in how much the Boston school department discouraged students,'' an Excel High School teacher said. "But if now wasn't a time for students to stand up for their education, I don't know when is. It was a real-life lesson in democracy and protest.''
[bdc-gallery id="511263″]