Education
New Hampshire middle schoolers fight back after corn dogs removed from cafeteria menu
Battling healthier lunches, one pork product at a time.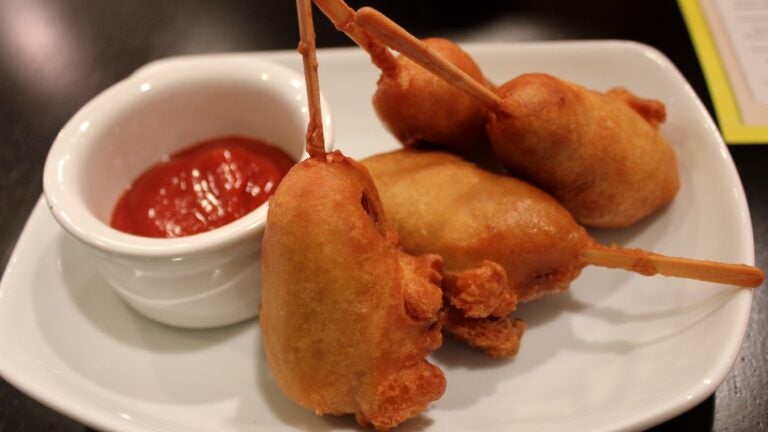 Boston public school students aren't the only ones protesting for change at their schools. An hour north of Boston in Londonderry, New Hampshire, a group of seventh graders took a stand on an issue slightly less serious than proposed budget cuts: the removal of corn dogs from the cafeteria menu.
The cornmeal-battered unrest began in September, according to the Eagle-Tribune, when Amanda Venezia, the school district's director of dining services, decided to scrap corn dogs in favor of pierogies (Polish dumplings) because "the nutritional integrity of the product was deemed inferior.''
This did not sit well with four students at Londonderry Middle School.
"I was kind of disappointed that the corn dogs were not being served,'' student Derek Stone, 13, told the Eagle-Tribune. "And they traded them out for something that no one was real happy about.''
Instead of accepting the new menu as the status quo, Stone took action.
Stone got together with three friends — Milton Duran, 12, Robert Doucet, 13, and Dylan McEachern, 12 — and started a petition.

"Dear whoever makes the lunch,'' it began. "We, the people of Londonderry Middle School, would like to notify you on how we feel about the new dumplings. WE HATE THEM.''
[fragment number=0]
Unfortunately for them, the middle schoolers have not achieved victory: Corn dogs remain absent from the school's appetizer platter. But the four students did manage to bring about change to their school meals by suggesting a breakfast platter featuring "french toast sticks, waffle sticks, pancakes, sausage and hash browns.''
"It's really taken off,'' Venezia told the Eagle-Tribune. "We piloted at the middle school in January and now it's on the menu at the elementary school and the high school. It's one of our more popular items.''
Read the full Eagle-Tribunestory here.